Welcome to this week's ACrafty Interview with Chris Tedin. Chris is a potter, and he is also a talented artist in the areas of drawing, painting, and sculpture. He's a Faculty member of the Animation & Visual Effects Department of the Tribeca Flashpoint Media Arts Academy in Chicago. He can create works in three dimensions in the physical world, four dimensions in cyberspace, and he lives and works around some of the best art and architecture in the world. I have to admit I'm a little envious of his abilities and location (but only in the best ways!).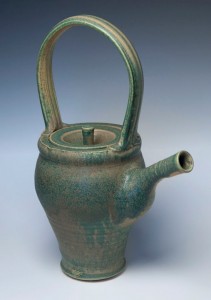 When did you start crafting? CT: I began to pursue the craft of clay during my senior year as an undergraduate. I was fascinated by the process of building pottery, and the endless possibilities that it afforded me as an artist. I was fascinated by the firing process, and building my own kilns to fire the clay with wood was an incredible experience.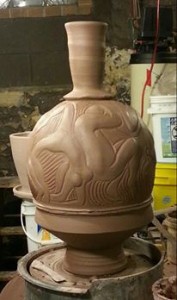 What crafts have you tried and what is your current favorite? CT: I think that clay provides me with the most flexibility in terms of form, and allows me the ability to make functional as well as large scale sculptural works.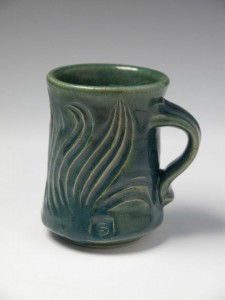 What craft project are you most proud of? CT: I think the pieces that are used every day seem to satisfy me the most. The large scale sculptural pieces are satisfying in a totally different way. They are primarily symbolic and aesthetic. Although they are carefully "crafted" in the same way a good coffee cup might be, or a teapot, the large pieces speak to another kind of expression, and therefore are more abstract. A bowl is used every day, and is simple and direct, and easily accepted. Neither is "better" than the other, just serve different purposes. I like to see my work used in an everyday context. When someone enjoys a cup of coffee, I am with them every morning, enjoying it with them. I find a great deal of satisfaction in that.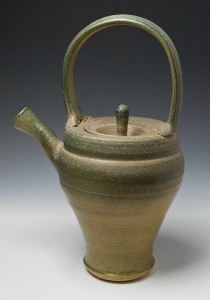 What's the biggest craft project you've ever tackled? CT: I tend to use my craft projects to "keep it simple" and try not to be too ambitious. My work is direct and quick, for the most part. My sculptures tend to be more time consuming, so I use the crafts I learn in pottery to execute them. I have made works that are over 9 feet tall, and weigh over 500 pounds. But my pottery is much lighter and more manageable. My teapots can be time consuming to execute, requiring me to throw a half a dozen parts, and assembling them together before firing them.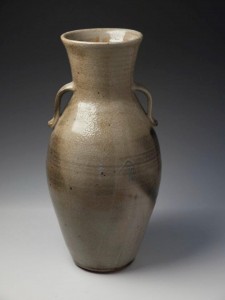 Has a craft or craft project ever challenged you in an unexpected way? CT: Each piece has a unique challenge, but as I find myself becoming more familiar with the fundamental forms, they are a natural part of me. The only surprises now are in the glaze firings, when I'm testing out new glazes or firing using different "atmospheres."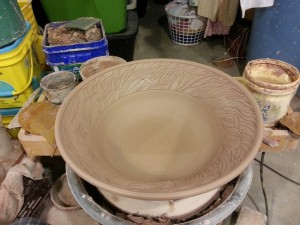 How has crafting affected your character? CT: Working in craft, especially pottery, gives me a strong sense of "center." I know that, no matter how challenging my day has been, that the clay is always ready for me, and since I know its language, I am always ready for it. I am more patient by using clay, and much more willing to take risks with forms, glazes and allowing for accidents to occur in the work. My imagination is always sparked by things in nature, and I love exploring those forms in my work on the wheel.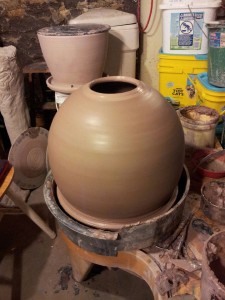 Can you share a story about how your crafting has affected others? CT: My friend, Joe Crossetto, is a sculptor and painter. After working in clay around him, he got the "bug," and began using clay as his primary medium for the last 5 years. He purchased a large gas kiln, has executed a dozen sculptures, and throws on the wheel regularly. He loves to experiment with glazes, and it is something that has brought us closer together as friends.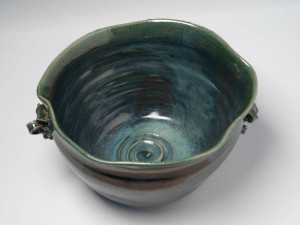 What crafty goodness do you have coming up in the future? Why is it appealing to you? CT: I have been sketching some ideas for sculpture and pottery, but I will be throwing a lot of large and medium sized bowls in the next few months. It seems that bowls are popular, and I would love to see more of my pieces being used by my friends. I also love throwing bowls because it's simple, but there are a surprising number of variations that are possible.
Thanks so much, Chris, for sharing your valuable time with us! 
Would you like to be a part of this ACrafty interview series? Just contact me! You might also be interested in reading some more ACrafty Interviews with multi-crafter Diane from CraftyPod, knitter Apockylypse, quilter Betty Busby, and cross stitcher Katie Kutthroat!