Welcome to this ACrafty Interview with Cresus Parpi! Haruhi Okubo is the creative mind behind the creative and intricate needlepoint of Cresus-Parpi.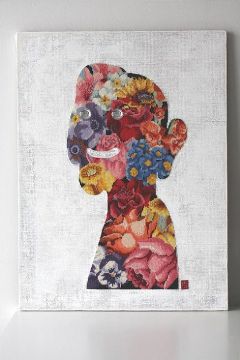 When did you start crafting? HO: I started that when I was an elementary school student. I was taught art by my father and handcraft by my mother.
What crafts have you tried and what is your current favorite? HO: I have tried embroidery, knitting and crochet, patchwork quilt, hand weaving, dressmaking, and hooked rug. My current favorite is needlepoint.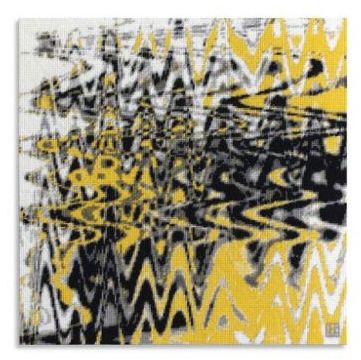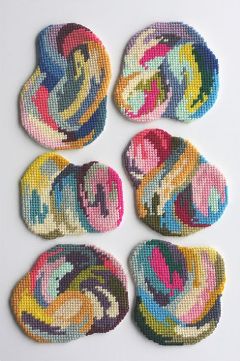 What is your most popular (or bestselling) project? HO: The impromptu coaster.
Have you ever started a project without a pattern or plan? HO: The pattern is usually drawn on the canvas by freehand, after having drawn some ideas in a sketchbook.
As for the GASO series and some others, the pattern is made with a PC.
What's the biggest craft project you have ever attempted? HO: The (90 cm square [35 in. square]) zigzag drive rag rug.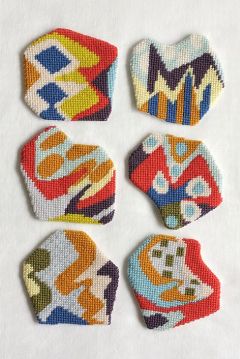 What craft project are you most proud of? HO: The coaster series. I made a plan to make 100 pieces of them. And I achieved it.
Has a craft or craft project ever challenged you in an unexpected way? HO: My eyesight failed rapidly by this work. I thought that I should have made it with more low count canvas (this project used 40 H.P.I. [holes per inch] silk gauze). [Note: Haruhi typically uses 10 H.P.I. canvas]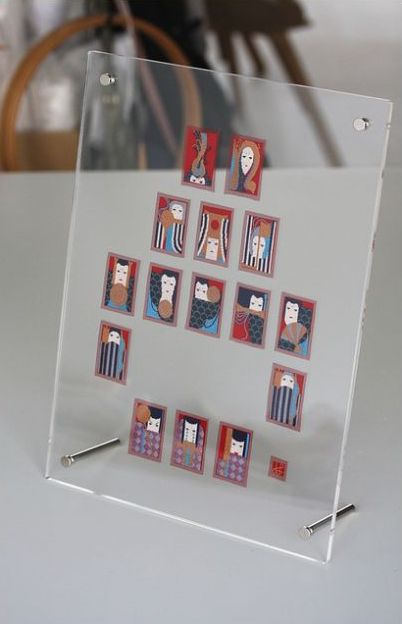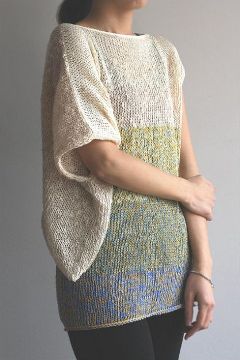 How has crafting affected your character? Has it made you more patient, grateful, organized, supportive, adventurous, persistent, proactive, independent, diverse, imaginative, observant, expressive, consistent, brave, calm, etc.? HO: All of those, and taking good care of things (recycling, ecology). Even the scrap of thread and cloth can become the necessary materials. Like [a] patchwork quilt or hooked rug or embroidery for strengthen[ing] cloth (sashiko), etc… The number of times to throw away my old clothes decreased.
Can you share a story about how your crafting has affected others? HO: There was the person who dropped tears to see my works. They seemed to be impressed… arigato…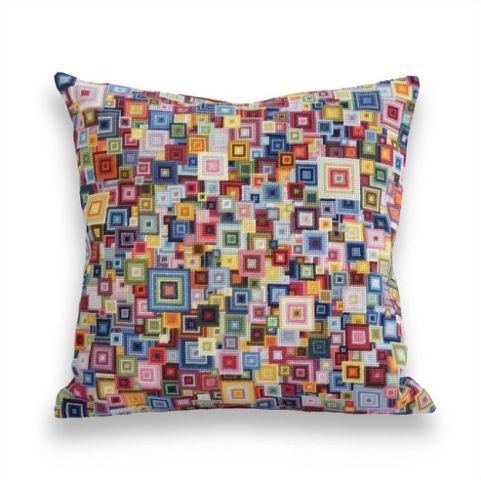 What crafty goodness do you have coming up in the future? Why is it appealing to you? HO: I want to challenge a work of large size, because I made many works of small size. I think that it will be the tapestry by the needlepoint.
Many thanks to Haruhi for giving us a glimpse into her craft. Being a needlepointer myself, I am an enormous fan of her work. The creativity, the quality, and the speed at which she creates these pieces always impresses me. In fact, the first time I saw her stunning MWWM Bright Yellow work (second picture down in this post), I'm sure I caught my breath. I highly encourage everyone to look at the Cresus-Parpi Flickr Photostream and see all the pieces that I couldn't include in this post.
You can follow the adventures of Cresus-Parpi on her website, Flickr, and Etsy. She also sells some of her pieces through the TakeHeartShop in Austin, Texas, and you can read more about her clutch bags and her history at the ShopFloorProject.
Would you like to be a part of the ACrafty interview series? Just contact me! You might also be interested in reading some more ACrafty Interviews with multi-crafter Diane from CraftyPod, cross stitcher Katie Kutthroat, embroiderer Sasha of What! No Mints?, quilter Betty Busby, embroiderer Ellen of Schindermania!, and the multi-talented David Tedin.