Welcome to this ACrafty Interview with Ellen Schinderman, artist, curator, and frequently NSFW needleworker.
When did you start crafting? ES: i was always a crafty kid, my favorite thing was always to hang out and make something. i learned needlework young, probably at 7 or 8 years of age.
What crafts have you tried and what is your current favorite? ES: i've tried a lot of stuff, book binding, stained glass making, ceramics, batik and dying, you name it, i've probably tried it at some point. i'm very lucky in that i went to very artsy schools and camps as a kid, but i'm a stitcher, that's what makes me calm and happy.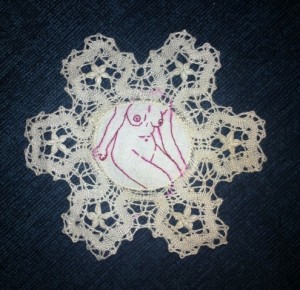 What is the silliest question you've ever received about your craft? ES: do you make your art from personal experience? it's ridiculous! just because it's dirty doesn't mean i'm a porn star, folks.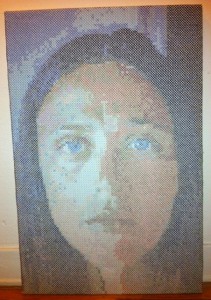 What craft project are you most proud of? ES: i'm loving what i'm doing now, large-scale cross stitch, and i'm awfully proud of the portrait of my mom that i did. i'm also pretty proud of curating stitch shows in galleries that are not "craft" oriented.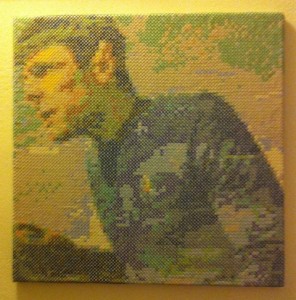 What's the biggest craft project you've ever tackled? ES: these large scale cross stitches are big. the one of my mom is 2'x3′. i am working (slowly) on a piece that is another family photo (doing a whole series of my family in the '70s) which will be 6'x10′. i'm out of my head.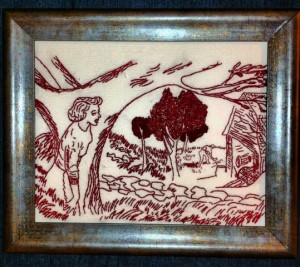 Has a craft or craft project ever challenged you in an unexpected way? ES: not sure. i've had projects be more challenging than i thought they would be, or i've realized i could have done something in a better or swifter, more practical way, after the fact, but nothing comes to mind in particular.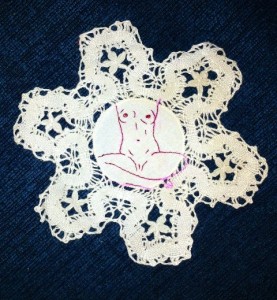 How has crafting affected your character? ES: making visual art has changed me a lot – though i think i was already changing or i wouldn't have wound up doing this. it has slowed me down, which is great, and i find myself now in a part of a wonderful community, both online and in the LA artworld, that I didn't feel prior (i was a writer and an actor, studied at NYU's Tisch School of the Arts). I'm also proud of me! I always admired people who could make something and felt my art was so ephemeral, as i mostly did theatre. i love that i make tangible things someone can buy and take home!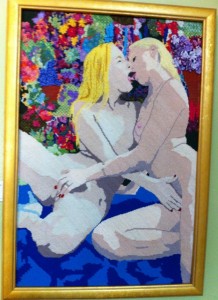 Can you share a story about how your crafting has affected others? ES: i've shocked some people. mostly people giggle and i love watching them interact with my art, realizing it's stitched, hand made, dirty… i've also had a lot of lovely emails from people i've worked with as a curator, who've been terribly kind in saying that my work, or my calls for art have inspired them to begin stitching again, or to make a certain thing that they wouldn't have considered.
What crafty goodness do you have coming up in the future? Why is it appealing to you? ES: i have a bunch of group shows i'm in here in LA, a group show in NYC in dec, curating the second edition of Stitch Fetish at the Hive in LA in feb, and beyond that, working on this series of my family. and i'm sure there will be random racy pieces in the meantime.
Thanks so much, Ellen, for taking the time to share some of yourself with us! Best of luck with your large scale projects – I look forward to seeing them.
You can follow Ellen's adventures on her website, tumblr, blog, Etsy, and Facebook page.
Would you like to be a part of the ACrafty interview series? Just contact me! You might also be interested in reading some more ACrafty Interviews with multi-crafter Diane from CraftyPod, quilter Betty Busby, cross stitcher Katie Kutthroat, potter Chris Tedin, embroiderer Sasha of What. No Mints?, and jeweler Ron Buhler.