Welcome to today's ACrafty Interview with Katie Kutthroat. She's heavily tattooed, always honest, and an occasionally NSFW cross stitcher and embroiderer. If you watch the Emmy winning HBO series Girls, you may recognize some of her pieces that were used on set.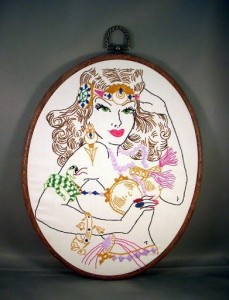 When did you start crafting? KK: I grew up around crafting. My mother's aunts, my great aunts, were big into crafting… painting, quilting, embroidery, cross-stitch, I grew up with these things around me. I guess I really learned and appreciated embroidery and cross-stitch when I was in high school. I definitely gifted friends and boyfriends homemade goods ranging from towels to homemade soap, that was about the time I learned the passion that comes with making things with your hands.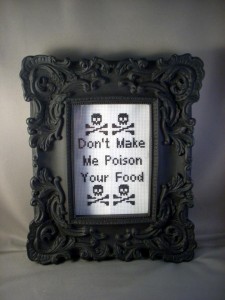 What crafts have you tried and what is your current favorite? KK: I have tried knitting, cross-stitch, embroidery, jewelry making, soap making, painting, sewing, cake decorating… my favorites would be cross-stitch, embroidery and jewelry making. But I am in the middle of a break from culinary school, due to finances. Once I am back on the saddle I plan on continuing with a pastry certificate, I really want to decorate cakes for a living. I enjoy making people happy and smile and ultimately that is what I want to do for the rest of my life.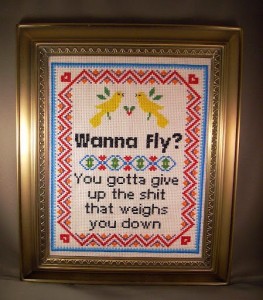 What craft project are you most proud of? KK: I did this 8×10 cross-stitch in the sampler style with a quote from Toni Morrison, "Wanna Fly? You Gotta Give Up The Shit That Weighs You Down." It really has a positive and healthy message to it, what holds us back we truly must give up to succeed.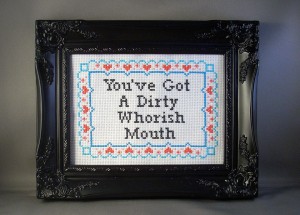 What is your most popular or best selling project? KK: My most popular items would be any Anchorman quote or anything with a Girls reference.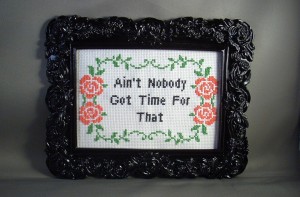 What is the silliest question you've ever received about your craft (aside from this one)? KK: Probably if I really talk in quotes and slang like my stitching.. and to my family's dismay the answer is, yes! HA!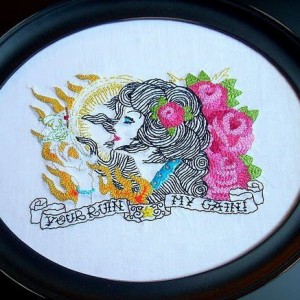 Has a craft or craft project ever challenged you in an unexpected way? KK: It is funny cause sometimes the pieces I think will be a simple task I tend to make more complicated. This is more true with embroidery, but I really love bringing depth and texture to them. Sometimes this tends to be a task more challenging than my skill.
How has crafting affected your character? KK: It has definitely brought me a calm… It has made me more patient definitely and in moments of stress or anguish I find it comforting and relaxing. It is sorta my zen.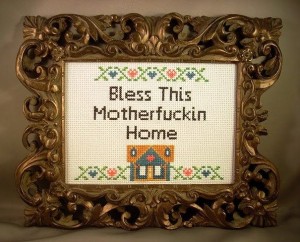 Can you share a story about how your crafting has affected others? KK: It is truly amazing some of the stories I have heard, from people giving gifts with quotes from relatives past to their family members or just someone learning how to cross-stitch because they wanted to do one of my patterns themselves. It is all more rewarding than I ever thought it would have been when I started my Etsy shop 5 years ago!
What crafty goodness do you have coming up in the future? Why is it appealing to you? KK: I honestly am not sure what my next new thing is, I have lists all over the place (i.e. my cell phone, computer, scraps of paper) with ideas written on them. I tend to just go with what feels right at that moment, it really is like therapy stitching. I do plan on taking more pastry classes as soon as possible though! 🙂
A special thanks to Katie for participating in this ACrafty Interview. She was one of the first people I ever contacted on Twitter (along with WhateverJames). She recently has had some attention with her pieces being featured on the HBO show Girls, and I just couldn't be happier for her! Best of luck finishing out your culinary degree, Katie – I can't wait to see your first Anchorman themed pastry…
You can follow Katie's adventures on Etsy, Twitter, Pinterest, Instagram, Tumblr, and Facebook!
Would you like to be a part of this ACrafty interview series? Just contact me! You might also be interested in reading some more ACrafty Interviews with cross stitcher WhateverJames, multi-crafter Diane from CraftyPod, knitter Apockylypse, and quilter Betty Busby!