Welcome to today's ACrafty Interview with Linda Martin, quilter and pursemaker!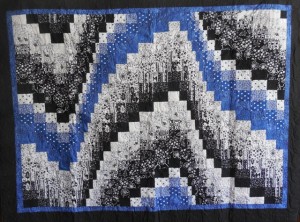 When did you start crafting? LM: I think I have always worked on craft type projects. I remember as a child getting craft kits as gifts. Making collages, animals, painting, knitting, sewing, and crochet were always something I did. My Mom and Grandma always worked with me on them and taught me many useful skills along the way.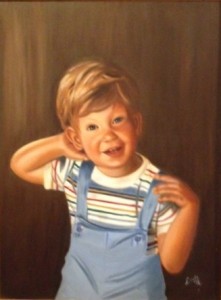 What crafts have you tried and what's your favorite now? LM: I probably have tried most every kind of craft. In addition to those I already mentioned I have made many clothes, curtains, tablecloths and pillows. For many years I painted with oils and acrylics. I made many landscapes, portraits and animal paintings. Working with color and design was always part of my life. My favorite now is quilting. It's been a natural progression of my interest in color and design projects.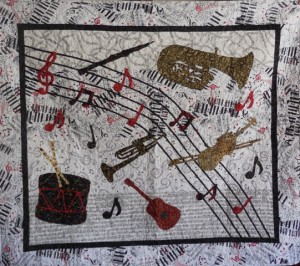 What project are you most proud of? LM: Right now I'm very proud of a project I created this summer. I was asked by a friend to make a "music" quilt. I thought a lot about it and came up with a very free form kind of create as you go project. Of course I had the help of a friend as we brainstormed ideas back and forth. The quilt took me outside my normal comfort zone of making quilt blocks and putting them together.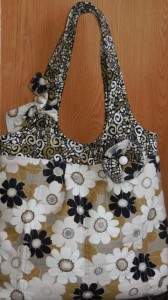 Have you ever started a project without a pattern or a plan? LM: I can't think of a time when I didn't have some kind of a plan, pattern or design in my head. Sometimes things change along the way, but I have a picture in my head.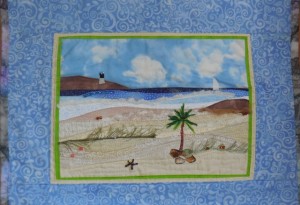 Has a project ever challenged you in an unexpected way? LM: Some projects have challenged me for sure, but I have always found a way to complete them. Sometimes I will put a quilt away for a while and let it rest! Really my head usually needs a "vacation" from it while I figure out a way to make it work.
How has crafting affected your character? LM: Since I have been making some kind of creative projects most of my life, it's hard to tell if my character has developed because of my life experiences or creative experiences. I suspect it's both.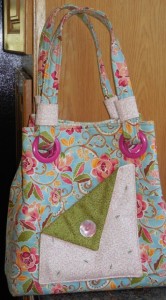 Since I was an elementary school teacher for over 30 years my organizational skills from teaching have certainly help me be better at my creative projects. When I began teaching we had to create our own classroom environment. That gave me a lot of confidence in my ability to draw and paint. I had always been too reticent to to take art classes because of fear of criticism. But as I got compliments and "oh wows" on my work from fellow teachers, my confidence grew. I gradually began painting. This taught me lots of perseverance because painting is very much a developmental process. Observing details is also important to a successful product. (whether it's painting or quilting). Color and patterns in nature transfer to the finished painting or quilt.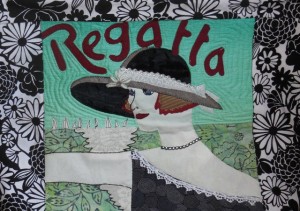 Even though I'm no longer painting, many of these skills apply to my sewing and quilting. The balance of color and design elements are also very important. This is often the most important part of the quilt. Without the right balance the quilt will not work. When I finish a project whether it's a purse or a quilt I'm really proud of it. Sometimes I look at the result and say wow, I did it!
As I've gained confidence in my work, I've definitely become more adventurous to try new things. This summer I made a landscape and a portrait quilt (wall hangings really)! I guess I was brave to try those things.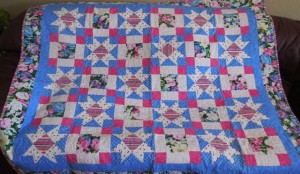 Can you share a story about how your crafting has affected others? LM: Some of my friends who are not quilters have been curious about what I do. I have shared my skills with them as well as the process of creating a quilt. I helped and encouraged one to make a purse and a pillow! I have also given many quilts and purses as gifts.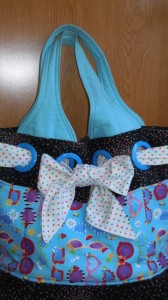 What crafty goodness do you have coming up in the future? Why is it appealing to you? LM: I'd like to continue with making purses and quilts, trying to expand my horizons with new kinds of projects. Another goal of mine is to do more free hand quilting on my long arm quilting machine. That's a whole other learning curve!
Thanks to Linda for taking the time to participate in this ACrafty interview series, and thanks to previous interviewee, jeweler Ron Buhler, for recommending her for the series! Best of luck with the free hand quilting…
Would you like to be a part of the ACrafty interview series? Just contact me! You might also be interested in reading some more ACrafty Interviews with multi-crafter Diane from CraftyPod, embroiderer Ellen of Schindermania!, needlepointer Haruhi Okubo of Cresus-Parpi, tatter and chainmailler Jeff Hamilton, stone artist Jerry Locke, potter Nancy Germond, and Tina Puckett of Tina's Baskets.