Welcome to today's ACrafty Interview with WhatNoMints! Sasha is a nature lover, scientist, and the heart of What. No Mints?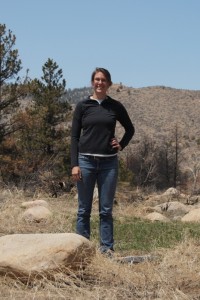 When did you start crafting? SW: It's hard for me to pinpoint an exact time when I began crafting. As a kid, I constantly looked for an excuse to stretch my creative fingers – I took a few art classes to learn the basics and always overdid any school project that came my way (I remember creating a pretty epic plant cell for high school biology). I would say that I really started sharing my work with others about 4 years ago after I graduated college – I had a little more free time and (because I can't sit still for too long) decided to jump back into crafting with both feet!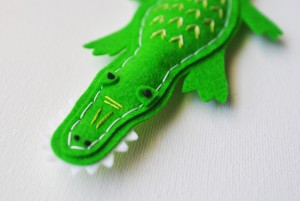 What crafts have you tried and what is your current favorite? SW: My love affair with crafts started with acrylic paint. My parents' house had a large unfinished basement where I would sit for hours, painting my favorite photos from magazines, etc. But college and post-graduation life has since pushed us into tiny apartments where room for easels, dirty paintbrushes and canvases are limited. My materials have since switched from paint to fiber and I now try to achieve my creative goals using embroidery floss, felt and assorted linens. I have really grown to love embroidery and enjoy trying new designs and stitching techniques!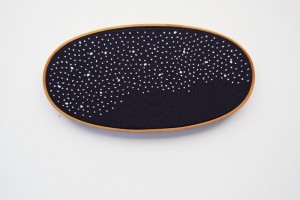 What's your most popular (or bestselling) project? SW: I would have to say that my embroidery hoop art pieces are my bestsellers – I usually just sew whatever crazy thought/animal/design that comes to mind. Luckily, there seem to be a bunch of other people out there who share my interests and sense of humor because even my quirkier pieces (like my "Baller" mason jar) sell like hotcakes!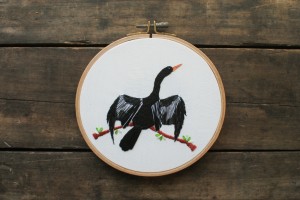 What craft project are you most proud of? SW: My most prized embroidery piece is actually not available for purchase. I moved to south Florida 2 years ago to begin work on my PhD in environmental chemistry. I have since fallen in love with the Everglades and the anhinga has become one of my favorite animals. This "snakebird" is as clumsy and awkward on land as it is quick and agile in the water. Unlike a duck, it lacks an oily coating on its feathers. Therefore, after going for a dip, it needs to stand in the sun, wings outstretched, for lengthy periods of time to dry. Their persona and lifestyle are both intriguing and amusing. After sewing the likeness of this wonderful creature, I realized I just could not let it go.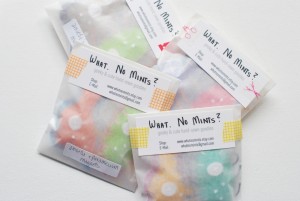 What's the biggest craft project you've ever tackled? SW: I remember my first wholesale order of 45 hand-sewn ornaments to be a little daunting. "45" doesn't seem like such a huge number, but then you have to remember to multiply by 2 for the number of woolen shapes to be cut and factor the time it takes to sew each unique ornament by hand. After completing the first few ornaments, I was worried I had bitten off more than I could chew. But I remembered to be relaxed and work on the project in segments so as not to be too overwhelmed. In the end, the collection of wool ornaments was perfect and lovely and shipped on time!
Has a craft or craft project ever challenged you in an unexpected way? SW: I can't say that I've experienced any unexpected challenges while working on a project. Embroidery floss gets tangled, stitches need to be pulled and redone, entire designs fail and must be scrapped, etc. These are all just regular hurdles that those working with a needle and thread face! I almost welcome these challenges, because they make the enjoyment of finishing a piece that much sweeter.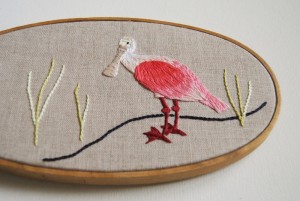 How has crafting affected your character? SW: I think sewing has made me a more placid person. With the workload of being a full-time graduate student, I have a tendency to not know when to stop. Oftentimes I'm the first one in lab in the morning and the last one to leave at night – Even my advisor tells me I work too much! Needlework still allows me to learn and accomplish new things, while giving the left side of my brain a break from scientific undertakings.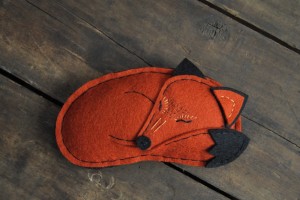 Can you share a story about how your crafting has affected others? SW: I think my Mom has been most affected by my crafting – She cannot get her hands on enough of my pieces!! Her home is riddled with a whole bunch of my hand-sewn items. Now that I live 1300 miles away from home, I think it's a way for her to still keep me close 🙂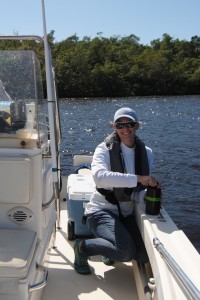 What crafty goodness do you have coming up in the future? Why is it appealing to you? SW: The following creatures are currently on my "to-sew" list: golden orb-weaver (a giant 5-inch spider), green heron and leaf notcher weevil. I am constantly being inspired by my environment – I love to photograph the tropical critters that live around us and transform them into embroidery art. I would also like to come up with some mythical animal patterns and create 3D soft sculptures with wool felt. These designs could include anything from dragons to hybrid animals like an allipanther (body of a panther with the head of an alligator). Sewing gives me the freedom to create literally anything that comes to mind – I love that.
Many thanks to Sasha for participating in this interview. I first fell in love with her paramecium magnets and it's just gone uphill from there (her recent dragon piece is terrific)! I look forward to seeing all her future explorations and creations…
You can follow Sasha's crafty adventures on her blog, Twitter, Pinterest, and her Etsy shop!
Would you like to be a part of this ACrafty interview series? Just contact me! You might also be interested in reading some more ACrafty Interviews with multi-crafter Diane from CraftyPod, knitter Apockylypse, quilter Betty Busby, cross stitcher Katie Kutthroat, and potter Chris Tedin!