All 76 colors of DMC variegated floss are now available in my Etsy shop! This includes all 60 of the newer (4000 series) Color Variations and 16 of the original, classic variegated flosses.

I'm offering these flosses at good prices and with excellent shipping rates.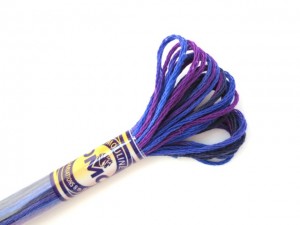 I have found it incredibly difficult to find these variegated flosses at reasonable prices and for reasonable shipping. Big brick-and-mortar stores like Michael's and Jo-Ann don't carry them. Some small boutique embroidery and needlepoint stores do carry them, but charge much more than standard retail for the skeins. You can find these flosses in big online shops, sometimes for prices below the manufacturer's recommendation, but many times you'll have to buy a minimum of six skeins of each color.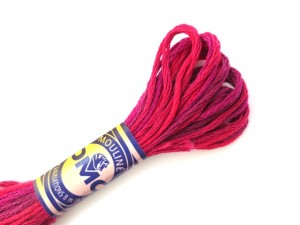 And then there's the shipping. With most online stores, shipping is expensive considering the weight of the floss. Don't get me wrong – I understand their shipping charges are based on the dollar value of what your purchase, rather than the actual weight of the items. This makes perfect sense for a big retailer with millions of products. However, it's hard to justify paying $7.00 to $10.00 for shipping 4 skeins of floss.
With all that in mind, this is why I am offering these variegated flosses for the manufacturer's recommended retail price, and with reasonable shipping.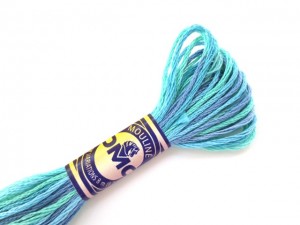 I'm also very happy to answer questions about the floss. A woman recently asked me if I could recommend close matches to four variegated flosses that had been discontinued. That was a fun bit of research, and I was glad to give her some information that helped her.
I really enjoy looking at these flosses and wondering how I can incorporate these gorgeous combinations of colors into some of my future designs. Do you do the same?