BeMores are a series of words cross stitched on paper. They're colorful, quick, fun, and a great way to encourage good character development. Everyone from tweens to boomers and stitchers from absolute beginners to experts enjoy these projects!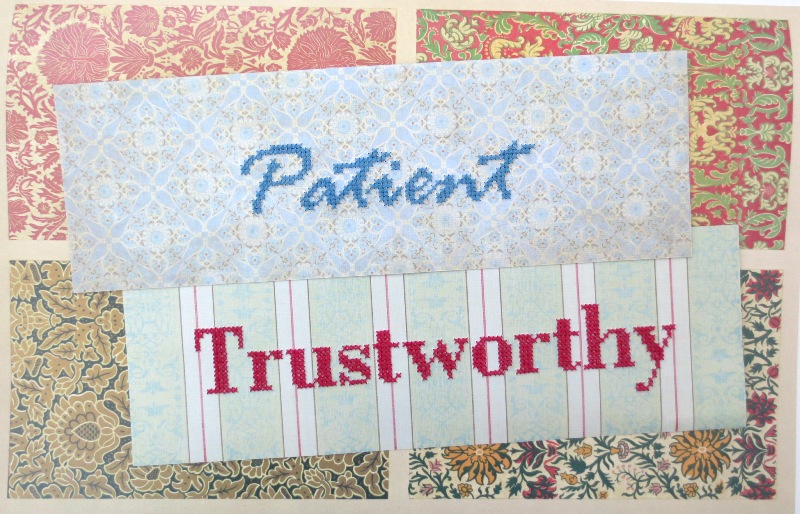 The idea of BeMores is quite simple. I see someone or something I admire, and I find myself thinking "I'd like to be more like that." These stitching projects are a great way to gently remind ourselves to be more. BeMores also give us a great opportunity to develop the valuable skills of focus and patience.
Some comments from BeMores participants:
"They're a good size… [just] long enough to feel a sense of accomplishment!" – Amy in Louisville, Colorado
"This kit is just right for a starter project." – Linda in Anchorage, Alaska
""It was good to quiet my mind from the usual daily buzz that goes on in my head." – Crystal in Overland Park, Kansas
Right now there are three sets released: Set 1 "Grateful" and "Organized," Set 2 "Patient" and "Trustworthy," and Set 3 "Moderate" and "Healthy." Go to my Etsy shop to purchase any of these fun kits!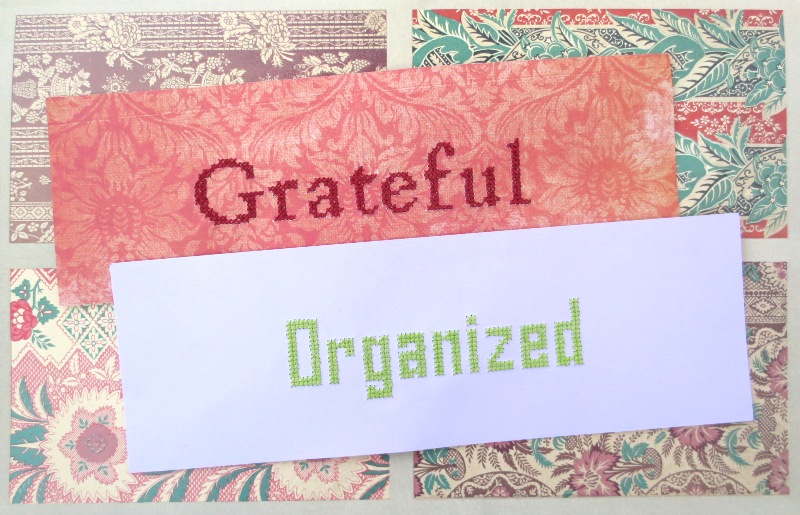 In 2008, I created a series of colorful cards as my own personal BeMores reminders, but I never really displayed or used them. In 2012, I got the idea of stitching the words. Now I've found that the hands-on creation and display of these projects has made the meaning of the words much more special and personal to me.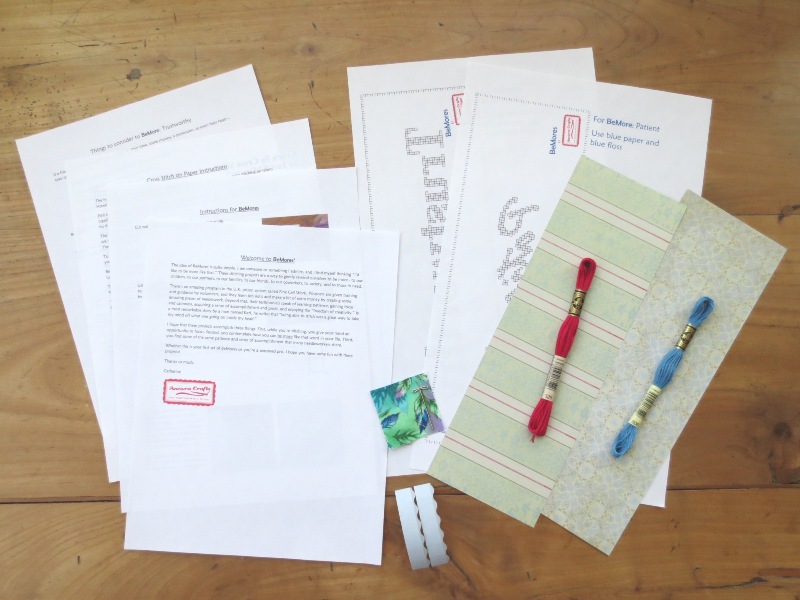 These kits come with everything needed to complete the two projects including papers, flosses, a needle, and a complete set of instructions. Each finished project will measure 4 inches by 12 inches (10.2 cm by 30.5 cm).
The kit can be just a starting point for wherever your creativity takes you! Some may prefer the simplicity of the unembellished kit. However, you could stitch an outline on the word, use variegated flosses or ribbons, stitch a border pattern or a flower design, add beads, buttons, sequins, or stickers. A million possibilities exist to personalize these projects and make them your own!