I've led a charmed life when it comes to traveling, and it just keeps going. I've been in 47 of the 50 States (Michigan, Wisconsin and Alabama remain), and I've done some extensive traveling through Europe and Asia. Another trip to Europe is in the planning stages, and currently on my list of places I want to go (and haven't been before) are Australia, New Zealand, Vietnam, and Cambodia.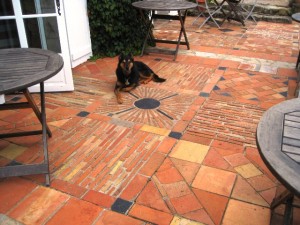 One of my benefits of traveling is that I've gathered some great inspiration for craft projects from traveling. I've got patterns ready to test stitch based on this patio from a hotel near Toulouse, France: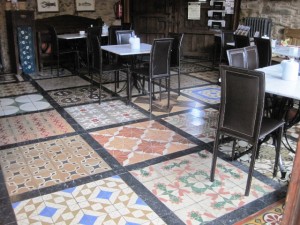 This floor could inspire some great designs someday. It's from a bar in a tiny town in Spain: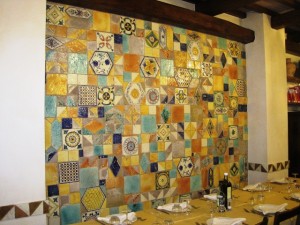 This gorgeous wall from a hotel near Norcia (pronounced Nor-CHA), Italy is full of potential: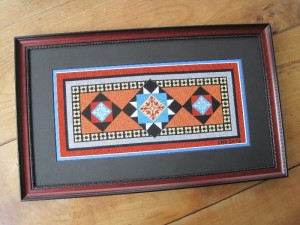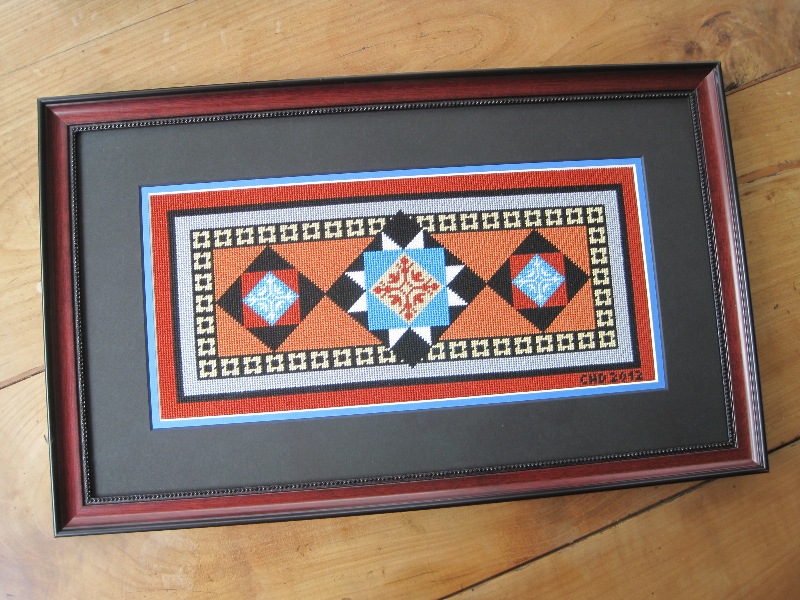 This project is based on a tile pattern in the entry of a house in Newton, Iowa (you can read more about it here):
[Wow, does anyone think I like geometric patterns yet?]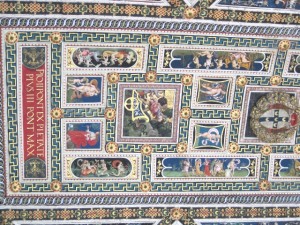 And don't even get me started on the Piccolimini Library of the Duomo in Siena, Italy:
One of the other benefits of traveling, REAL traveling, is that it's one of the best ways of learning about yourself and the world. When I say REAL traveling, I don't mean cruises or all-inclusive resorts. I mean going somewhere off the highways and motorways, finding your own way from town to town, ordering food in restaurants where you don't recognize anything on the menu, and buying groceries where you don't speak the language.
This short post by Trish at GirlsOnTheWay is one of the best accounts I've read about the benefits of traveling and what REAL traveling can teach you. I've traveled with a backpack in a similar way and I agree with her post one hundred percent. I especially appreciate her third point: "Material goods don't matter. At all." This is so true. There is very little you NEED. Everything else is just icing on the cake. Read Trish's post – it's worth every second of your time.
These days I'm fortunate enough that I can take my crafts with me as I travel. If I'm not stitching, then I'm collecting inspirations or designing future projects. This is a portion of the ceiling of a church in Oloron Saint Marie, France. I'd love to design a project with these gorgeous motifs someday…
Have you seen the benefits of traveling in ways that Trish has mentioned? Are you able to take your crafts with you on your travels? We'd love to hear about it! Please comment and share your experiences…