This new and very fun Blazing Saddles cross stitch pattern is now available in my Etsy shop!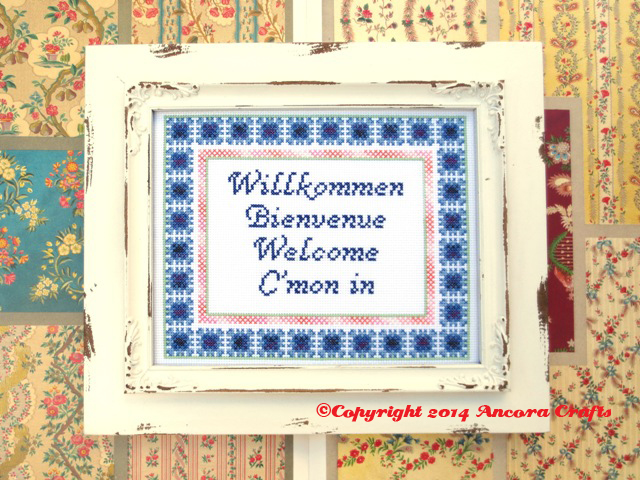 The quote for this pattern comes from Lili Von Shtupp as played by Madeline Kahn. When someone knocks on her "dwessing woom" door, she replies "Willkommen, bienvenue, welcome, c'mon in!"
I designed the floral border pattern in honor of the "Teutonic Titwillow" as the cornflower is the national flower of Germany. I spent quite a bit of time trying to get the floss colors as close as possible to the vibrancy of the real flower. At the center of the flower, I used DMC 4245, a variegated floss, to try to convey the mix of dark purples and blues.
You may see that variegation a bit better in the photo below which is of the work-in-progress.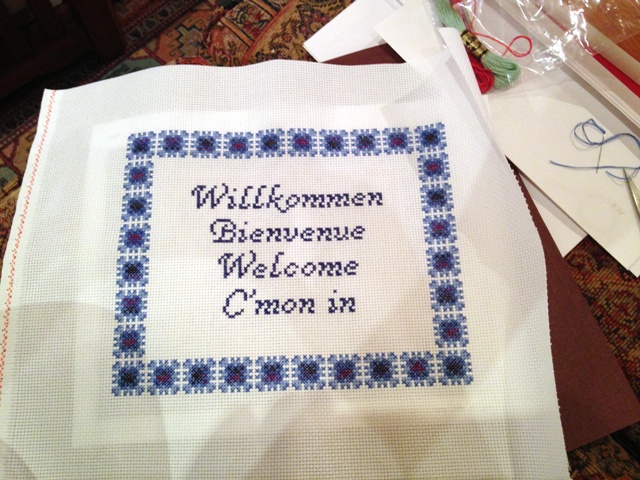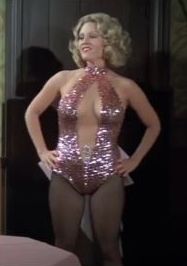 I used another variegated floss, DMC 4190, in the smaller central border. This is a nod to the pink sequined number that Lili put on when she was seducing the "shewwiff."
Blazing Saddles is a riot, of course. There's no way they could get away with making the movie now. That fact makes the movie that much more precious to me.
I plan on hanging this project in our guest bedroom, but I can see this also working really well in entryways, powder rooms… anywhere you might have guests and/or movie buffs who really appreciate Blazing Saddles. I guarantee this is one of the more unique "Welcome" signs you'll ever see!
If you're a new visitor to my blog and a Blazing Saddles fan, you might also want to see one of my previous projects (below). It's a cross stitch of the list that Harvey Korman dictates; a list of the worst scum and scoundrels he wants Slim Pickens to round up to attack the town of Rock Ridge. The words in the pattern are available in my Etsy shop as well.
I had an absolute blast designing and stitching this Blazing Saddles cross stitch project, and I hope you enjoy it too!