The new DMC Coloris variegated flosses have just been added to my Etsy shop!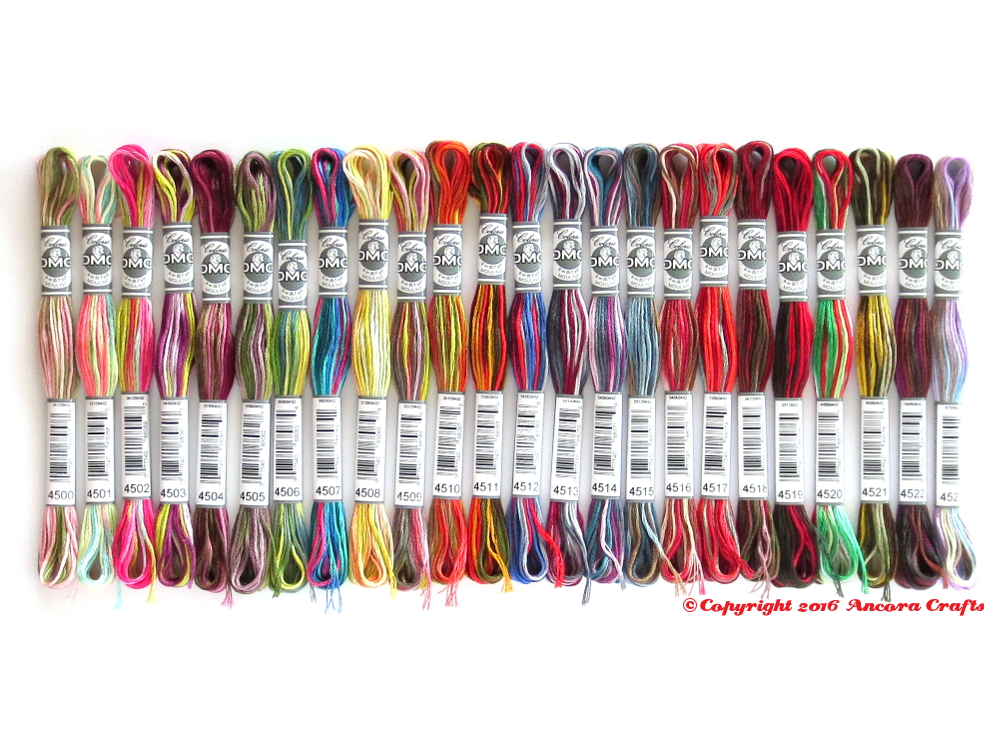 These 24 flosses are outstanding additions to DMC's already excellent line of variegated threads. These are all true multicolor combinations, where most of their predecessors have more subtle color combinations.
These are so new in the States that it's a little tough to find information about them. DMC USA has not updated their website yet with Coloris information, however the DMC UK site has a little information and five free charts.
I felt like a kid on Christmas morning when opened the boxes containing these flosses – it was so fun! I'm sure my husband got tired of me repeatedly saying "oooh" and "wow" as if I were watching fireworks. But these combinations are just so different and striking that I couldn't help myself.
Here are a few of my early favorites…
DMC 4501, called Fleurs des Champs (Wildflowers), is a springy blend of watermelon pink, green, and light teal. It reminds me most of the inner layers of a watermelon rind.
DMC 4502 is called Camellia and is a springy combination of bright pinks, green, and light blue.
DMC 4506, Primavera (Spring), is a gorgeous blend of green, blue, and yellow.
DMC 4507 is called Bougainvillea, and it's a gorgeous group of teal greens, blue, and dark pink. It reminds me most of peacock feathers.
DMC 4523, Vent du Nord (North Wind), is a lovely combination of light purple, light blue, and sandy browns.
One curious note: I think DMC 4520, called "Christmas Story," is identical to the older DMC 4042 "Very Merry." I will have to compare them in more detail, but in the meantime I'm wondering why they repeated this combination.
These DMC Coloris variegated flosses are just lovely and I really look forward to stitching with them. I also think they will look great in any of the multitude of crafts that can be done with variegated floss (check out my six-part series on variegated floss projects!).