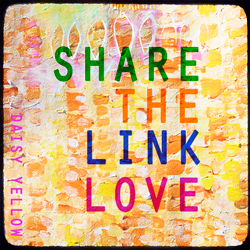 Following the lead of Diane and Tammy, this week I'm rounding up the "Five Blogs That Make Me Laugh″ as part of their "Share the Link Love" mission.
She's just… just… April. She ran the hilarious and controversial blog Regretsy, and now she's acting and doing voice work in Hollywood. She's brash and ballsy, unapologetic and funny as hell. I'm looking forward to seeing if she will continue some of the really amazing holiday charitable works she did with the CF4L Regretsy goons, and her collection of truly horrifying music is, well… truly horrifying. Her comment on the Paul Anka cover of Smells Like Teen Spirit? – "Makes you want to drink Nyquil and crawl behind the armoire."
#2 TheBloggess
I bet most of you reading this have already heard of Jenny Lawson, aka The Bloggess (Tagline: "Like Mother Teresa, Only Better"). She can be hilarious while at the same time being very honest about her mental health issues that change over time. She was big-time involved in the Traveling Red Dress Project, and she has a photo of Wil Wheaton collating. How can you beat that?
A recent quote: "In all seriousness, bullying is shitty and you shouldn't do it. That being said, almost no one who is real a bully actually realizes it, so I sort of think it would be better if we had a 'Maybe-Stop-Being-Such-An-Asshole' Awareness Day, because honestly, if you don't think you're occasionally an asshole then you are totally an asshole." SO TRUE.
#3 Fark
I just love Fark. From the epic threads like the Ballsack Conundrum to the Photoshop contests and the (mostly) good natured bickering in the comments, it's all pretty fun. But the best part really is the headlines themselves. There are some really witty people out on Fark.
For example, just take a look at the 2012 Headline Of The Year Contest. The overall winner: "Alzheimer's Walk set for Saturday. Search and rescue set for Sunday." Geek subtab winner: "Stephen Hawking reaches 70. Must have been a really steep hill."
I miss these guys a lot. They remind me a bit of the Muppets in that there's simple stuff for kids and more sophisticated stuff for adults while still being funny and not sickly sweet. The site is still open, but they haven't put any new material on it since December 2010. This is a real shame as Homestarrunner has some of the funniest flash cartoons you'll see ever. Some of my favorites:
Hyperbole probably, but nevertheless it is FUNNY. My ribs hurt for days after reading The God of Cake, and in fact I have tears streaming from my eyes as I type this just looking at some of the illustrations.
And her story, This is Why I'll Never Be An Adult, spawned it's own meme. There's a reason for this. Allie is hilarious.

How about you? What blogs always make you laugh?