I've been inspired once again this week by the Link Love post from Diane at CraftyPod and will share my five favorite projects (thus far).
#1 is this outstanding hexie ombré wall by VintageRevivals. First time I saw this photo, I was rendered nearly speechless – I mean HOW COOL IS THIS WALL!
#2 is this lovely and larger size pincushion tutorial from Lori at TheInboxJaunt. Love the ocean colors and the pattern in this small piece.
#3 is this tutorial from Jesse at NineRed that not only shows how to paint some awesome hexies, it also has great information about refinishing any piece of furniture, even if it's ugly 70's plastic!
#4 are these melted bead suncatcher projects from TheArtfulParent. These are so simple, fun, and bright, I can't wait to try them out someday with the kids in my life.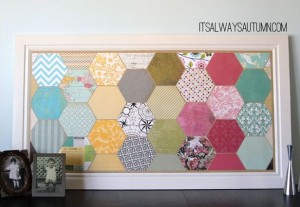 #5 is this tutorial by Autumn at itsalwaysautumn. I knew this was something I wanted to try as soon as I saw it. It's simple, inexpensive, gorgeous, and a great way to use and display some of your favorite scrapbook papers.
I'm going to give honorary mentions to two other projects – first is is this tutorial on popsicle sticks from LiEr at Ikatbag. These are great fun! Her kids did a good job…
The second honorary mention is this tutorial for bordered hexies (found through CraftyPod) that really makes me want to dive into making some of these little buggers!
I've made the last two links into honorary mentions as I showed the same photos in my link love post last Friday as well. As much as I love these projects, I just didn't want to seem too repetitive.
You also might tell that most of my links here feature hexagons. Well, they're from my four part series on hexagon crafts! Next week, I dive into a series on health-promoting crafts starting with good ol' H2O – stay tuned…