For the past five days, I've been involved in a great cause – Friends for Phinney. It's a group of bicyclists riding cross-country to benefit the Davis Phinney Foundation. They started on July 20th in Oceanside, California, and they will finish on August 30th in New York City. One of the members of the group is my uncle, Tom Casey, and with three of his friends, they're undertaking this massive ride to benefit Parkinson's patients.

[from left: Davis Phinney, Tom Casey, Rick Baker, Kathleen Donohue, and Kevin Cartin in front of Boulder High School]
My involvement started last Friday, greeting the riders as they made their final descent of the day from Salida, Colorado into Copper Mountain, Colorado. After that, the next four days have been a whirlwind of family, friends, coordination, pizza, meeting amazing people, more coordination, helping to run errands, overwhelming emotion, restaurants, gratitude, even more coordination, and meeting more amazing people.
My effort, however, was absolutely nothing compared to the work of these four riders in the planning, coordination, and riding of an average 86 miles a day! They are truly awesome.

[Kathleen, Kevin, Rick, and Tom at the entrance to Copper Mountain]
My involvement is not quite done yet as I will have to go pick up my husband, Ken, in Grand Island, Nebraska this Saturday the 10th. He rode the 80 mile Copper Triangle with the group last Saturday, and rejoined them in Boulder Tuesday morning for the ride to Fort Morgan. He'll end up riding 500 miles with the Friends for Phinney team, and I couldn't be prouder.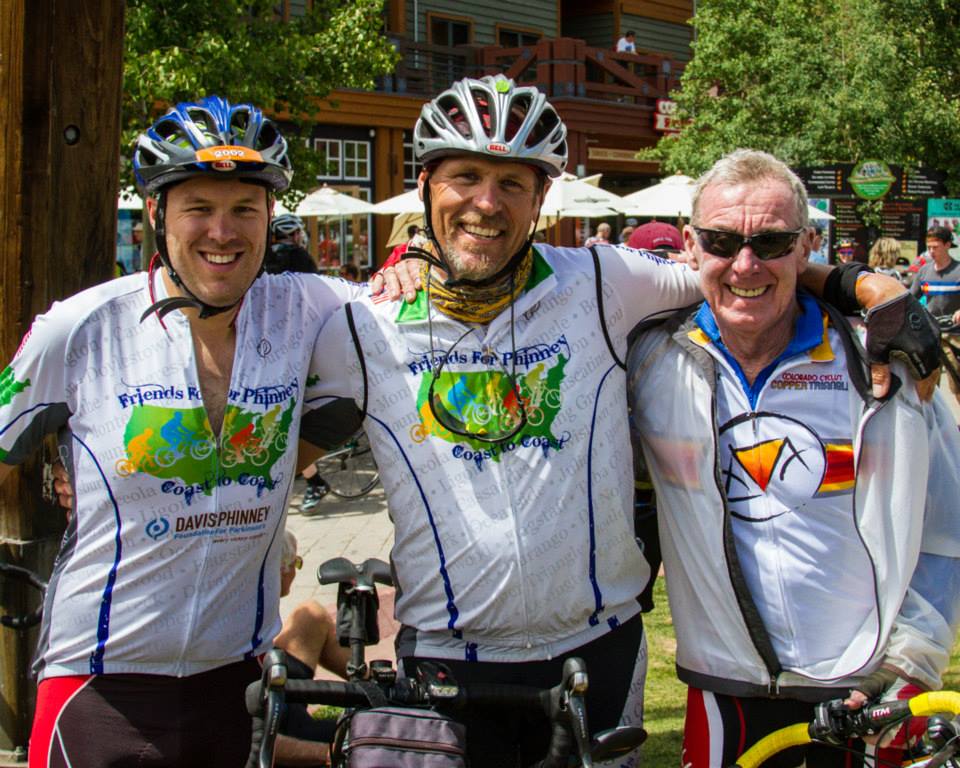 [Phil Casey, Tom Casey, and Ken Daniels at the finish of the Copper Triangle]
I highly encourage you to go visit www.friendsforphinney.org and catch up with their progress on the ride. There you can donate to the cause, learn more about the team, learn more about Davis Phinney and his foundation, help the team win $10,000, and read some of the amazing stories of the people they've met and their travels thus far. You can also see the calendar of the towns they'll be passing through, and maybe you'll be lucky enough to meet these outstanding people along the way!