My gypsy ways are returning…
Both new and returning readers to this blog may have noticed that my blogging has slowed a bit lately. This is due to a fantastic travel opportunity that is coming up very soon! From roughly May through October, my husband, dog, and I will be in motion.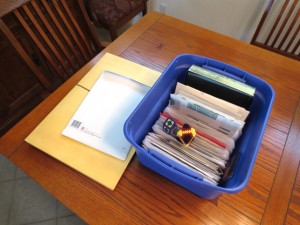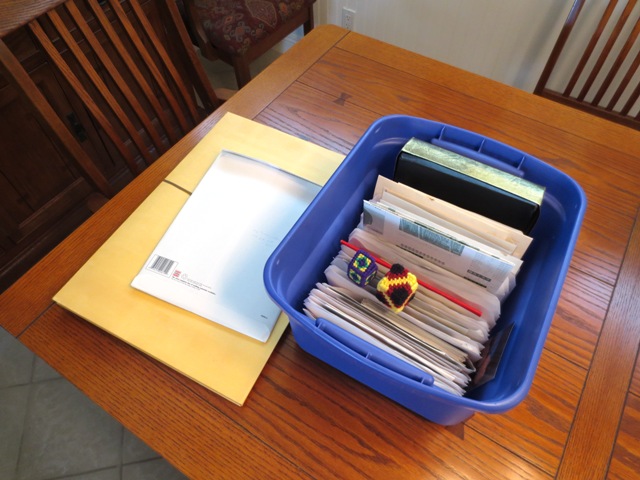 For the past few months, we've been concentrating on getting some personal projects done before we hit the road. We remodeled one of our bathrooms, and I finished up a massive project – scanning, organizing, and backing up all my printed and digital photos. This photo is of all that's left of the printed photos and scrapbooks – a reduction of about 80% of the volume of what was before… heavy awkward scrapbooks begone!
More recently, I've been designing cross stitch projects, picking floss colors, and getting all the necessary supplies together to take with us. There are some wardrobe requirements for the trip, so I've had to work on that as well. I will say that the purchase of these two pairs of fabulous shoes was necessary (thanks to the sales at Macy's for not breaking the bank, and man I just love that clear lucite platform!).
Most of the time, we will have regular internet access. But on similar trips we have stayed in some remote villages where the neighbors were what you see in the video below and internet access was in the nearest library 20 miles away. If that scenario arises, I hope to regularly post some quick updates and photo highlights.
My Etsy shop will continue normal operations, thanks to my Mom who graciously agreed to help with shipping. I'll be releasing new patterns as I finish stitching them from my current backlog of nifty designs, and as always, I'll be working on creating new designs. I find a lot of inspiration along our gypsy ways!
So for a short time, my blogging will slow down, but it definitely will not cease. I count myself as one of the truly fortunate that I get to make this trip, so I hope to appreciate it in the moment and not only when I look back in the photos. As many have said, it is not the destination but the journey that really matters.
[Update: The adventure starts here!]