After 10 days, 8 of which were on the road, and 3300 miles we reached Brooklyn, NY, the gateway to the next part of our adventure (more trip info here).
The drive from Southern California to Las Vegas is terribly uninteresting (except for the new Ivanpah Solar Power Project for us engineers), but after you pass Vegas, the geology and scenery start to get more intriguing.
I-15 passes through the northwest corner of Arizona, and there the road winds through the beautiful Virgin River Canyon.
 [Interstate 15 Arizona by Antonio Rino Gastaldi via Flickr] 
Note: You'll have to pardon me for using many photos from Flickr. Most of the time, my simple camera just can't do justice to the awesome scenery in front of it.
Just past St. George on the Arizona/Utah border, instead of continuing on I-15 N, we cut over toward Zion National Park and the charming little town of Springdale.
[Springdale, the entrance of Zion National Park by Marijke Clabots via Flickr]
From there we went north on US 89, which is a really great stretch of road, until we hit I-70 East.
At this point I should clarify that if we have the time, my husband and I vastly prefer driving on smaller roads rather than big 4-6 lane highways. You get to see much more of the character of the country on the "blue highways" rather than the more intense and less scenic US Interstates and European Motorways. However, when we have limited time and lots of miles to cover as we did now, we use the bigger roads.
To a geologist, I-70 in Utah is a real treat to behold. The rock formations are truly spectacular, and Capitol Reef, Canyonlands, and Arches National Parks are close. It really, truly, does look like this from the road:
[Black Dragon Valley by arbyreed via Flickr] 
Shortly after you cross into Colorado, you go through Grand Junction, which has some beautiful mesas.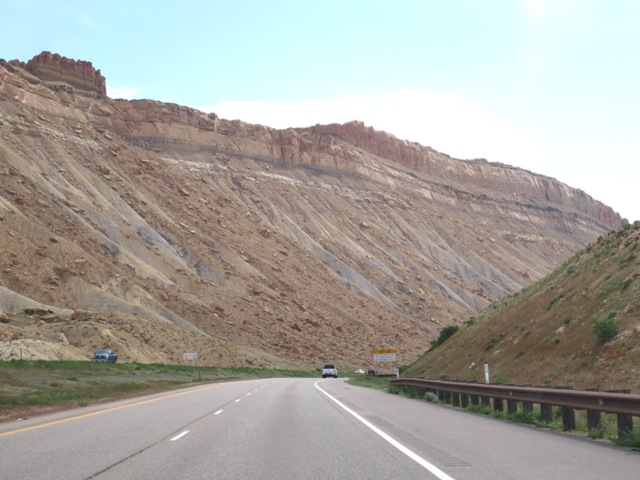 To appeal to the engineers is the rest of I-70 to Denver, the most interesting part of which I think is near Glenwood Canyon. The eastbound and westbound lanes are two separate roads, which sometimes overlap each other. In the photo below, from left you see a train line, the river, a bike path, the eastbound lanes below and the westbound lanes above. It makes for great viewing if you're a passenger. 
 [I-70 in Glenwood Springs Canyon by Josh Hope via Flickr]
The rest of I-70 into Denver is a pretty drive as well, going over the steep Vail Pass at 10,662 feet, passing through the Eisenhower Tunnel, and then easing gradually down through Georgetown and Idaho Springs.
Unfortunately, that's most of the truly remarkable scenery in this first update. From the Interstates, the Colorado plains and western Nebraska generally look like this,
eastern Nebraska and Iowa generally look like this,
Illinois, Indiana, and western Ohio generally look like this,
and eastern Ohio, Pennsylvania, and New Jersey generally look like this.
Then, all of a sudden, the trees are gone, and you're in the middle of a dense urban jungle of warehouses, streets, and potholes, looking at the south end of Manhattan. From there to Brooklyn is a blur of tunnels and construction projects probably best left to the imagination… except that we did drive right by the base of the nearly completed One World Trade Center Tower, and that is impressive.
 [Summer on the West Side Highway (September 2011) by Rob Gross via Flickr]
We're in Brooklyn for a few days until the next part of Le Big Trip begins. Stay tuned!
(Here's a link to the previous Update 0. And here's the link to the next episode, Update 2)