Gypsy ways update 10 begins with us boarding the elegant Queen Mary 2 at Southampton after a wonderful time in England and Western Europe.
[Queen Mary 2 Ocean Liner by Gerald via Flickr]
The QM2 is a truly magnificent ship. And everyone is quick to remind you that this is an "ocean going liner" and certainly not a "cruise ship."
I'll repeat a bit from an earlier update – "The main reason we take the QM2 is because they offer kennel service, and if we're doing some extensive traveling, we like to bring our dog. Transportation by water is not my favorite as I get terribly seasick (even on a lake), but as a way to get across the Atlantic with the dog and all of our luggage (as much as you can fit in your cabin is allowed), it's a great way to go.
"The dogs are restricted to a small area on the ship (deck 12, starboard aft), and they have to learn to do their 'business' on the teak decking, which can be challenging for our four-legged friends. There is a full time kennel master who takes outstanding care of the dogs and keeps the kennels very clean and comfy, and we're allowed to spend time with the dogs for various stretches totaling 7 to 8 hours a day. All the dog people get to know each other and the other dogs as we spend most of our days together in the kennels."
In that previous update, I promised to share a few more photos, so here they are…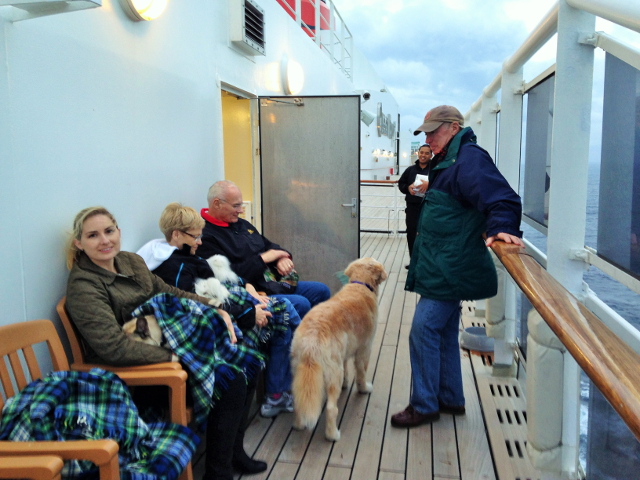 The door to the kennels is open and you can see that the gate at the fore end of the kennel deck is closed to keep the pooches inside. The kennel masters bring out chairs and provide blankets to help keep everyone warm. In fact, my dog Scully is the lump under the blanket closest to the camera.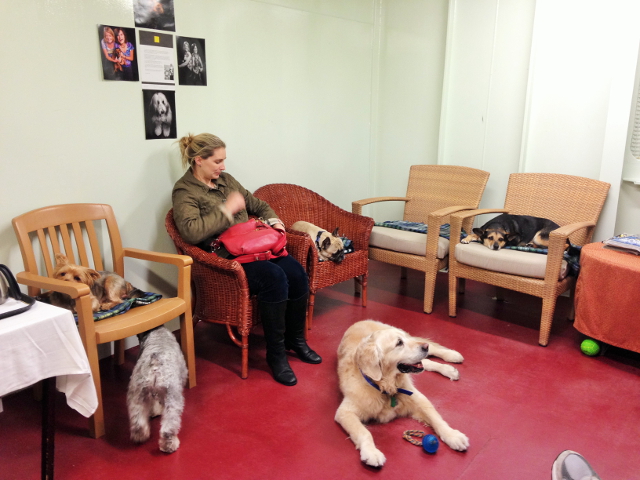 If it gets too cold outside, this is the area inside where we can sit. Scully is the black and tan one at the right. Her best dog friend this trip was Watson, the french bulldog on the chair to her left. Next to Watson was his person, Claire.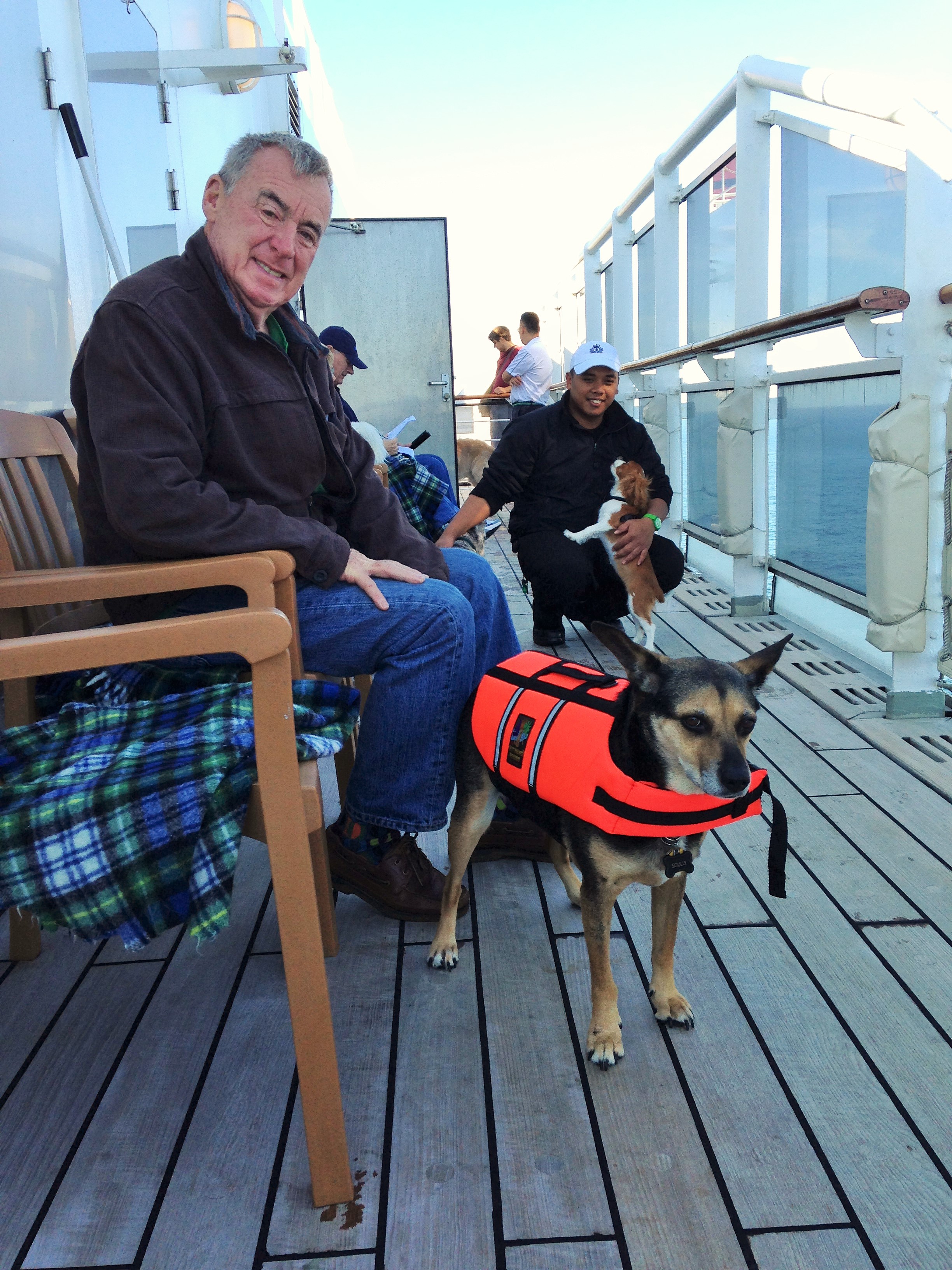 Here you can see Scully with her life jacket on (and looking a little not-too-sure about it). Behind her, scratching the Spaniel, is the kennel master. They have life jackets in all different sizes for the pets.
Like I said in the previous update, most of our day revolved around the open kennel hours. There were events scheduled every hour of every day all over the ship, but we spent as much time as we could with our dog. After the kennels closed for the night, we went to dinner, saw what was happening in the ballroom, and checked out the jazz in the Chart Room.
[Queen Mary 2 Chart Room by Rob Lightbody via Flickr]
After eight fun, elegant nights, we docked in Brooklyn and started our US journey. For that road trip, I actually recommend that you read the first update of this trip, in which we traveled from west to east. This time, however, start at the bottom of the page and work your way back up, as that is almost exactly how we returned to the west coast.
We did visit lots of friends and family along the way, including stops in Boston, Chicago, Iowa, Omaha, and Colorado before arriving back home. One highlight was something I had never seen before – the Frank Lloyd Wright home and studio in Oak Park, Illinois, just outside of Chicago. I only had time for a quick walking tour of Forest Avenue, but I will go back to take a more thorough look.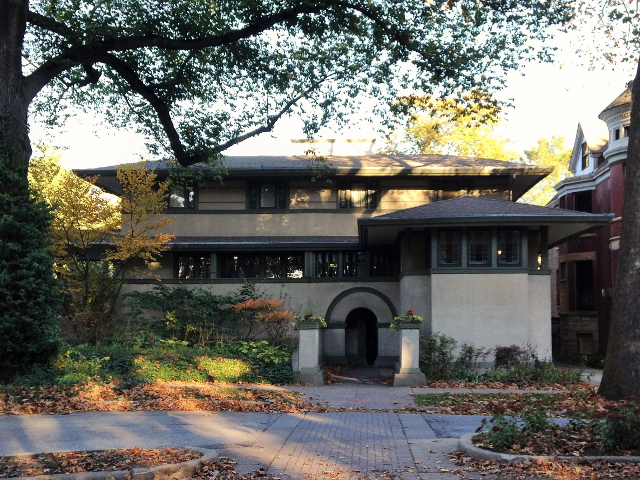 That beautiful note wraps up this series of posts on our travels in 2014. It was an amazing trip and I'm so grateful that we have the opportunity to undertake something this extensive. However, I will say that it is always nice to come back home.
If you're curious about other parts of the trip, Update 1 covered our trip across the United States west to east, Update 2 was our Transatlantic crossing west to east, Update 3 talked about the UK and Greece, Update 4 was in Switzerland and Italy's Cinque Terre, Update 5 was about Italy, Update 6 covered the French Riviera, the Tour de France, Basque country and the Rioja area of Spain, Update 7 talked about Asturias, Spain, Update 8 was the Mediterranean Costa Blanca and driving north through France, and Update 9 covered some great sights in England.
If you have any questions about any part of the trip, please feel free to ask. We have some definite favorites that we are happy to share!