Gypsy Ways Update 3 starts after the elegance of the Queen Mary 2 and finds us on the dock in Southampton, in the cold wind and rain waiting for our car to arrive. The south of England, on a sunny day, is one of the prettiest places in the world. However, in the cold wet wind, it can chill you to the bone. Next time, I have to remember that when disembarking, less elegance and more warm layers are a more practical approach!
[Blowin' Up at Southampton Docks by Del Robertson via Flickr]
The next few days in the UK were a whirlwind of organization and catching up with friends and family. A real highlight of this time was a trip to Wembley Stadium in London to watch the Queen's Park Rangers (QPR) vs. Derby County football match. QPR happens to be my husband's favorite team as he grew up just a few miles from their home grounds in Shepherd's Bush, London.
This particular game was incredibly important to both teams as it determined who would be promoted to the English Premier League division and the roughly £120 million(!) in additional team revenue that the promotion represents.
The trains we took to Wembley Central station were loaded with QPR fans, young and old. Some were in costumes, some carried bullhorns, but all were singing the songs of praise for the beloved team. 
[Fellow QPR fans who befriended us on the train to Clapham Junction]
[The train platform at Wembley Central tube station]
The match was incredibly close, but in the 89th minute QPR scored. It was incredible… unbelievable… indescribable! Below is a quick video of the highlights of the match. Keep in mind that although blue and white are QPR's home colors, they were playing in their "away" colors of red and black.

After that, it will be hard to ever match the elation of that moment again (at least when it comes to a sporting event!)
We went to Greece next! We left our pooch for a few days with family in the UK, flew to Athens, and then drove from there to the island of Lefkada.
I had not been in Greece in nearly 20 years, and it had been an even longer time for my husband, so we were both curious to go back. What a lovely place it was! We didn't have any plans other than relaxation to break up our UK whirlwind tour, and relax we did.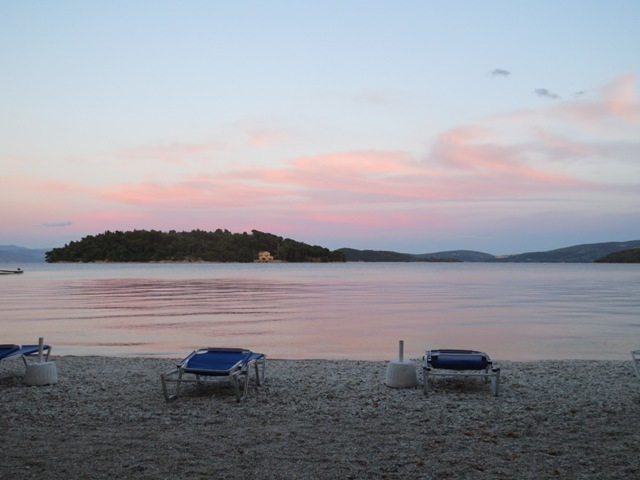 [Sunset view from the hotel beach]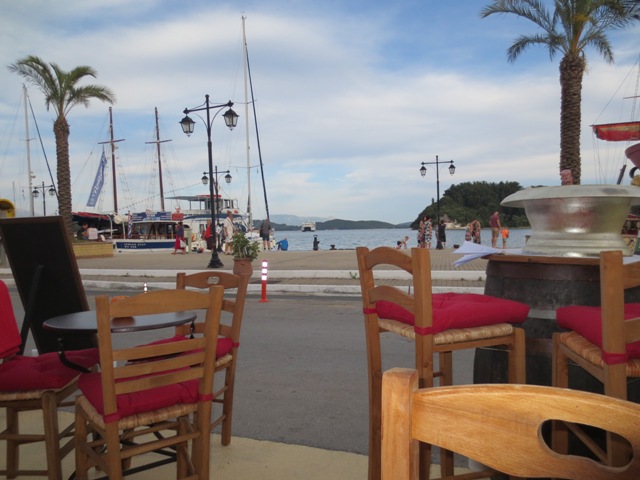 [View of the harbor from a from a lovely little wine and champagne bar]
The hotel was simple but spotlessly clean, and Greek locals ate at the attached taverna, so you know it was good food. It was early enough in the season that the town wasn't overrun with tourists, and there were plenty of locals out enjoying themselves in the evenings and nights.
We found a great restaurant (photo below) that didn't have a menu. We would just say if we wanted meat, fish, seafood, or a vegetarian menu, and the chef would cook whatever he had fresh and best that day. It was incredible.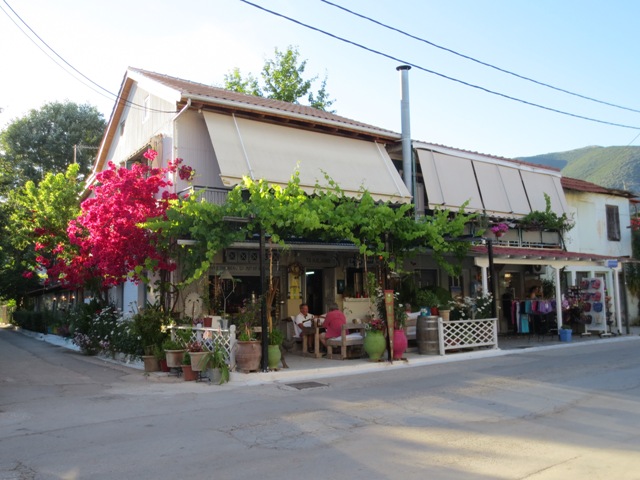 One of the most appealing things we found in Greece was the genuine friendliness of the Greek people. If you've never been to Greece before, I can only recommend it to future travelers.
We returned to the UK, had a happy reunion with our dog, and then got ready for the next part of the trip…
(Here's a link to the previous Update 2. And here's the link to the next episode, Update 4)