Gypsy ways update 8 begins with us in Spain, leaving the cool green beauty of Asturias and heading south to the Mediterranean along the Costa Blanca.
Some people like the busy beaches and high rises of Benidorm, but I prefer the smaller, lesser developed towns nearby like Moraira and Xàbia (Javea) that still retain some of their original charm.

[Javea by Baz Richardson via Flickr]
We stay with family members who have a house in the area, and their view looking down on the Mediterranean is outstanding.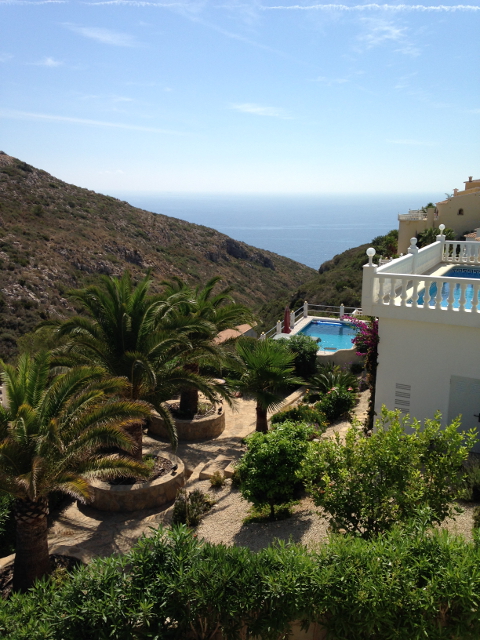 It's a wonderful, relaxing place and a great spot to get organized for the final push and drive north back to the UK.
Driving north along the A31 Motorway between Alicante and Albacete, there are some great castles including ones at Sax, Chinchilla de Monte Aragón, and this beauty at Villena. I'm happy to say that that the Spanish government has done some major preservation and restoration work on it's historical sites in recent years to save these from becoming ruins.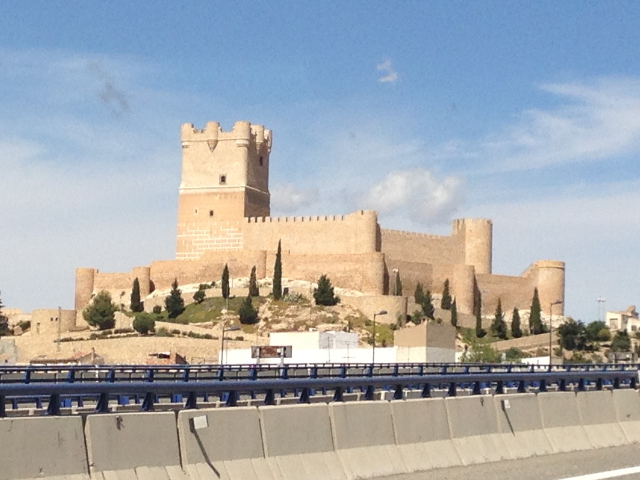 One building along the A31 always received my particular attention. I can only guess that it was a long abandoned inn – possibly for people traveling by horse carriage? I wish I knew! The oval shape of the upper windows is my only indication of it's possible age. Regardless, I was always curious about the history of the building and thought it was unfortunate that the building was in such bad shape (see the before photo below on the left).
Well, last time we drove by, I was thrilled to see that the building has been completely restored (see the after photo on the right). There is now a gas station and a convenience shop and I can only hope that it is again being used as a travelers inn.

The remainder of our days driving north through Spain and France were pretty uneventful, but we were lucky to find a little jewel of a hotel – the Auberge du Port des Roches near Le Mans.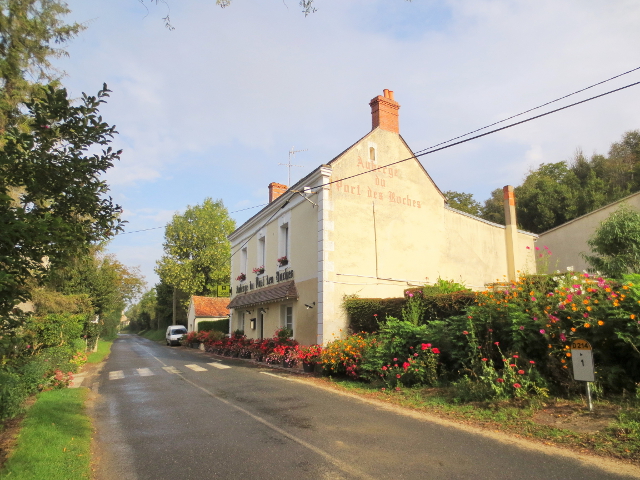 The setting is ideal – it stands on one side of a small lane, and on the other side of the lane is a beautiful patio along the Loir river.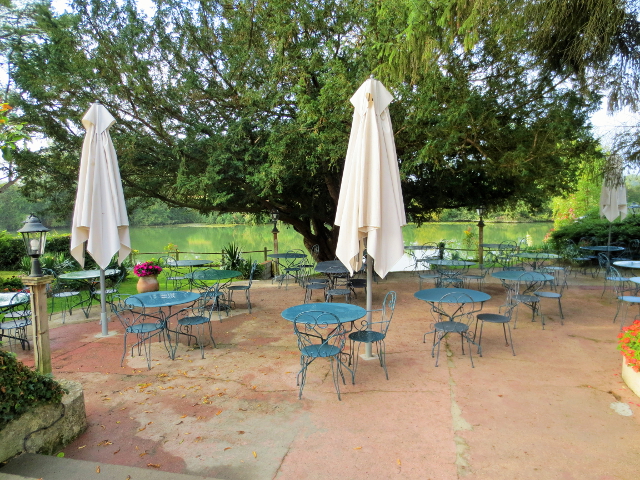 Our room was charming, the dinner on the patio that evening was excellent and beautifully served, and best of all, the proprietor loves to cross stitch!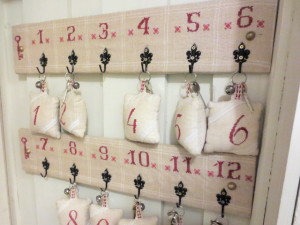 Cross stitched pieces are everywhere, from the room keys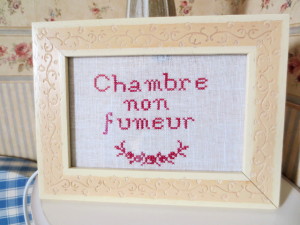 to the no smoking signs in the rooms.
Here is the proprietor with some of her pieces (her signs say "closed Sunday evening and Monday." "Open Tuesday at 5:00 P.M."). You can see she also has some small cross stitched and framed monograms for sale on the wall behind her.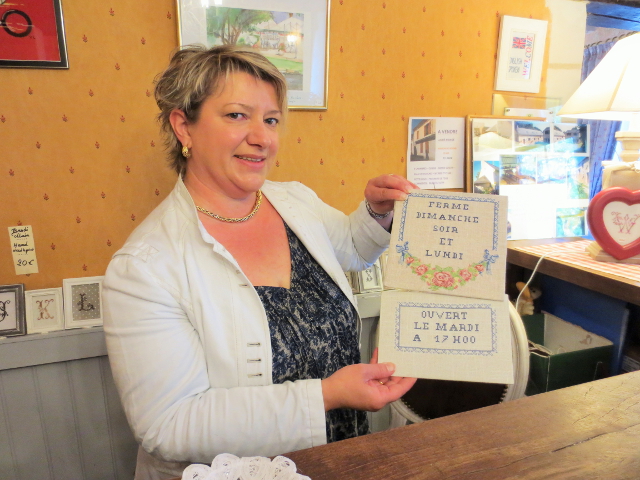 I couldn't imagine a nicer way to complete our time in continental Europe!
The next update will start with some adventures in the UK before our trip back across the Atlantic on the Queen Mary 2 – stay tuned…
(Here's a link to the previous Update 7, and the next Update 9)