Welcome to Part 1 of this series on healthy water themed crafts! This series of posts compliments the release of BeMores Set 3 which encourages us to be more "Moderate" and "Healthy."
There are a million crafts that encourage us to be more healthy! These range from crocheted fruits and vegies to building organic planters, from quilted exercise mats to contemplative rock gardens, and even crafted puzzles to keep our brains challenged.

Considering that humans are roughly 60% water and the the surface of the Earth is roughly 70% water, I'm going to concentrate on water themed crafts – crafts that encourage us to drink more water and that help us appreciate clean rivers, lakes, and oceans.
Water Themed Crafts in Crochet
To encourage us to drink more water, CrochetConcupiscence has already rounded up this post with 10 free crochet patterns for water bottle holders. I think of all the patterns, I'm most partial to this stainless steel water bottle sling from Moogly, but the sock monkey one is pretty darn cute as well.
There are hundreds of patterns for afghans, but these next two links seem particularly suited for representing water. First is this pretty and traditional Ocean Waves pattern from RedHeart.
Next is this Vintage Wobble Afghan pattern (with a lovely story behind it) from Moogly. With these colors and an ombré stripe pattern, the vintage becomes a modern classic!

On a smaller scale is this cute water bookmark made from a nice looking wave pattern from CrochetSpot.
I adore this crochet bag pattern from AboutGoodness. The broomstick stitch beautifully represents the sea, and you can easily see the sand and shore grasses through the rest of the pattern. Just lovely.
Although I'd like to concentrate more on water itself rather than the creatures that inhabit the water, nothing is more indicative of clean water than healthy coral reefs. The Crochet Coral Reef Project is a beautiful and colorful way to raise awareness of the plight of coral reefs. The Maine Reef blog has many of the patterns used to crochet and knit these coral creatures.
Water Themed Crafts in Quilling
There's plenty of watery quilling inspiration! First up is this piece from ACanofCraftyCuriosities, the last of a series also including fire, air, and earth.
Next is this gorgeous piece by Jackie Huang for the Long Beach Aquarium of the Pacific. The post also shows the very interesting progress photos on this creation.
This post from AllThingsPaper features some pieces by Natasha Molotkova of PaperGraphic. A few of her pieces have water, but my favorite has to be this gorgeous wave that was used for a graphic in a magazine article.
For a bit of freshwater quilling action I found this waterfall project by AJourneyIntoQuilling. This page also features a link to tutorials for basic shapes and how to use them.
Finally is this article, again from AllThingsPaper, about Stallman Studio Gallery who work not with paper but with artists canvas on edge. Their works are not strictly considered as quilling, but some of the shapes are similar and result in absolutely stunning pieces.
Water Themed Crafts in Woodworking
This post on WoodturningOnline links to four different tutorials on how to combine turned wood and stainless steel inserts into cups. What a constructive and attractive way to encourage drinking more water!
Next is this tutorial from JonsBushcraft on how to carve your own Kuska cup. Kuska are also known as Guski, and originally come from northern Scandanavia. A well made and maintained Kuska can last a lifetime.
Kayakers and canoeists certainly appreciate clean water. These next three links are to sites with information, DIY instructions, kits, and plans for building watercraft. The first is KayakBuilding.com,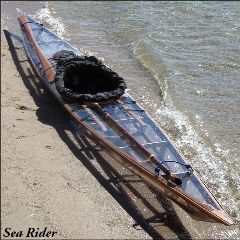 the second site is Yostwerks.com,
and the third is BearMountainBoats.com. As you can see, some of these boats are gorgeous!
Water Themed Crafts in Lace and Tatting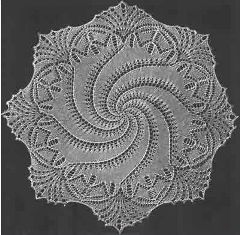 This spiral in this very old German lace pattern from YarnOver closely resembles a wave.
This post on Martha'sTattingBlog describes her working with patterns from a pre-1862 book. One of her experiments turned out as you see here – I think it's very much like ripples in water.
Here's a little-bit-of-a-wave-like tatting used in combination with lace, fabric, and shells to make a pretty sea-themed journal cover.
Water Themed Crafts in Weaving and Tapestry
Similar to quilling, there's lots of watery weaving inspiration out there! First are photos from SaltSpringWeaving of a SAORI weaving class including this project,
and there's this Weaving Waves project by MessMuddleandFun.
Then from FrontiersMagazine is this article about the "Between Tides" exhibition of Ros Bryant and Janet Clark's tapestry works in Stromness, Orkney. The exhibition continues through September 14th 2013 (as of the time of this posting, there's still time to go see these beautiful tapestries).

Water Themed Crafts in Mosaic Tile
Here's a quick DIY from Shelterness on making a pretty sea glass/mosaic tile serving tray.
Among other great ideas on this page from BuildDirect is this stunning garden path. The pebbles on edge look reminds me of entrances to houses I've seen in Laguardia, Spain.
An idea inside the home is this powder room remodel on Houzz,
and then there's this bathroom covered in STUNNING mosaic tile. So gorgeous! There are other great ideas for modern bathrooms in this post by IonDecorating, but this one is by far my favorite.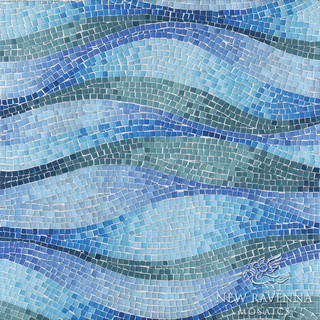 As for ideas on water and wave tiles you can purchase, there is this pattern from New Ravenna (via Houzz),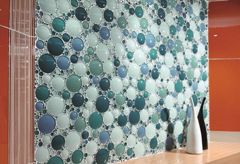 this fun bubble pattern (among others) on Vizimac.com,
and this Silk Road Oasis Mosaic also from New Ravenna. Just lovely.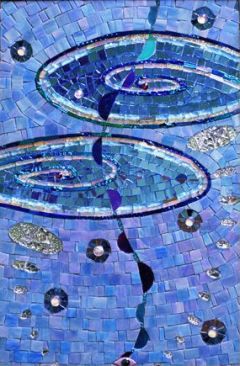 There are some beautiful mosaic art pieces out there. This piece, entitled "Two, Water" is by Laurel True through the True Mosaics Studio.
This is a detail of a piece made for a Catholic church. I've looked at a lot of mosaic tile waves, but I don't think you'll find any others quite like this.
Finally, I'll share this Pinterest page by Taina Suomalainen of Art Mosaics.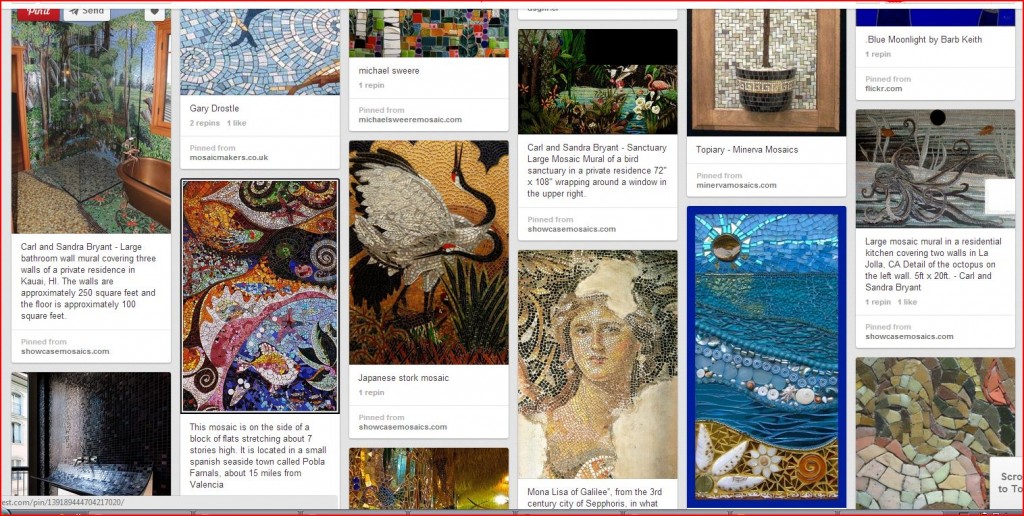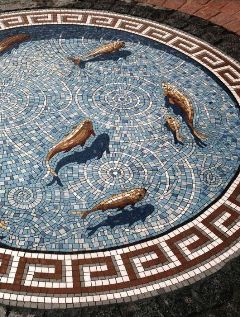 It's a wonderful collection spanning from the Ancient Romans to modern pieces. Not all the pieces have a water or ocean theme, but many do. One of the most remarkable pins is this trompe l'oeil piece by Gary Drostle.
That wraps up this first post on healthy water themed crafts, covering crochet, woodworking, quilling, lace and tatting, weaving and tapestry, and mosaic tile! Is there anything in these crafty categories that you would like to add to the comments?
Stay tuned for the next installments in this series, featuring knitting, embroidery, jewelry, gardening, glass work, polymer clay, chainmaille, basket weaving and a whole lot more!
[Update: Here are Part 2, Part 3, Part 4, Part 5, and Part 6 in the series!]