This MST3K Patrick Swayze Christmas cross stitch pattern is now available in my Etsy shop!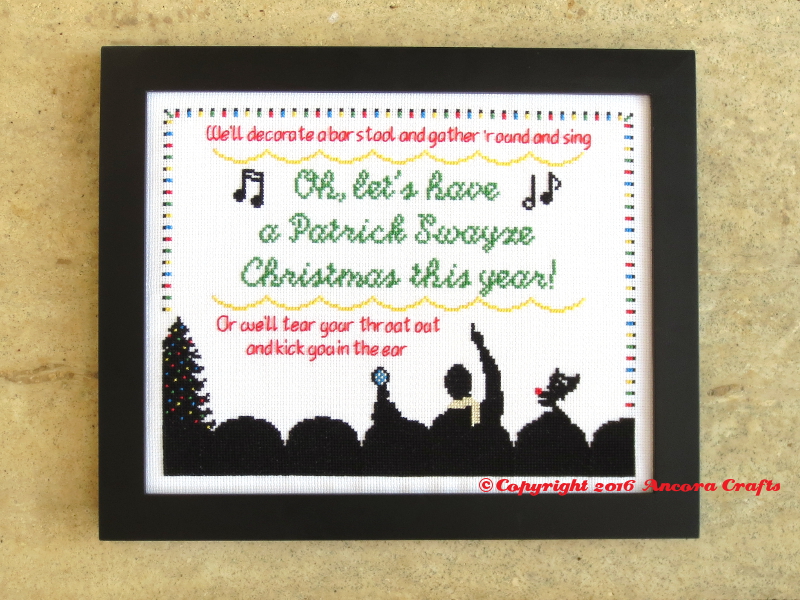 The inspiration comes from the the classic Episode 321 – Santa Claus Conquers the Martians. The lyrics are from Crow's song "A Patrick Swayze Christmas," performed by Joel and the 'bots during one of the host segments. It was inspired by Crow's favorite movie, Road House, starring Patrick Swayze. With it's references to barstools, action sequences, and Santa drafting his will, it's a modern holiday tradition!

In 2013 Reddit and Joel worked with acapella group The Lost Keys to create this version of the song:
Joel's reaction at end of the video is a funny reference to another outstanding MST3K episode, Pod People.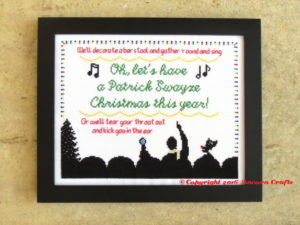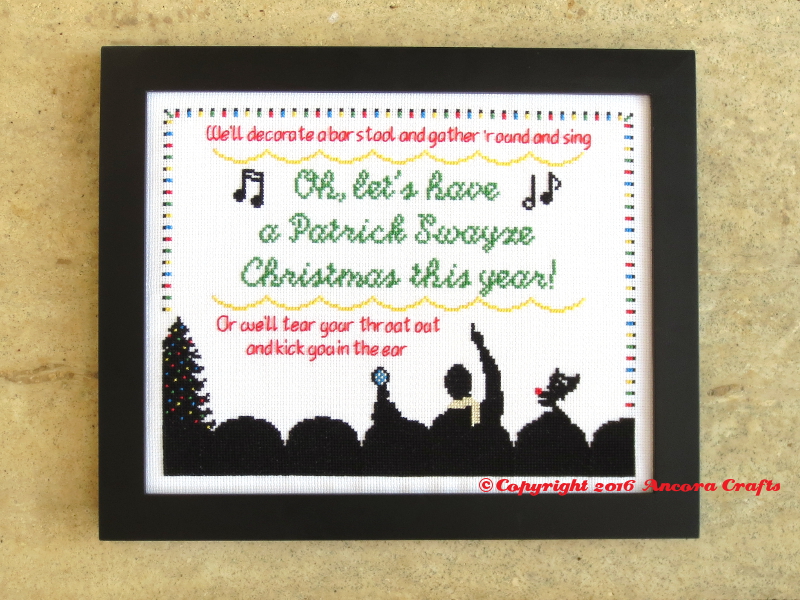 The cross stitch captures their usual silhouettes, plus with Crow's red nose, Joel's ivory scarf, and Tom's blue and white snow globe noggin from the sketch. It also has the draped gold garland and the Christmas tree from the set, and I added a colorful string of lights around the border. This project was a lot of fun to put together!
I know that for many MSTies (fans of Mystery Science Theater 3000), including myself, the holiday season is not quite complete without a viewing of this hilarious episode.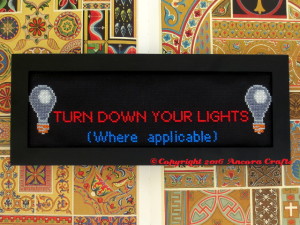 I have two other MST3K themed patterns available. One is the "Turn down your lights…" pattern you see at right. This image unfurled at the beginning of Mystery Science Theater 3000 from Episodes 201 – Rocketship XM to 404 – Teenagers from Outer Space. It's a welcome and happy sight to the fans of the show.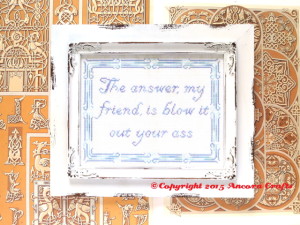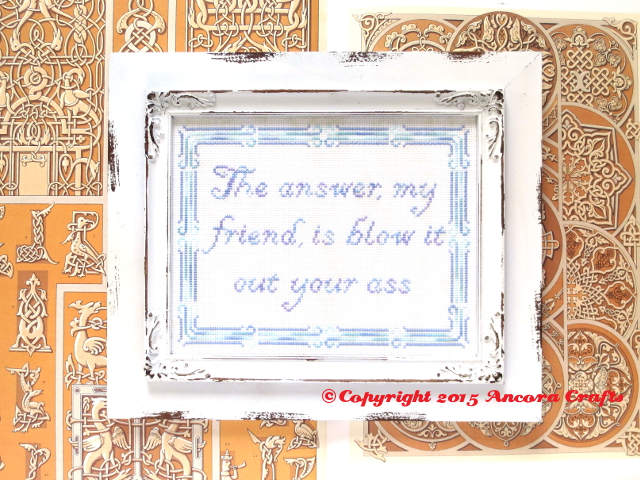 The other pattern is this "The answer my friend, is blow it…" which is a funny quote from Episode 614 – San Francisco International.
For those of you who have read this far and don't have a clue as to what MST3K is, read this Wikipedia article. A MST3K revival just became the biggest Film and Video category Kickstarter project of all time, raising $6.3 Million for 14 new episodes in 2016. Can't wait…
This MST3K Patrick Swayze Christmas cross stitch pattern is perfect for all MSTies past, present, and future.
Keep circulating the tapes!