This MST3K Turn down your lights cross stitch pattern is now available in my Etsy shop!
This image unfurled at the beginning of Mystery Science Theater 3000 from Episodes 201 – Rocketship XM to 404 – Teenagers from Outer Space. This span includes three of my personal favorite episodes: Cave Dwellers, Pod People, and Santa Claus Conquers the Martians. "Turn down your lights (Where applicable)" is a welcome and happy sight to fans of the show.

If you're not familiar with Mystery Science Theater 3000, it is a classic comedy show that originally ran from 1988 to 1999. It cleverly skewered terrible movies with it's characters making funny comments during the movies and performing sketches during the intermissions.
It won a Peabody Award in 1993 and was nominated for several Emmy Awards. To this day it remains popular and maintains a large cult-like following. It is so popular, in fact, a MST3K revival recently became the biggest Film and Video category Kickstarter project of all time, raising $6.3 Million for 14 new episodes in 2016. The casting for the new episodes includes Jonah Ray as the host, with Patton Oswalt and Felicia Day as the new "mads." I just can't wait to see how the series continues!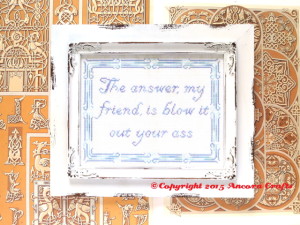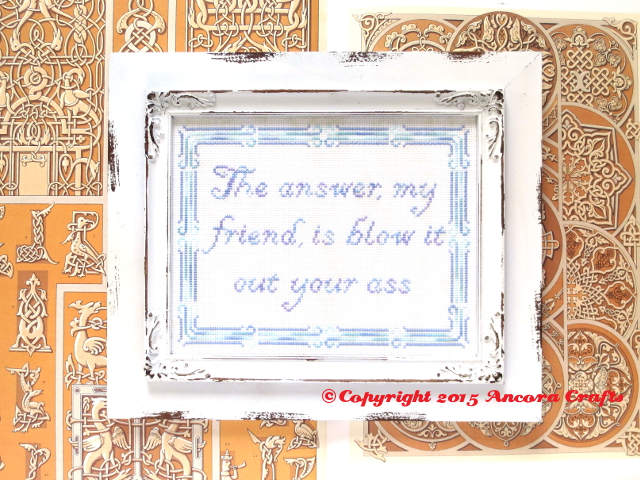 This is my second MST3K themed project, the first being this funny quote from Episode 614 – San Francisco International.  It's a terrible movie, cleverly skewered by Mike and the 'bots. It was written as the pilot episode of a series that lasted six episodes. The TV movie appeared in 1970 and featured Clu Gallagher, Tab Hunter, Van Johnson, and David Hartman. When it went to series, Lloyd Bridges played the airport security chief, a role he spoofed later in the movie Airplane!
This MST3K Turn Down Your Lights cross stitch pattern is perfect for all MSTies (fans of Mystery Science Theater 3000) present, past, and future (and for everyone who has a lot of dimmer switches).
Keep circulating the tapes!