This new DMC floss colors pattern is a fun and quick-to-stitch geometric pattern, although it would look great with any of your favorite floss color combinations.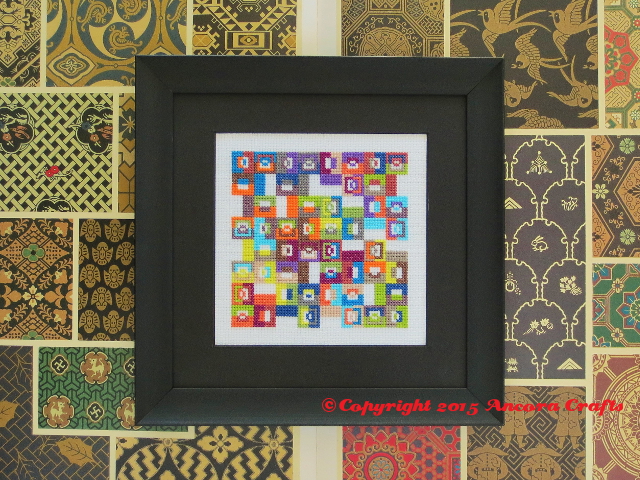 At this time, these new flosses can only be purchased in a pack with all 16 colors. I am eagerly awaiting the day when they make them available to purchase separately, but that could be a few years away. The pack is accompanied by a few attractive botanical-themed patterns, but I wanted to make a project where I could see how the colors interact with each other a little more.
I wrote a thorough review of the new colors shortly after the pack was released in 2013. In it, I discuss the colors individually and how the colors fall into the DMC palette.
If you read my post, you'll find that my favorite additions are the purples 3886 and 3887, blues 3890 and 3891, green 3894, and yellow 3889. Within the confines of just this one pattern, my favorites to stitch with were the blues 3890 and 3891, purple 3887, yellow 3889, and, interestingly enough, the beige 3890.
One of the nice things about this project is that it uses about 10% of each skein, leaving plenty of floss to use on other patterns.
This pattern can also be used with any of your favorite color combinations. I have imagined this project with 16 colors of reds, pinks, raspberry, and orange, or exclusively in shades of blue and purple. It would make a stunning little needlepoint project, possibly stitched in petit point and finished into a pincushion. This new DMC floss colors pattern is very fun and could be used in any number of ways!
Have you purchased these new flosses? If so, have you used them in some projects? If so, let me know in the comments – I'd love to see some ways that others have utilized some of these lovely colors…