My Think for Yourself and Question Authority cross stitch pattern is now available in my Etsy shop!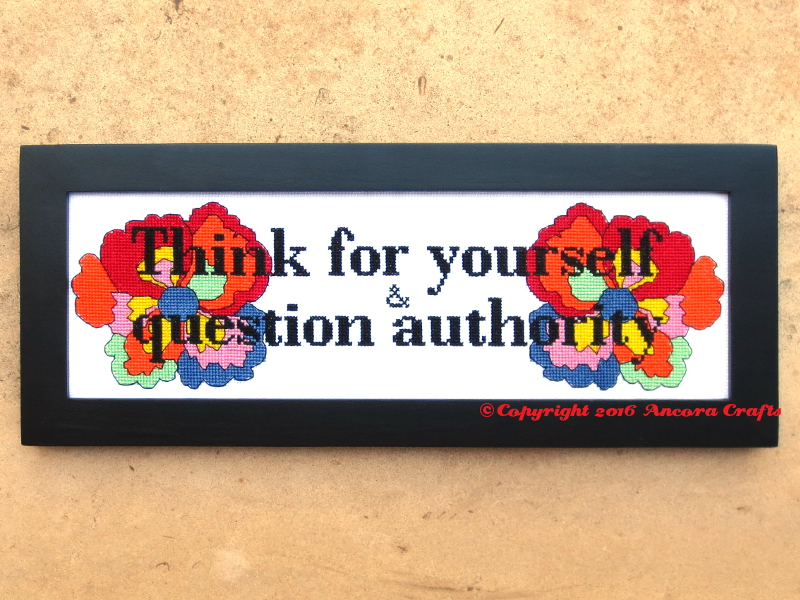 The inspiration for the pattern comes from a famous quote from Dr. Timothy Leary. He was a psychiatrist who advocated the use of LSD for therapeutic uses, and he was a counter culture icon from the 1960's until his death in 1996. In fact, Richard Nixon considered Leary one of the most dangerous men in America. In the 60's he popularized the phrases "turn on, tune in, drop out" and "think for yourself and question authority".
The pattern features a mirrored pair of fun 1960's pop art style flowers that I intended to bring a little color and flair in juxtaposition to the more serious nature of the quote. Pop art started in the 1950's, bloomed in the 1960's, and the style of these flowers could easily be seen in the works of artists such as Peter Max and the animation team behind the Beatles' movie Yellow Submarine.
Of course, I don't advocate that we all drop acid and form our own psychedelic religions while skipping in and out of jail. However, the idea that we read, research, and think for ourselves and question all kinds of authority (political, religious, economic, et al.) is certainly valid. And if the political culture of 2016 is any indication, it appears that a little 1960's-style peaceful counterculture would be a welcome change.
Let this think for yourself and question authority cross stitch pattern be a good reminder to have some healthy skepticism of authority.