Until I was about 12, I lived in Anchorage, Alaska. After every long gray winter we would always be on the lookout for pussy willows as that was THE sign that Spring had finally sprung. So to celebrate the fact that it's Spring (in spite of the snow in the Rockies yesterday) let's take a look at some fun pussy willow crafts.
A moose nibbling on pussy willows is often a Spring-y sight in Anchorage:
Flower Arranging
Let's start with some flower arranging (did you know that pussy willows are a favorite flower for Chinese New Year?). This article from concretecanopy shows how to treat pussy willows so they'll keep fuzzy for a long time, and this tutorial by The Yellow Cape Cod shows us how to make this elegant tulip and pussy willow centerpiece: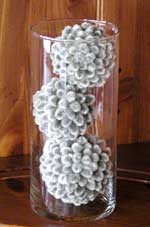 This article is a tutorial on how to make decorative Pussy Willow balls. RunnerDuck says these "really work nice as a therapy ball. They feel so nice and fuzzy that they make you feel good all over." I believe it!
Betz White has this tutorial on making some colorful pussy willow branches. She thinks of pussy willows "as a hopeful sign that spring is on its way." I really LOVE this idea from Bonnie Thomas via Yankee Magazine. Coloring the pussy willows with chalk dust could be a very fun family activity.
Paint, Ink, and Markers
If you're looking for a quick and inexpensive pussy willow project, this example by MeaningfulMama using ink fingerprints and this example by meethedubiens using finger paint are lovely and simple. Both blogs credit the April 2012 issue of Disney's Family Fun magazine for the original idea.
Quilting
I spied this 10″ square pussy willow block pattern by Amy Friend of During Quiet Time on Craftsy. This pattern is very pretty as a quilt block and it could be made into a number of different crafts. I'm thinking this would be stunning in stained glass!
Jewelry
Mary of Paisley Peacock Designs put this photographic tutorial on her Facebook page. It shows the process she uses to make her beautiful pussy willow enameled pendant available through her website. I'm unable to put a photo on this post, but you can see the pendant on her home page on the right.
Knitting 
I found this pussy willow knit sock project designed by Cat Bordhi on KnittingDaily. Cat states that her "…inspiration usually comes from nature." I can imagine how pretty and comfy these must be. The pattern is available through the sock knitting master class mentioned in the link.
Do you know of other pussy willow crafts out there? Share them with us!