Welcome to healthy water themed crafts part 4! These are crafts that encourage us to drink more water and that help us appreciate clean rivers, lakes, and oceans.
Parts 1, 2, and 3 covered crafts ranging from crochet to polymer clay, woodworking to scrapbooking, and chainmaille to knitting. Today, in this fourth of six posts, I'm covering needlepoint and cross stitch, baking, glassblowing, basketweaving, and sewing.

 [The Penny Wishing Well by Paula Steele via Flickr]
Water Themed Crafts in Needlepoint and Cross Stitch
Let me start with this piece by Diane Herrmann entitled "Walking the Water's Edge" on BridgesMathArt. This combines two of my favorite things, needlepoint and geekery, into a beautiful result. From the post: "To be mathematically precise, we work with the sum of two trigonometric curves to show the action of water as it sloshes over itself in the push to get on the shore." Love this!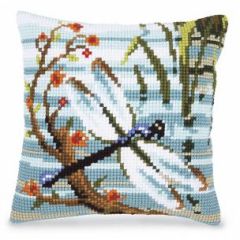 In a less mathematical vein is this dragonfly cushion kit available on TheStitchery. The 4.5 to the inch gauge would be a bit large for me, but it does have some very pretty watery effects.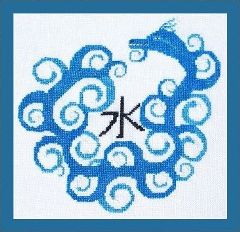 Then I found this Water Dragon pattern available on Flowers2Flowers. Accompanying the Chinese symbol for water, he's a rather handsome water beast.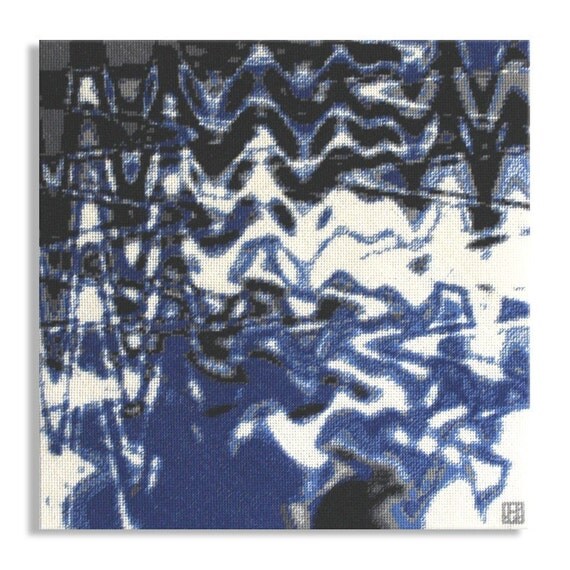 Finally is this amazing wave interference pattern by Haruhi Okubo of Cresus-Parpi. This is one of the projects from Cresus-Parpi that first got my jaw-dropping attention. If you would like to read more about her works, I featured an interview with Haruhi in July 2013. The original needlepoint project has been sold, but I wonder if Haruhi would consider selling the pattern?
Water Themed Crafts in Baking
I fully realize that the terms "healthy," "water," and "baking" don't necessarily complement each other. However, when it comes to appreciating clean water, there certainly are many examples of this in baked goods. I'll start with this amazing water cooler bottle cake by YenersCakes in Australia. How fun is this?
Next up are these clever water bottle cookies by CristinsCookies, made as part of a massive order of seven different bicycling-themed cookies (sunglasses, jersey, bicycle, etc.) for one of her customers.
This lush scene from BubbleandSweet is really more of a party planning post, but you won't find a party more water-themed than this. Here's additional tutorial information about the pearly cake and macaron tower, and the very cute mermaid cookies.
Craftsy has this great tutorial on how to make wave ruffles from fondant. On the same post, they have a link to this post full of beach-themed cakes. CreativeCelebrations also has this post featuring, among others, numerous examples of cakes with shell and beach themes. Lots of inspiration out there!
I'll finish up with some helpful tutorials for some gorgeous wavey and beachy decorated cookies. First up are the instructions for these Summer Lovin' Beachy Heart Cookies by MakeMeCake. Cute!
Next is a link to a video tutorial by Sweetambs for these beach cookies (love the drawing in the sand),
and lastly is this totally gnarly DIY for wave cookies (along with some excellent surfboards and swim trunks) by GloriousTreats. Honestly, I'd feel guilty eating any of these cookies I've featured as they're just too gorgeous (but I bet they're absolutely delicious)!
Water Themed Crafts in Glasswork
Let's start with this simple and pretty tutorial for this beachy glass gem art by Shannon at MadiganMade. It's inexpensive, sparkly, and in her own words "…this sucker was HEAVY," but she loves it!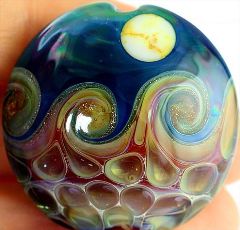 There is an ebook tutorial for this gorgeous lampwork ocean scene bead from BeadsandBotanicals via ArtFire.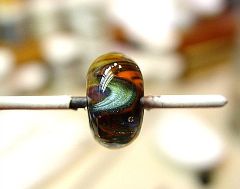 From Victoria'sGlassworks on the LampworkEtc site is a DIY on how to create this type of beautiful wavey beads.
BeingBesidetheSeaside shares some information on how to make waves and bubbles in fused glass,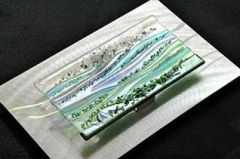 and KimMerrimanArt has these examples of colorful waves in fused glass for some inspiration.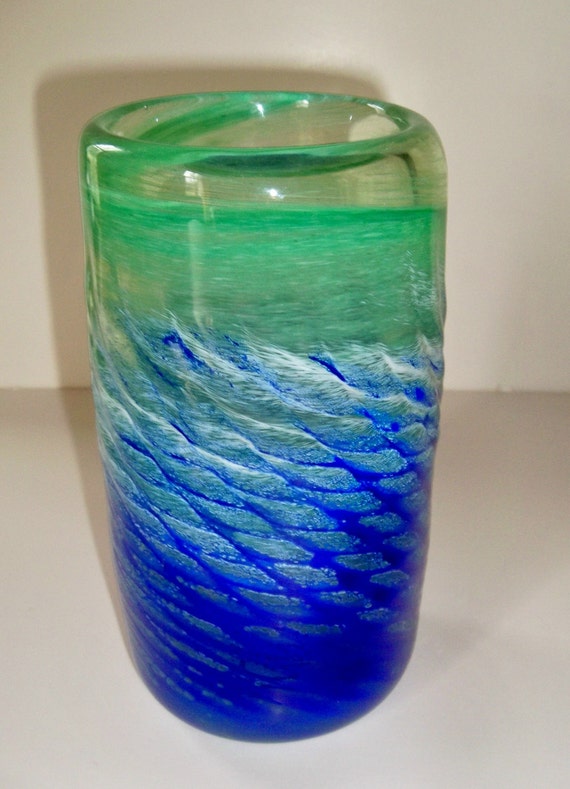 Here's a quick video on YouTube from ExpertVillage on how to create waves in blown glass, and there are numerous sources of inspiration for wave shapes and patterns in blown glass. First is this example by NewHopeStainedGlass on their Etsy store.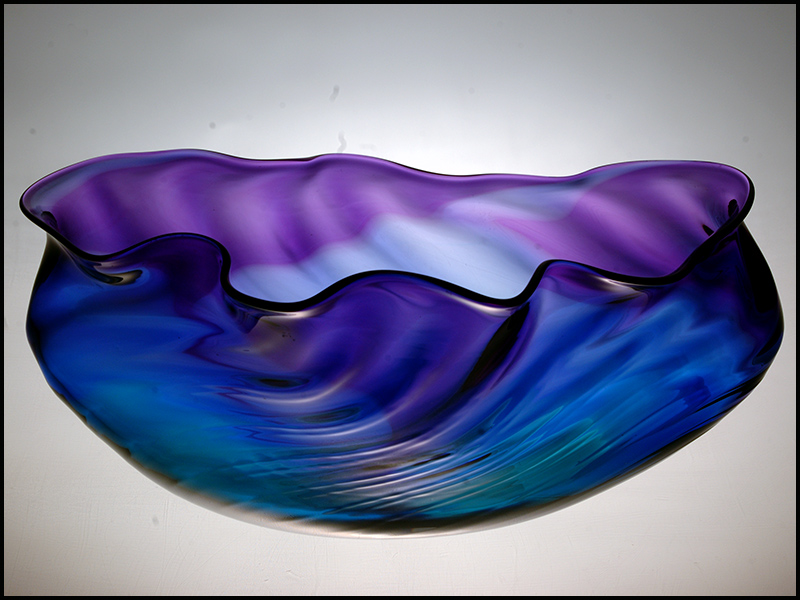 Next is this beautiful "Coastal Bowl" by Wind'sEdgeStudio.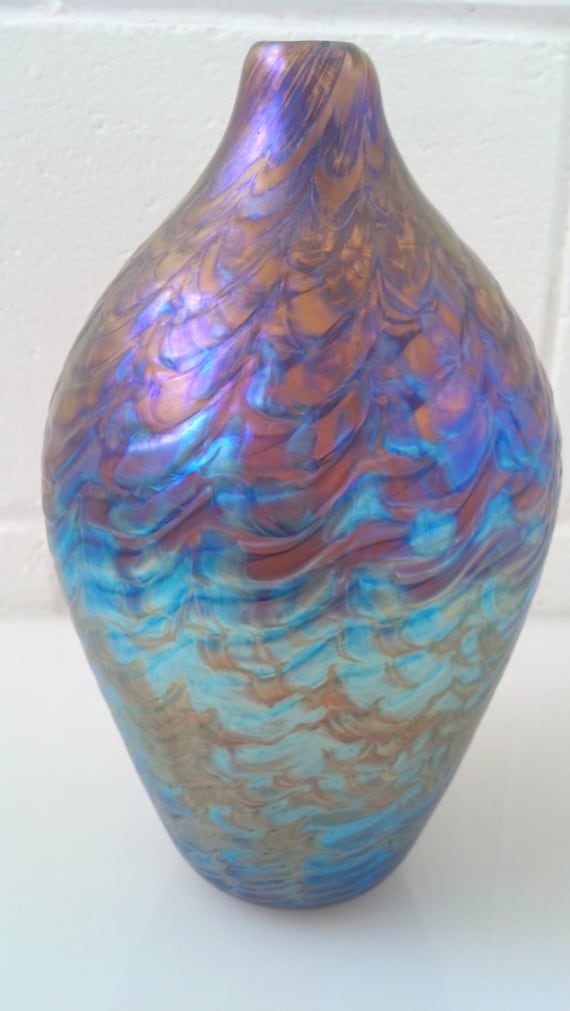 Then there is this iridescent wave pattern vase by Josh Fradis in his Etsy store,
and also this amber wave vase by Carl Radke via ArtfulHome.
This glass wave piece (via CluboftheWaves) by Mario Ceroli is unique and beautiful,
but when it comes to the expression of water and wave forms in blown glass, the ultimate artist may be Dale Chihuly. A Flickr search on "Chihuly" produces some beautiful photos, and his website has all his details, including his exhibition schedule. If you've ever been to the Bellagio Hotel in Las Vegas or seen the movie Ocean's 11, his enormous work "Fiori di Como" adorns the ceiling of the lobby.
Water Themed Crafts in Basketweaving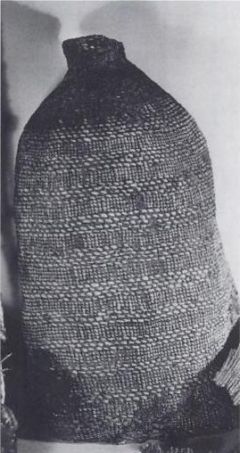 I was curious about the existence of watertight baskets and I found this conversation on the topic on Yuku. Not surprisingly, it seems they're difficult to weave, and require maintenance to keep their water-tightness, if not pitch and/or seeds to effectively plug all of the tiny holes. The book Survival Skills of Native California seems to have more definitive information on the topic…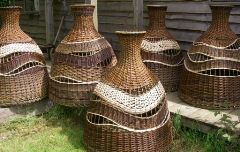 I'm happy to say there are some beautiful examples of waves in basket weaving. First are these large scale pieces made by Lin Lovekin as lampshades for a restaurant.
Next is this amazing wave basket piece featured on SmithsonianMag.com.  It was part of an exhibit featuring the basket weaving art of African slaves who were brought to the American South.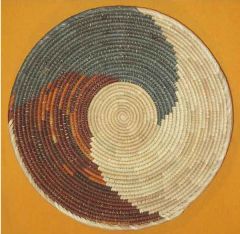 This simple but elegant wave basket is from Pakistan and available on RedPeacockImports,
and among other of her wavey designs is this fun piece by Sheila Wray on her site, BeyondtheBasicBasket.
Water Themed Crafts in Sewing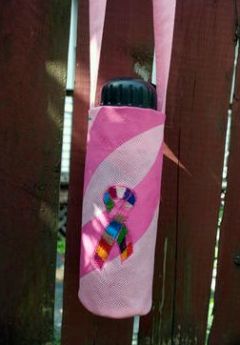 To encourage us to drink more water, Jennifer Stern at CraftStylish has this detailed tutorial to sew an embroidered water bottle carrier. I like this tutorial as she describes how to size the carrier for a bottle you already own.
Then what girl wouldn't want this very cool skirt! This great tutorial by Julie Martin of ZozoBugBaby via PetitePurls has measurements for different sizes and ways to reuse fabrics into this pretty project.
SewMamaSew featured a DIY by Alisa Burke from her book Sew Wild for this water inspired mobile for a baby's room. I love the unstructured nature of the project, and how it is so bright and colorful while being different from most of the super-cutesy things made for new babies.
This lovely sea waves pillow is a tutorial from Amy Friend on the SizzixBlog. They share the colors of the gorgeous Kona Cottons they used, and although they used the Sizzix die cutter, I'm sure similar shapes could be achieved other ways (and how did she get her points to match up so perfectly?).
I adore this larger scale "pin pillow" by Lori at TheInboxJaunt. It's a great way to use up tiny scraps and make a colorful and very functional pincushion. I'd love to make one someday!
I've found two tutorials for wavey bags. The first is the (depressingly named but very pretty) Wave Goodbye tote on WeddingDressBlue. A nice touch is at the bottom of the post – there are photos of completed projects by her readers.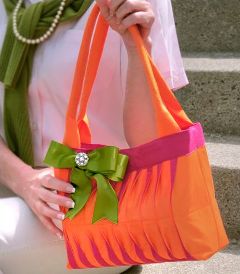 The next tutorial is this bright Wave Tucked Preppy Handbag at Sew4Home. The fabrics used in this project are great and I bet there are some other combinations that would be equally fabulous.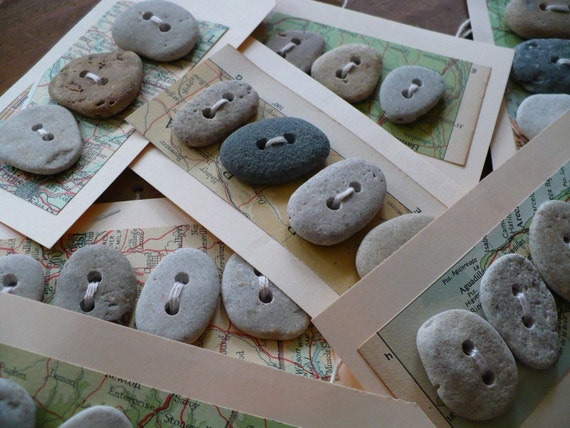 For the details, these Ocean Buttons by MadeforFun on their Etsy shop would be a perfect way to finish off a water-themed project. Each button is roughly one inch in diameter – making it perfect for a bag or an ocean inspired sweater.
Finally, I had the good luck to find this fun ribbon, based on a mosaic tile wave pattern, on BelloModo. This could be used to beautiful effect in so many projects!
That completes this fourth post on healthy water crafts, covering needlepoint and cross stitch, baking, glass work, basket weaving, and sewing. Is there anything in these crafty categories that you would like to add to the comments?
Make sure you have checked out the previous posts of this series! Part 1 featured crochet, woodworking, quilling, lace and tatting, weaving and tapestry, and mosaic tile. Part 2 featured polymer clay, embroidery, scrapbooking, metalworking, ceramics, and stained glass. Part 3 covered healthy water crafts in knitting, paint, beadwork, chainmaille, leatherwork, and gardening.
And stay tuned for the next TWO installments, featuring quilting, felt, jewelry, soapmaking, and a whole lot more!