Welcome to Variegated Floss Projects Part 5! In this six-part series I'm sharing a bunch of ways to use variegated floss in craft projects ranging from needlework and quilting to furniture, jewelry, and home decor.
Part 1 of the series covered variegated floss projects in the needlework areas of cross stitch, needlepoint, and embroidery. Part 2 had variegated floss in plastic canvas, quilting, felt, sewing, and pom-pom projects. Part 3 explored variegated floss projects in jewelry and scrapbooking. Part 4 looked at variegated projects in knitting, spinning and dyeing, and weaving, and this Part 5 will feature crochet, lace and tatting, and basketweaving!

As I said in in Part 1, variegated flosses and yarns are beautiful and they make every piece that uses them unique. No two people will ever use the exact same length of a floss in the same way, thus every project will have a different result! This makes creating with them an exercise in curiosity and a fun adventure.
Variegated Yarn Projects in Crochet
To start off, variegated yarns can present some interesting challenges. Jennifer at FiberFlux offers some great tips and techniques for working with these beautiful yarns, as well as a number of knit and crochet projects that look outstanding in variegated yarns.
There is more good information about what to do (and maybe more importantly what NOT to do) when working with variegated yarns in this post on About.com Crochet by Amy Solovay. This potholder is one of her examples of what NOT to do.
There are a million blanket and afghan patterns that look great using variegated yarns. One of the more unique examples I found is this fun and scrappy granny square afghan by Robin Meade at LifeInColor.
Another unique design is in this octagonal blanket by Monika Rose. In an earlier post, she has more links to the pattern (by Red Heart) and information on the yarns she used.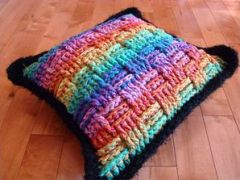 Michael Sellick at TheCrochetCrowd has the pattern and video tutorials to make this fun basketweave pillow using two different types of variegated yarn.
Just like afghans, there are a million ways to use variegated yarn in hats and scarves. This free pattern available on About.com looks like a great place to get started with variegated yarn in crochet,
while this Precious Cowl pattern by Sophie Gelfi Designs on Ravelry, gorgeous in the variegated yarns you see here, is probably better suited for more experienced crafters.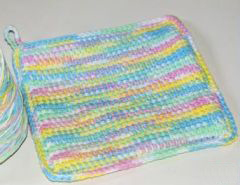 Unlike her craft fail above, Amy Solovay has some successful potholder patterns out on About.com Crochet. This Shades of Spring is nice in pastels,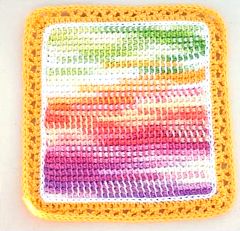 and this Watercolor potholder pattern uses five different variegated yarns!
I just love these very fun washcloths that were made as part of a teacher thank you by Julie-K. This post on her Kundhi blog has the link to the free Ravelry pattern.
Who can resist these amazingly adorable crocodile baby booties? The ones seen here are from BumbleBeeDesigns, and links to patterns and tutorials to make your own (for babies, children, and adults!) can be found in this post on Examiner.com.
I have more examples of using variegated floss in crochet to make jewelry in the third post in this series, but I thought this cute granny square necklace on TheHookandI looked perfect right here.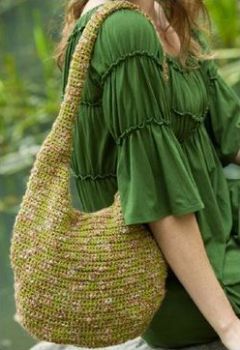 Crochet bags and purses look terrific in variegated yarns! Examples include this free Hobo Bag pattern by Red Heart Yarn on FaveCrafts,
this granny square purse by Dawn Sparks,
this Dynamite Market Bag pattern by Jamie on CrochetDynamite,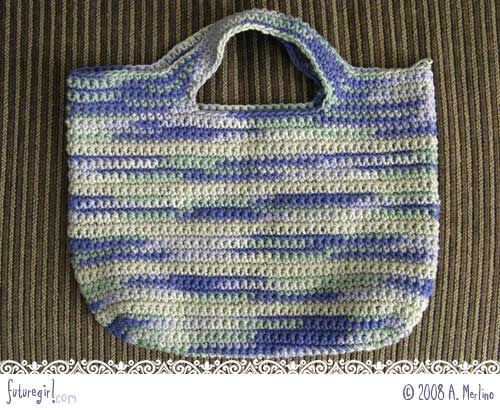 and this Starling Handbag pattern by Alice at her FutureGirl blog.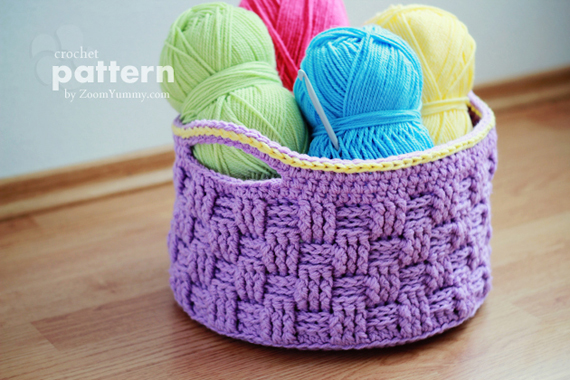 While this basket pattern on ZoomYummy wasn't crocheted in variegated yarns, I can only imagine how great it would look with some Noro yarns, perhaps?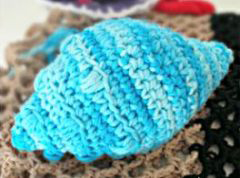 Connie at MiscFinds4U reviewed this free conch shell pattern from Joann.com. Her experience with the project was that she used a variegated yarn that complimented the shape, but she couldn't get the stitches quite right (use this link to see the pattern on Joann.com). I think her project turned out great nonetheless!
There's a world of crochet flowers out there. I spied this lovely pattern that uses variegated yarn at CreativeJewishMom,
and this outstanding board on Pinterest, curated by Kay Kutchenriter, is full of all kinds of gorgeous crochet flowery goodness!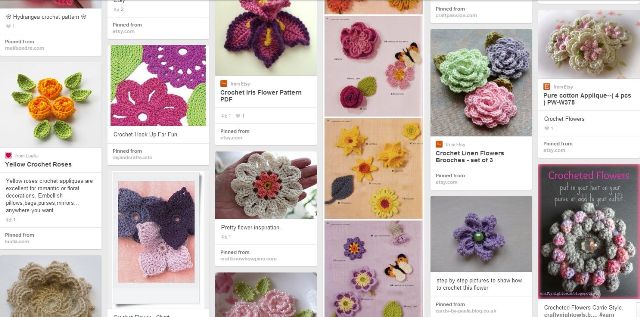 I like how Monika Rose used variegated yarns in this mandala project,
and I'm impressed with the variety of circular and mandala type projects that are available. This Pinterest board by Annoo Crochet is FULL of inspiration and patterns.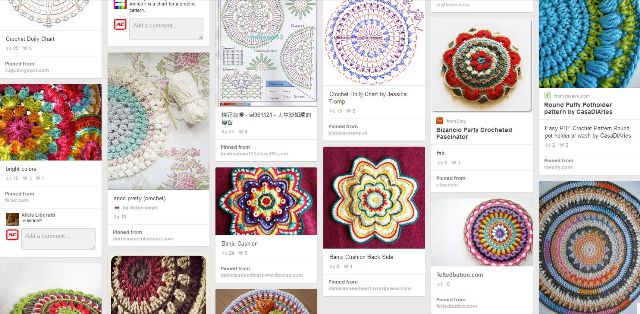 One of my most exciting finds for the this whole series is this most excellent "Light Carpet" as seen on dutchDZINE. It combines a flexible LED light string and a rope rug in such an ingenious way. Imagine this with some gorgeous variegated fibers in a rug, wall art, made into a basket – the possibilities are nearly endless!
Variegated Floss Projects in Lace and Tatting
Variegated thread and tatting compliment each other so naturally. This snowflake project
and these bookmarks by Jeff Hamilton of Bridge City Tatting,
as well as these hair clips
and this subtly shaded shamrock pendant by Marilee Rockley of YarnPlayer are some great examples of how tatting and variegated threads can work together. As well as her own blog, YarnPlayer has some good links to tatting websites and dyeing websites, and her Flickr feed has many more gorgeous pieces of her tatting and her stunning hand-dyed threads.
One other really interesting link I found is a detailed tutorial on how to make these really lovely needle lace skeleton leaves by Kris on HowDidYouMakeThis? The tutorial calls for normal DMC six strand floss, and in these solid colors they're beautiful. I imagine they would also be beautiful crafted from some variegated colors,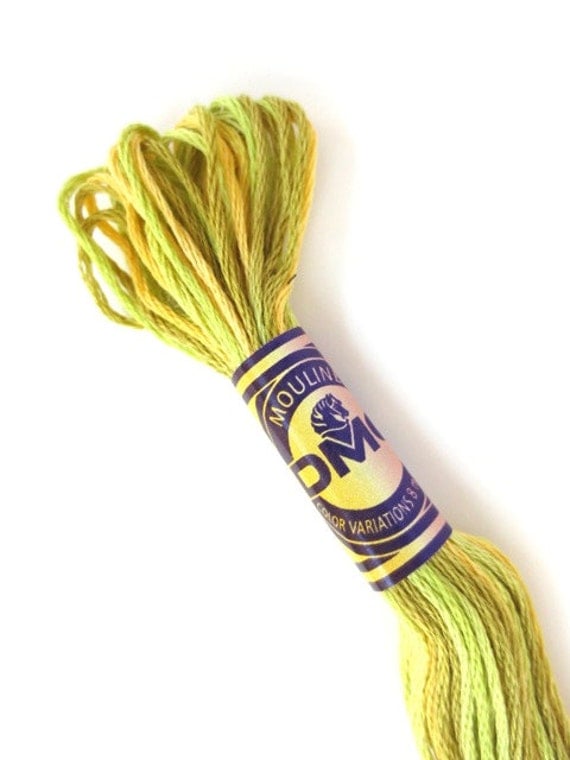 possibly DMC 4070 (Autumn Leaves)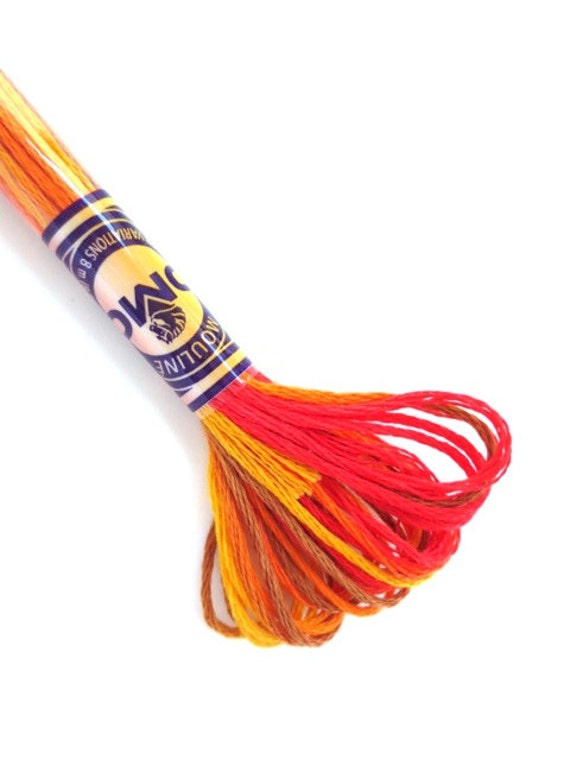 DMC 4122 (Fall Harvest)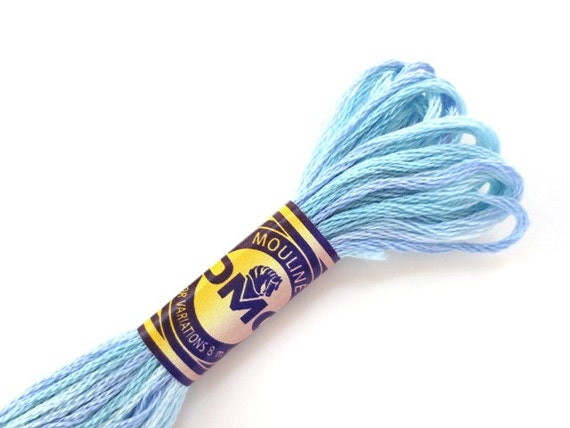 or even a non-earth tone like DMC 4020 (Tropical Waters)? Yummy…
Variegated Floss Projects in Basketweaving
Many basket weaving projects use solid color materials in order to achieve certain graphic patterns, but I was able to find a few examples of baskets that use variegated yarns. The first two come from the same source, the resourceful Adrianne at HappyHourProjects. This Woven Yarn basket tutorial has some solid instructions on how to make a coiled basket with simple supplies. In this example, you can see how the yarn colors pooled in interesting patterns.
Her Heart Shaped Yarn Basket is another great tutorial, and is a much quicker project than the one above. Once again, she gives the pattern and instructions to make this fun basket from very basic supplies. In this basket, you can see that the colors didn't pool at all.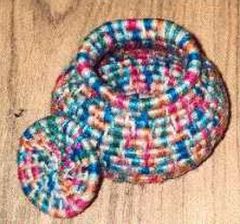 Finally, I spied this post of coiled baskets made by a talented group of 7th and 8th graders. I'm partial to this one – what a fun combination of colors!
That wraps up this Variegated Floss Projects Part 5! Are there any more examples in these crafty categories of crochet, lace and tatting, and basketweaving that you would like to add to the comments?
Make sure you check out Part 1 which featured cross stitch, needlepoint, and embroidery, Part 2 which had plastic canvas, quilting, felt, sewing, and pom-poms, Part 3 which had projects in jewelry and scrapbooking, and Part 4 which had projects in knitting, spinning and dyeing, and weaving. Stay tuned for the finale of this series covering furniture, seasonal projects, string art, and home decor!
Update: Here is Part 6