Once again following the lead of Diane and Tammy, I'm rounding up the "Five Posts I'm Proud of Creating in 2013" as part of their "Share the Link Love" mission.
I started blogging in February of this year, and what an adventure it has been! I honestly had no idea of exactly what I was getting into, and to be honest, I still don't as blogging seems to be constantly evolving (just read Diane's post on the topic). Creating posts takes more time than I originally thought, but I'm happy to be writing again after a gap of many years. I'm also trying to emphasize quality of posts over quantity of posts, and that seems to keep me motivated and to be working. With all that in mind, here's five posts I'm proud of (in no particular order):
#1 FIRST POST!
Hitting "publish" the first time was a pretty interesting experience. It was nerve-wracking and thrilling while I was being hopeful and curious all at the same time. It was also the result of a failure (but a fail-forward type failure).

(Insert sound effect here: "Yeeeeeaaaaaaaaaaaaaaaggggghhhhh!")
[Photo by darrenleno via Flickr]
The first AncoraCrafts.com was an e-commerce platform that I had spent a lot of time and money on setting up, customizing, and maintaining. And after an extended period of time, I never sold a damn thing on it. Not one. Hardly got any views. Obviously, I had to make a change.
Moving my listings to Etsy was the easy part, but changing the .com to a blog took a lot of work, mentally and digitally. Switching to a new web host and learning WordPress were two big hurdles. But the biggest challenge was in making the commitment to blogging – a decision I did not take lightly.
I'm very happy to say that ever since I hit "publish" on the first post in late February, although it's a lot of work, I'm having a lot of fun with this blog!
#2 Followup on my ACrafty Interview with Betty Busby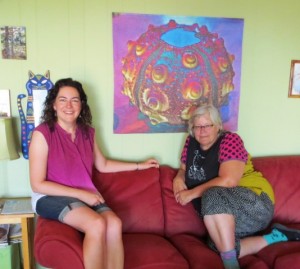 I published an interview with quilt artist Betty Busby in June. I have been in awe of her work since I first saw it and I was so curious about her process. In August she was gracious enough to give me, my husband, and our dog Scully a tour of her home and studio space in Albuquerque. It was a real honor and treat for all of us, and I'm really happy that I was brave and took the chance to ask her if she was available.
Most of my very early posts on the blog are about my own projects and products, and that was fine. But in May, after doing a lot of reading about blogging, I had a kind of epiphany about the direction of my blog. I'm sure it will shift again someday, but this post sums up my current bloggy path.
[Photo: The Better Idea by (the brilliant) Peggy Dembicer via Flickr]
#4 Favorite Books – Crafty and Otherwise
As part of Rosalilium's Blog Every Day in May project, I put more information about myself out on the internet than I ever thought I would. Of all the 31 topics that month, I really enjoyed creating this post about my favorite books.
 [Bill the Cat for President from Bloom County. Photo by tjosephson2 via Flickr]
I had done a few other crafty roundups before, but the hexagon series really stands out. I dug deep, spending days on the internet to find examples of hexagon crafts in all types of disciplines. I ended up finding some really outstanding hexies in interesting places. I tried to find as many tutorials and patterns as possible, but where those didn't exist, I did find some excellent sources of inspiration. Love the leather pouffe and these popsicle sticks – so fun! [Part 1, Part 2, Part 3, Part 4]
How about you? Share your "proud five" post over at CraftyPod!