This "Big Spender" Pop my Cork cross stitch pattern is now available in my Etsy shop!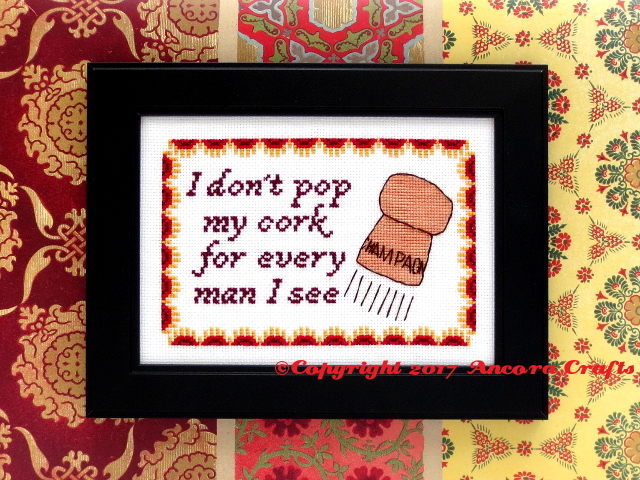 This suggestive project is a lyric from the song "Big Spender." The song was written for the 1966 Broadway musical Sweet Charity. It was a big hit for Shirley Bassey in 1967 and it continues to be one of her signature songs. Although the song is hardly a feminist rallying cry, I've always liked the line "I don't pop my cork for every man I see" as a great "nasty woman" sentiment.
For those of you unfamiliar with Shirley Bassey, you are probably familiar with her voice. Aside from "Big Spender," in the States she is probably best known for the James Bond theme songs "Goldfinger," "Diamonds Are Forever," and "Moonraker."
From her very humble beginnings in Tiger Bay, Cardiff, Wales, Shirley Bassey's career has spanned well over 60 years. In January 1959, she was the first Welsh person to gain a U.K. Number 1 single, and in the ensuing years her career was so remarkable that she was made a Dame for her "services to the performing arts."
If I were a single person, I could easily see this Pop my Cork cross stitch pattern displayed in my house as a subtle challenge to potential suitors. I consider it's essence to be "if you don't treat me well, don't expect much in return" which is a good philosophy for everyone!