This Camino de Santiago cross stitch pattern and kit is now available in my Etsy shop!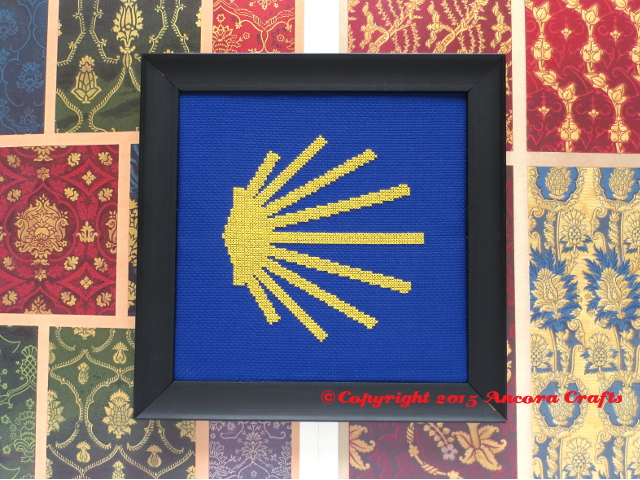 This project is a perfect way to commemorate a journey along the Way of St. James. The scallop shell has long been the symbol of the Camino, and it serves both practical and symbolic purposes.
The shell served as a makeshift bowl for water and food, and pilgrims would often take a Galician scallop shell on their return home as proof of their journey. The grooves in the scallop also symbolize the different paths the pilgrims follow on route to their one destination – Santiago de Compostela, legendary home of the apostle St. James' remains.
The Cathedral of Santiago de Compostela is in the province of Galicia in northwestern Spain.
[photo by Marcelo Jaramillo Cisneros via Flickr]
There are two main routes to the cathedral. There is a more inland route through Logroño, the Rioja region, Burgos, and León. Rioja is one of my favorite places – I wrote about it near the bottom of this post on our 2014 travels.
There is also a more coastal route through Bilbao and Santander, and then through Asturias and Galicia. I wrote about Asturias in another post on our 2014 travels – it's simply gorgeous.
I was lucky enough to go inside the cathedral during a special mass. At this mass they used the massive 80kg (176 lb) censer (incense burner) called the "Botafumiero" that requires several people, the "tiraboleiros," to operate. The censer is attached to a rope that then swings via a pulley across the cathedral transept. The tiraboleiros swing the censor nearly to the ceiling!
From the Wikipedia article, "One explanation of this custom, which originated more than 700 years ago—although incense has been used in Catholic ritual from the earliest times—is that it assisted in masking the stench emanating from hundreds of unwashed pilgrims."
As with many travels, it's not necessarily the destination that is important – it's the journey you take to get there. I hope many of you will use this Camino de Santiago cross stitch project as a way to create a reminder of your journey.