Welcome to today's ACrafty Interview with Arlee Barr, textile artist. Arlee's responses are so thorough and engaging that the interview has been split into two parts!
Here's Part 1 to start your fascinating look at her art and process: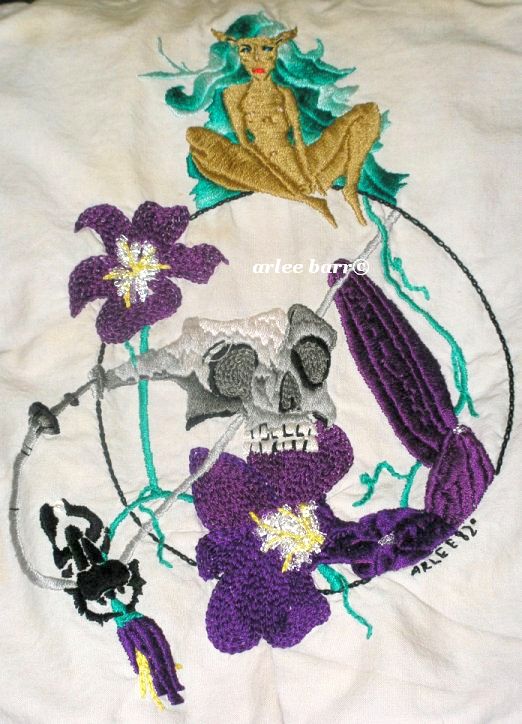 When did you start making art? AB: I've always considered myself an artist, whether it was my first realistic renderings of an airplane (the family having lived several years above a hanger when i was quite young!), drawings of plants and animals, writing poetry and critiques for a Canadian literary magazine when i was 16, moving onto pen and ink renderings of fantasy elements in my late teens and then in my 20's, with a child added to the mix, translating my drawings into embroidery and making clothing for myself and my son that were way past the considered norm of the time. ( I could find that boy in *any* crowd 🙂 )
I come from a long matriarchal line of women who Did simply because they had to, and knowing that it was the way of their lives. I credit my mother first and foremost. She taught me to break the rules, to think as an individual and to re-invent the wheel, teaching me to sew by hand when i was five: i created a series of Barbie type dolls with all of their clothes sewn on, seams visible and impossible to take off unless i cut them! When i was seven, i had lessons on a sewing machine and by the time i was nine, was making all of my own clothes. When i was 13, my grade 8 home ec teacher was bothered by the fact that while everyone else was busy figuring out the intricacies of an apron or pyjama pants, i was already making more complicated gusseted and gored mid Eastern styled dresses.
My mother was widely read, immersed herself in museum and gallery visits, bringing home a new sensibility about world apparel and style, almost a hippie in her wanderings through those respectable findings. Because of her, i see things differently, and she encouraged me to experiment and explore what could be done with a needle and thread. It wasn't until my teens though, that i realized that what i was doing could be art rather than craft. I was also lucky enough to be hanging around with a bunch of students who were taken under the wing of an incredibly talented art teacher would take us to Hamilton and Toronto to the galleries and art colleges, on his own dime.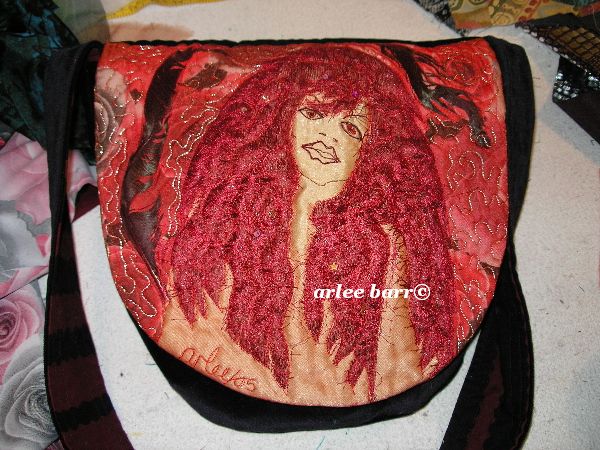 What mediums have you tried and what is your current favorite? AB: I painted, i wrote poetry (still do), i created mixed media collages and shrines, i dabbled in everything i could but nothing really held my interest unless i went back to a needle and thread, whether on a machine or by hand. In my 30's i started selling my wearable art and with the encouragement of friends and a helpful counsellor, entered a 2 year Textile Arts programs at North Vancouver's Capilano College (BC), 1993-95. (Now known as Capilano University and with the program cut and gone, sadly…) I joked for years after that all i learned was how to better my machine applique from that 2 year period, not knowing how much of the art history and design ethic actually sank in. I'm grateful that it did, finally seeping up from the depths to colour what i am and how i do things almost 20 years later.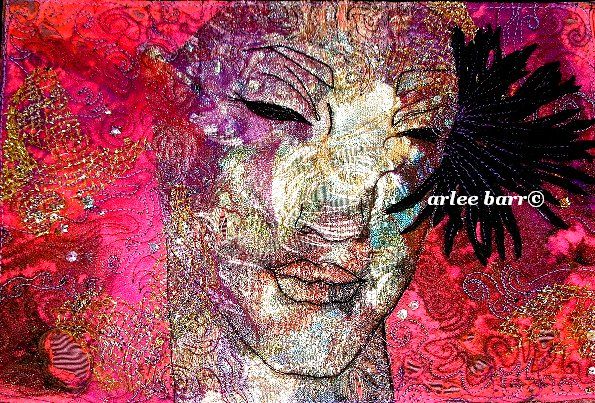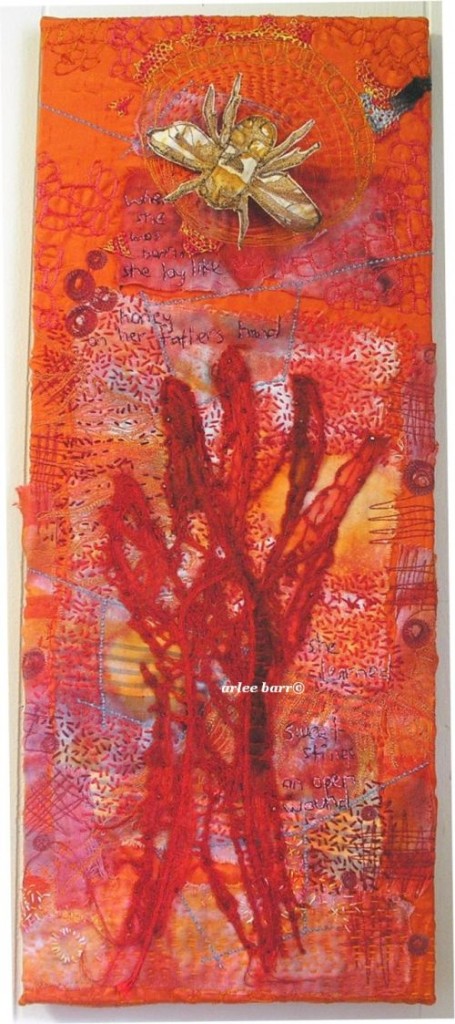 What project are you most proud of? AB: All of my work is full of pride and satisfaction. It's as simple as if it didn't work and i don't like it, it never gets shown, or even finished! If i had to choose a favourite piece, it would be like saying i loved one child more than another, but i have a special fondness and memories for "Beautiful Bones" (2009), "Hand of the Father" (2010), "Raggedy Black Heart" (2011) and and my most recent completed piece, "Mother's Heart". All of them relate to certain emotional issues i have dealt with: the ubiquitous feelings of mortality and the sense that we are all beautiful and the same under the skin, my father's death, a friend's very confused and sad life ending and a response to Mother Nature (and indirectly to my own mother).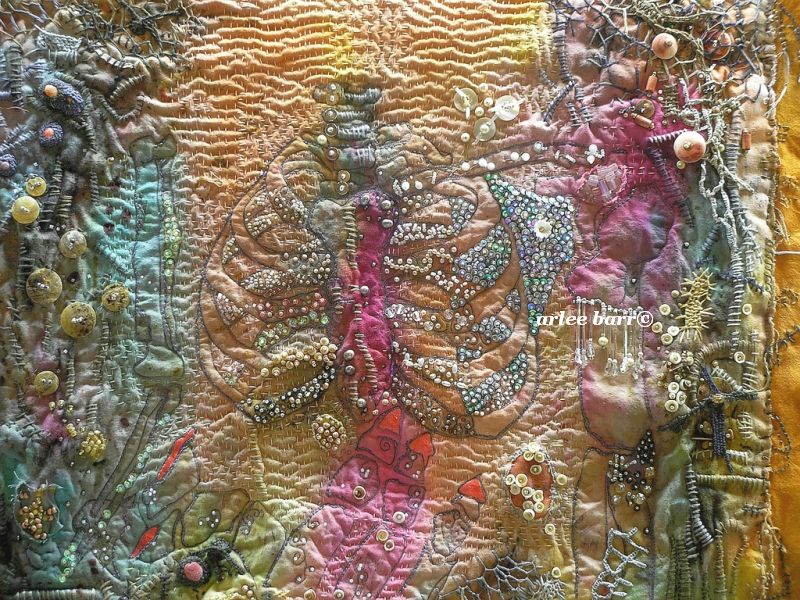 What is the silliest question you've received regarding your work? AB: I was working on a complex, cloth woven and hand and machine embroidered piece while waiting in a doctor's office, and a woman asked me if there was a pattern for it. When i said no, she sniffed and walked away—i think there are people who believe patterns, kits and someone else telling you this MUST be the way to do it and that it's the ONLY way, is a very sad approach to "creativity" and being either artist or craftsperson. I also get tired of someone scanning over a piece i've spent months on by hand, and then asking me if i could make placemats for them. Nope.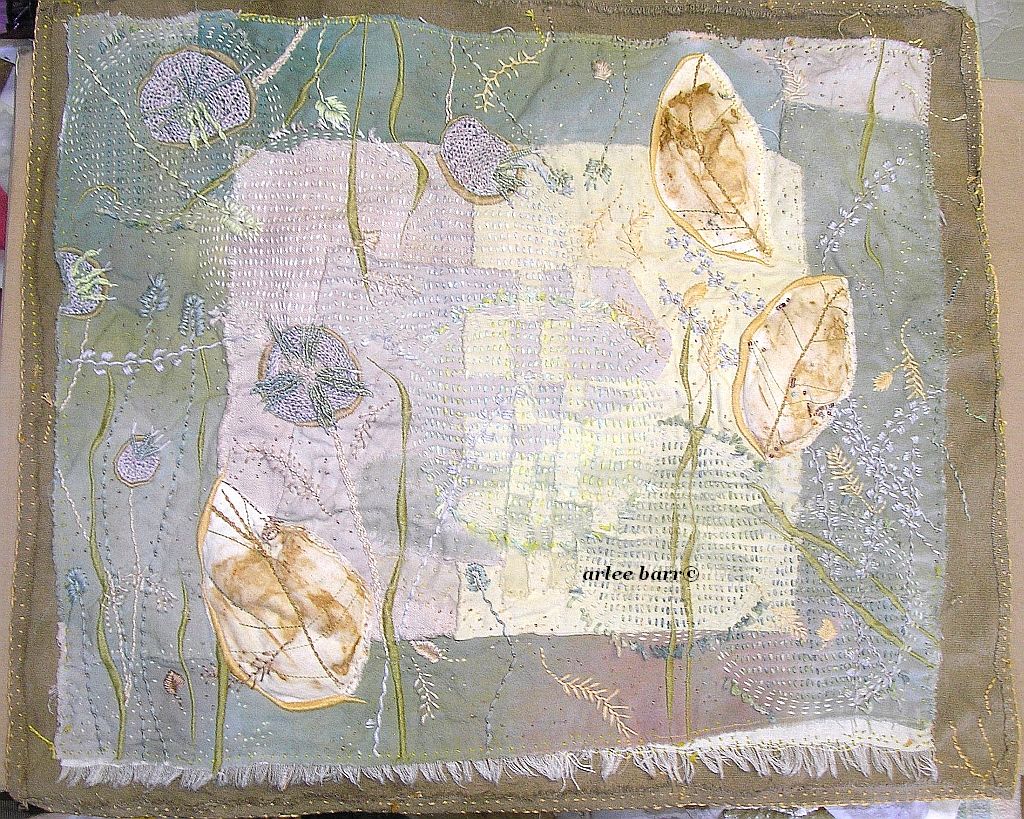 What is your most popular (or bestselling) project? AB: I'm very grateful to have discovered the wonders and mysteries of natural dyeing and ecoprinting. I rarely use any commercial fabrics now, unless they are bits of scrounged or thrift shopped articles. This means that anything i create now is really built from as close to scratch as one can get without actually weaving the cloth first! I "share the wealth" by selling one of a kind fabrics for other artists who incorporate it into their own work.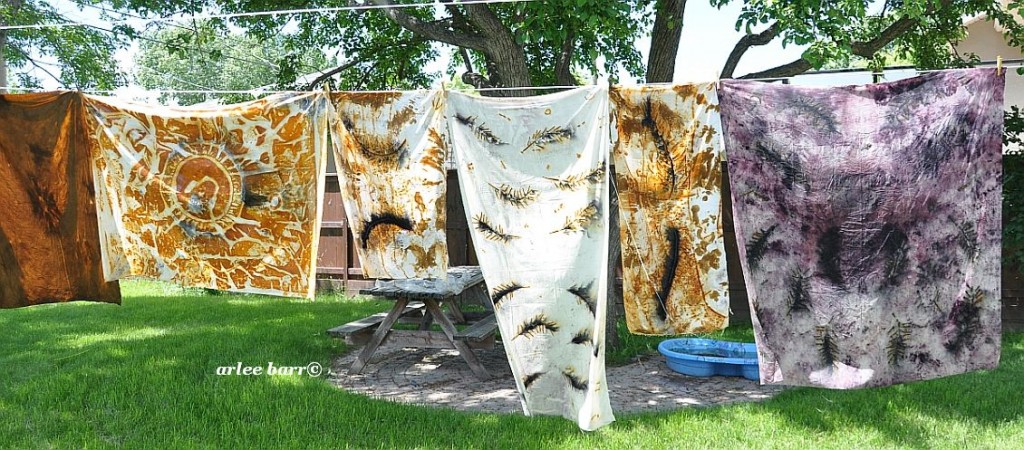 Do you sketch most of your work before you begin, or do you work without a pattern or plan? AB: Yes and no! My sketchbooks are full of very rudimentary scribbles and notes. Words are more important to me as inspiration: bits of poetry, a strange turn of phrase, an overheard bit of conversation. I then audition my fabrics and the one that speaks most emotionally to me is the one i start with. I'd rather have the actual art made than make art of the notes themselves. I've seen wonderful sketchbooks from other artists, but for me personally they are a waste of time, a waste of resources, and leave me no energy or inclination for the actual art! I'd rather be making it than planning it. I do lightly audition certain bits in a loose way on some paper, but that's not always the case or a comfortable way for me to develop what i want to say. The only "serious" sketchbook work i do, is to sometimes do a print out of the base fabric with a few ideas and then overdraw on it where i might use certain stitches or motifs. I keep all of these print outs in a workbook divided into either dates worked on or thematically. I can then look back for ideas for future work, or see how things are evolving, and building a library of personal iconography.
The most important tool i have in the documentation process is my notebook of thread ends with the company, colourway and number recorded: since i do a lot of projects at once, i need to be able to refer back to which threads i have used in each one.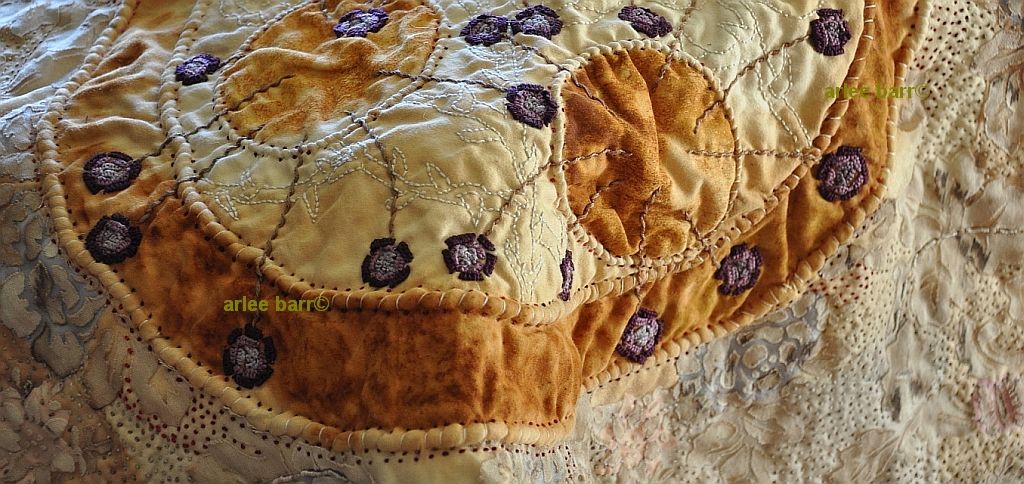 – End of Part 1
Many thanks to Arlee for her participation in this ACrafty Interview series! Part 2 of her interview will be posted next Thursday, October 17, so stay tuned for the rest of this glimpse into her work. Also thanks to fellow ACrafty Interview subject Betty Busby (original interview and followup) for suggesting that I approach Arlee for the series.
In the meantime, you can follow Arlee's adventures on her blog, her Facebook, Flickr, and her shop…
Update: Link to Part 2
Please note that Arlee does not want any of the images that she provided above copied, Pinned, or used in any way without her permission. An excerpt from her Flickr profile: "Please do not add my photos to your Pinterest without asking me–this violates the copyright clause that say *I* have exclusive right to decide where my work is distributed–my photos are ALL RIGHTS RESERVED."
Would you like to be a part of the ACrafty interview series? Just contact me! You might also be interested in reading some more ACrafty Interviews with multi-crafter Diane from CraftyPod, needlepointer Haruhi Okubo of Cresus-Parpi, tatter and chainmailler Jeff Hamilton, potter Nancy Germond, basketweaver Tina Puckett, quilter and pursemaker Linda Martin, and cross stitcher Meredith Cait.