My new modern tumbling blocks quilt turned out wonderfully! The 3D effect looks great and it's even better in person. The colors are just as rich and vibrant as I had hoped. If you're interested in purchasing this pattern, it is now available in my Etsy shop!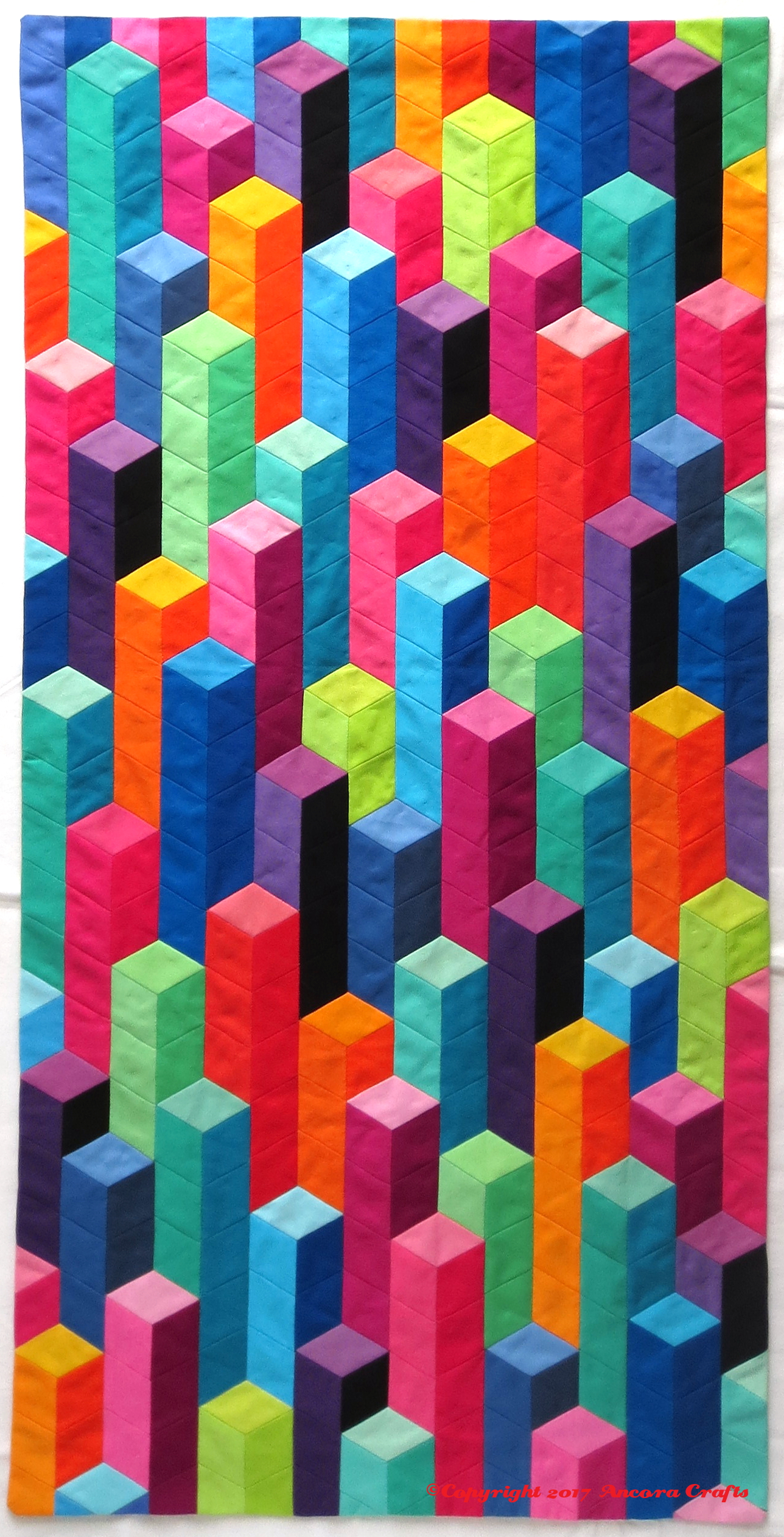 The inspiration for the quilt comes mainly from the works of graphic artist Matt W. Moore. I am absolutely enamored with his use of color and his eye for pattern.
As my quilting expertise is limited, I would not yet try to create quilts as complex as some of his pieces. Even if I were a great quilter, I would never infringe on one of his copyrights. However, his work is a great place to find seeds for other creative expressions.
At right is a woven throw blanket from his Core Deco line. I love the colors and design so much I just had to buy one! It looks great in the same room as my modern tumbling blocks quilt.
Modern Tumbling Block Quilt – Fabrics
I used all solids for this quilt, trying to maximize the three-dimensional effect. I started with a jelly roll of bright Kona solids, and then added fat quarters of deep purples, teal, jet black, and a ombre collection of royal blues. Here are all of my blues – at top the royal blues, in the middle are navy blues, and at the bottom are a sky blue and a blue with a touch of purple in it.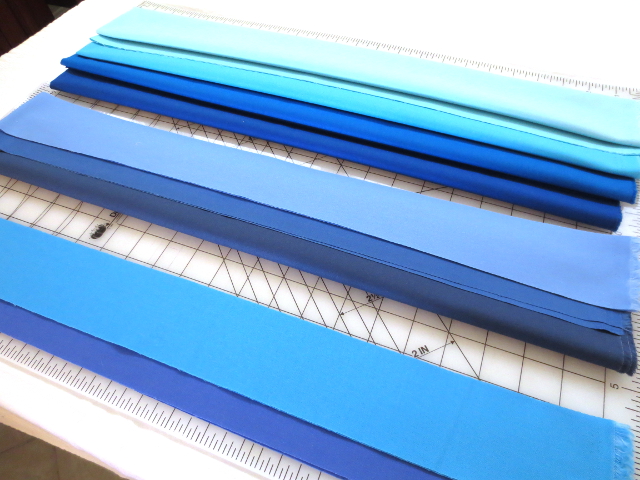 You can see I certainly shied away from using many pastels. A few light pinks, blues, and greens worked fine but I tried a lemony yellow for some of the orange blocks and it was just too light to stand up to the other bright colors.
Here are the series of plum pinks I used: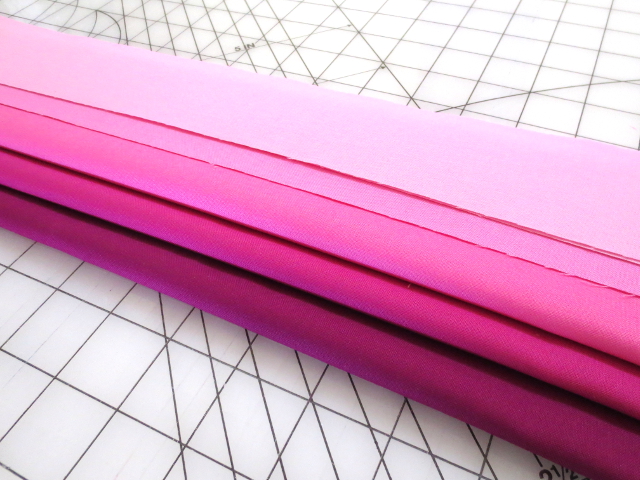 I used two types of green – a kelly green and a celery green. If you look above the kelly green blocks are fine. However, if I were to do this project again, I would find a darker celery green for the "dark" side of the block.
Below are the series of teal colors I used: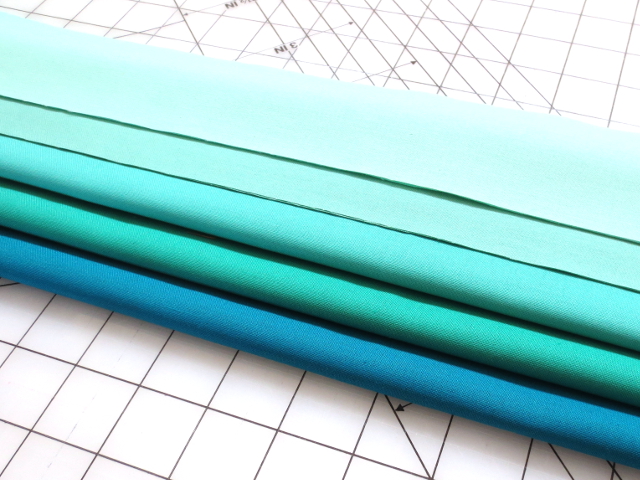 Modern Tumbling Block Quilt – Techniques
I used English Paper Piecing (EPP) to put this quilt together, and for guidance, I used and recommend the excellent book All Points Patchwork by my friend Diane Gilleland.
Before I started this project I had only used EPP once before, on my hexagon table runner project. When you read that blog post, you'll see how valuable her book can be, as I share lots of things-I-would-have-done-differently-if-I-had-read-her-book-FIRST.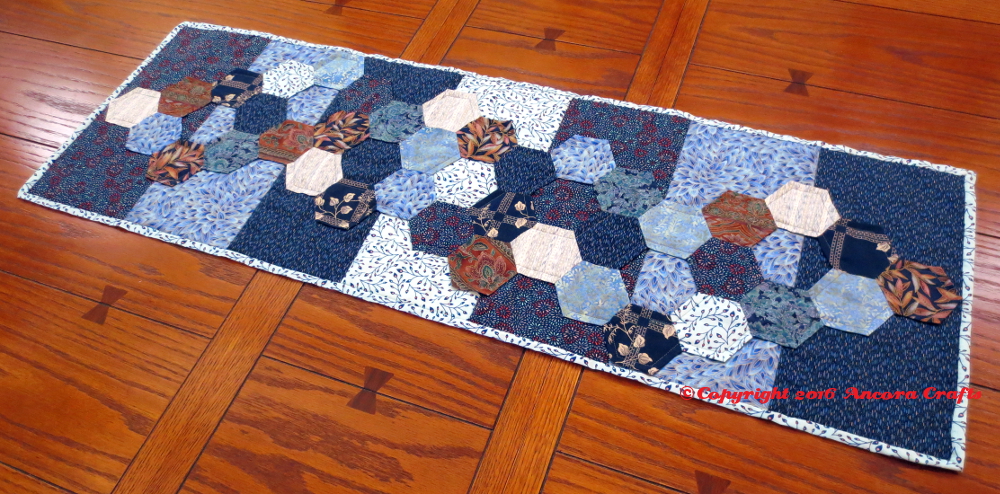 One of Diane's recommendations is to use pre-cut paper templates, and for the sheer volume of templates necessary for this bigger quilt project I gladly took her advice. I purchased my templates from PaperPieces.com. If you're not too familiar with EPP, you will be BLOWN AWAY by the variety of pre-cut paper template shapes they offer.
If you're interested in purchasing the pattern for my modern tumbling blocks pattern, please be aware that it is a pattern only. It includes the chart, how many pieces of each color you may need, and some ideas on the order in which I put the quilt top together, but it does not include any cutting, assembly, quilting, or finishing instructions. Diane's book and many others have excellent instructions on these topics that I need not try to re-create.
Below you can see my new modern tumbling blocks quilt in it's new habitat near my Persian Flower project. I never get tired of looking at it – it's visually enticing and very contemplative. I love it with the colors I used and I'd also enjoy seeing it in other color combinations as well. I think a version in earth tones like rust, gold, brown, green, and red would be very striking.