I'm following the lead of Diane (of CraftyPod fame) today and posting my top 5 posts of 2013 thus far.
#1 Most Popular: Part two of my series on hexagons (HEXIE MADNESS, really), that covered crochet, felt, lace and tatting, polymer clay, origami, and last but not least, popsicle sticks. The hexie origami boxes are proving to be the most popular outgoing links, but my sentimental favorite has to be this colorful and fun popsicle stick hexagonal basket.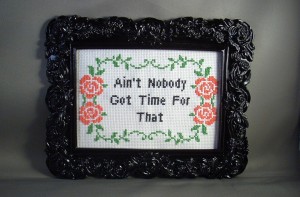 #2 Most Popular: The ACrafty Interview with Katie Kutthroat. Katie was one of the first people I ever contacted on Twitter. Katie's cross stitch has always cracked me up, and it has been seen on the set of the HBO show Girls. It was very interesting to get a glimpse into her crafty process and to see how she benefits from stitching.
#3 Most Popular: My book review of Crochet Saved My Life by Kathryn Vercillo of CrochetConcupiscience. Her book explains the benefits of crochet for a variety mental conditions including depression, anxiety, OCD and addiction, for physical conditions such as chronic pain, fibromyalgia, and multiple sclerosis, and as a tool in occupational therapy.
Her book also has a curious physical effect! Read the review for more info about Kathryn's fantastic world of crochet.
#4 Most Popular: Part one of my hexagon series, this one covering quilting (featuring a link or two to CraftyPod), leatherwork, scrapbooking, weaving, and jewelry. Of all the links, I think the most popular is probably these bordered hexies, although the Diane von Furstenburg box clutch gets a lot of attention as well.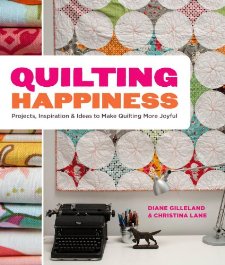 #5 Most Popular: I'm very pleased to say that it's my ACrafty Interview with Diane of CraftyPod! Diane was so gracious to give some of her valuable time to my fledgling blog. I have to say that CraftyPod is a wonderful resource of crafts and craft blog information, and I highly recommend anyone in a creative field to follow her adventures (and best of luck with the new book launch this week, Diane!).