This Beatles wedding cross stitch pattern is now available in my Etsy shop!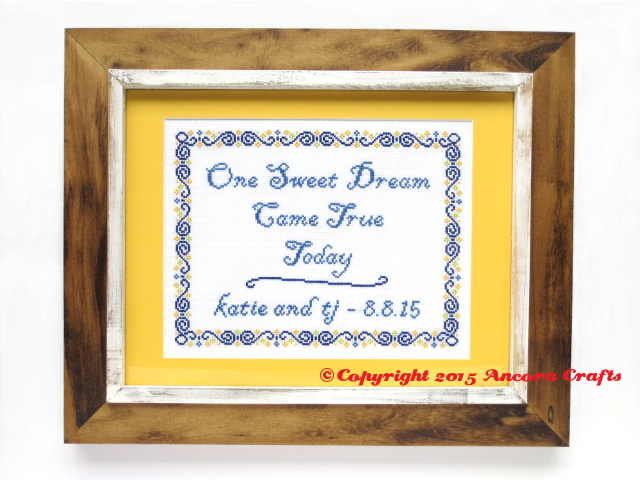 This cross stitch pattern is a wonderful way to celebrate your big day or to create as a present to your favorite newlyweds or new parents.
The quote comes from the Beatles song "You Never Give Me Your Money" from their 1969 album Abbey Road. The song itself isn't terribly romantic as it is about their business and interpersonal problems. Nevertheless, the line "One sweet dream came true today" always struck me as a great way to celebrate a marriage, a new baby, or a new start in life.

The photographed example above was made for the daughter and new husband of one of my cousins. Katie and T.J. had a true country wedding with the attendants wearing cowboy boots with their dresses and suits. The reception was in a barn, and the wedding party was transported by horse and carriage. Their colors were two shades of blue and sunflower yellow, thus these were the colors I chose for their project, plus a touch of celery green as an accent.
I would be happy to customize this project to suit the occasion. Of course, I can design the name(s) and date you would like to commemorate. In the Etsy listing, just hit "Ask a question" and we can discuss options and terms for your particular project.
It would also be great to see this project executed with different flosses and especially variegated flosses. Before I knew what the wedding colors were, I contemplated using one of my favorites, the rainbow colors of Anchor 1360 as the floss for either the scrollwork or as the flowers around the scrollwork.
I also considered using a variegated floss for the wording as text often looks terrific in subtly changing colors. One example is in my unique take on gratitude – my "Life Sucketh Not" pattern,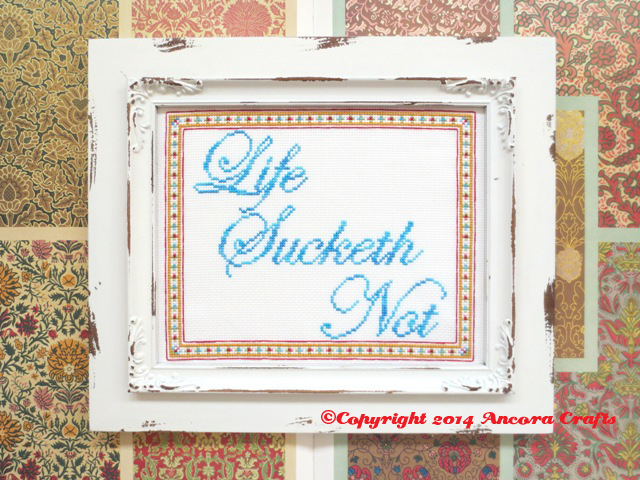 and another is my "Gluten in Your Muffin" pattern based on a quote from a Saturday Night Live sketch: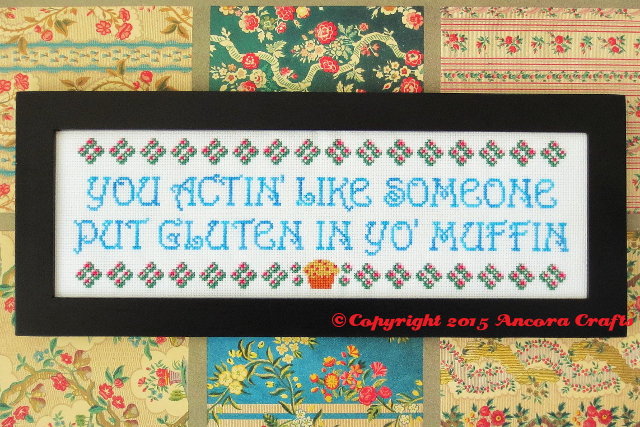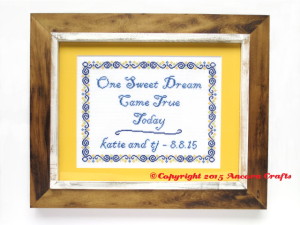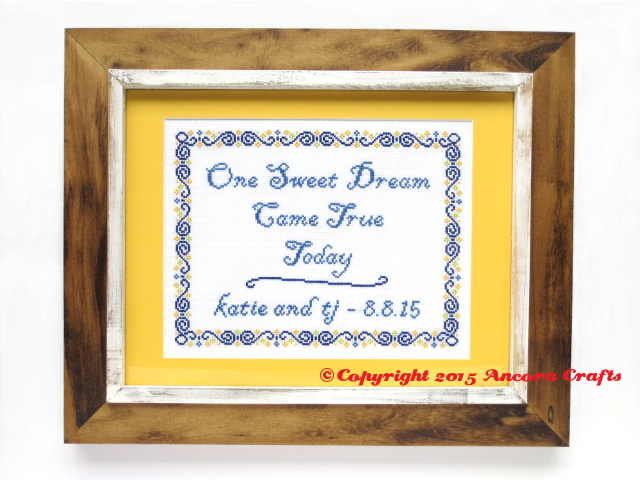 Variegated flosses or not, I'd love to see this fun project in all kinds of colors and for all kinds of celebrations!