Welcome to Variegated Floss Projects Part 6!
Part 1 of the series covered variegated floss projects in the needlework areas of cross stitch, needlepoint, and embroidery. Part 2 had variegated floss in plastic canvas, quilting, felt, sewing, and pom-pom projects. Part 3 explored variegated floss projects in jewelry and scrapbooking. Part 4 looked at variegated projects in knitting, spinning and dyeing. Part 5 featured crochet, lace and tatting, and basketweaving, and this Part 6 will showcase all kinds of crafts in furniture, seasonal projects, string art, and home decor!
As I said in in Part 1, variegated flosses and yarns are beautiful and they make every piece that uses them unique. No two people will ever use the exact same length of a floss in the same way, thus every project will have a different result! This makes creating with them an exercise in curiosity and a fun adventure.
Variegated Floss Projects in Furniture
So by now we've all probably seen a tutorial or six on how to make small yarn or string balls with balloons. This light string DIY by Kimberly at KandyKreations is a good place to start…
and now take that to a much bigger scale and use variegated thread, and you get this beauty! This example, seen on CargoCollective, is from a student art sale,
and CraftyNest has a tutorial to make your own. This example uses 20 lb. weight hemp string as a way to recreate a similar (and expensive) product from a retail shop. I imagine similar methods were used to create the student version above.
A completely different look for string wrapped pendant lamps is achieved in these unique pieces featured on ManMadeDIY.
There are some great ideas for table lampshades as well! First, there's this yarn lampshade tutorial at LanaRed. Imagine this in a colorway of cool greys and blues…
Then there's this lampshade idea from NorthernCottage. They've spaced their string rather loosely around the drum, but you can see how easily the spacing could be tightened up to create a more opaque shade.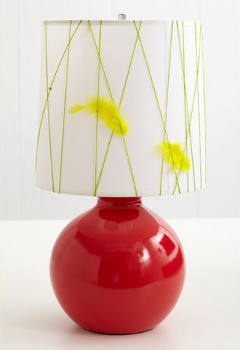 If, rather than recreating an entire lampshade, you would just like to embellish an existing shade, there is this fun tutorial from LandofNod (might I suggest DMC 4069?).
It turns out that artists have been wrapping thread on furniture for a while. An interesting example of that are these Spool Chairs by Keisuke Fujiwara as seen on DeZeen. These chairs feature 12 different colors of thread to achieve this variegated result.
To recreate this look there is this clever tutorial from Mandi at VintageRevivals on how to embellish furniture with embroidery thread.
Take this to the extreme, and you have the art of Anton Alvarez. His invention, the Thread-Wrapping Machine, makes it possible for him to actually join the furniture using glue-soaked threads. It's fascinating, and you can see more information on the machine and his process at Artsy.
Variegated Floss Projects in Seasonal Crafts
Similar to the light string made with yarn at the top of this post, this DIY by Janel at LifeasMom uses balloons. However, Janel uses variegated embroidery floss rather than yarn to create these slightly more refined Easter egg shapes.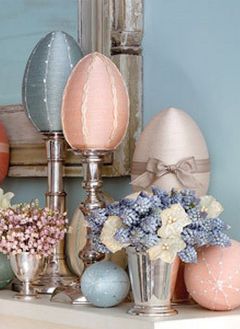 Then leave it to Martha Stewart to create the DIY for these stunning Easter eggs using Styrofoam egg forms and perle cotton thread along with some millinery flowers, ribbons, and decorative trim.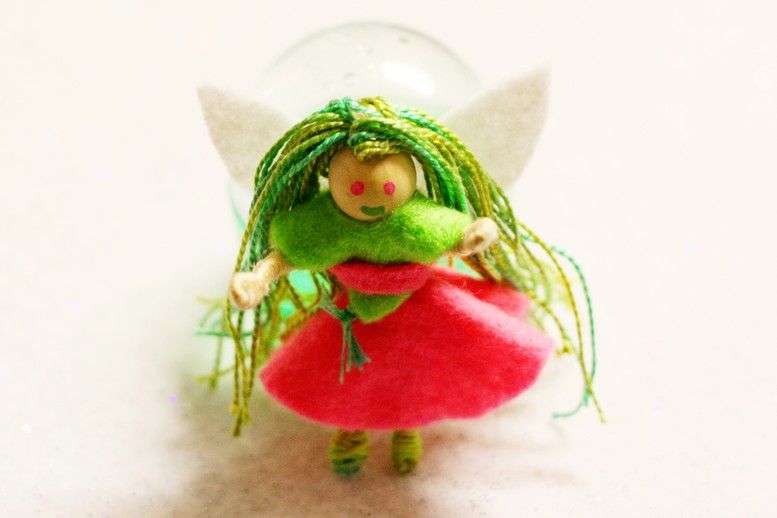 Another fun Spring craft would be to make these thrifty "tiny fairy dolls" with this DIY from Angie at TreasuresforTots. I like how she used variegated floss for the hair and some of the other features on the dolls.
Nikki at EverythingUndertheMoon has this super simple DIY for creating these Autumn pumpkins with variegated yarn. These are fun and a little more crafty than displaying plain foam pumpkins!
The tutorial for these cute and decorative variegated yarn Christmas trees comes from PrettyDitty (I like how she gives a musical suggestion for making these),
and Pam at GingerbreadSnoflakes has the instructions to make these fun star ornaments. I can see some how variegated yarns could incorporate into these nicely!
The last winter holiday project I'll feature here is this pretty Snowflake & Snowball Winter Yarn Wreath by Sharon on CraftsnCoffee. She says this can be made in less than two hours.
Variegated Floss Projects in Home Decor
Sharon really knows her way around a wreath, as you can see in the DIY for this summery example also on CraftsnCoffee. She used a gorgeous variegated yarn for this…
Meanwhile, I love the striking simplicity and beauty of this idea from Laura at DuoFiberworks that combines grape vines and embroidery floss in such a unique way.
CentsationalGirl has a DIY on how to create these elegant yarn-wrapped frames,
while Sarah at CrannyandMe has this tutorial on creating yarn-wrapped letters,
and CarolynsHomework has simple instructions to make this yarn bowl. While these three projects look great in their solid color yarns, in the right circumstances, variegated yarns could really make these projects pop!
Take, for example, the tutorial to make these yarn wrapped bottles by Angelique at DIYSweetnSimple. A solid color yarn would look fine, of course, but these bottles are distinctive!
Even the kids' versions (also from DIYSweetnSimple) look fun and fabulous!
I found this outstanding idea on BeautifulWindowDisplays from an Anthropologie store – each brick is wrapped in some kind of string or floss!
For decorating the home it would be more practical to wrap floss around brick-sized pieces of red and brown foam core or cardboard rather than full-on heavy bricks. Either way, the concept is just striking!
Variegated Floss Projects in String Art
There are a ton of string art projects out there, so I will only show you a few of my favorite tutorials, all of which could look great in variegated flosses. First is this "Heart in Ohio" DIY project on TheHarpsterHome. This particular example is for Ohio, but this could easily be modified for any other geographical mass in the world (Heart in Moldova, anyone?).
Another favorite is this Dream tutorial by Dina at HoneyandFitz. This is very, very fun, and I'm wondering how well that cork held up over time.
I also like this DIY by Lisa Tilse at TutsPlus Crafts.
Kristi Mauws of Etsy shop RusticHeartStrings has her own unique style of string art. And I'm proud to say this piece, custom made for her client, was made with floss that she purchased from me (DMC 4068 – Camouflage)!
To wrap up this series of posts, I wanted to share pieces from a few artists who work in thread and yarn. First, Martin at ManMadeDIY shared this installation by Lee Baker that uses nearly 33,000 feet of colorful yarn. The link also has a video showing some of how it was set up.
Next are these amazing portraits by Kumi Yamashita as seen on TwistedSifter that use thousands of brads and a single black thread. Stunning!
And finally, I am a big fan of Gabriel Dawe's installations. He uses only normal sewing thread to create his translucent works. Take a look at his website to see more of his fascinating installations.
That luminescent art wraps up this Variegated Floss Projects Part 6! Are there any more examples in these crafty categories of furniture, seasonal crafts, decor, and string art that you would like to add to the comments?
Make sure you check out the whole series! Part 1 featured cross stitch, needlepoint, and embroidery, Part 2 had plastic canvas, quilting, felt, sewing, and pom-poms, Part 3 covered jewelry and scrapbooking, Part 4 had knitting, spinning and dyeing, and weaving, and Part 5 had projects in crochet, lace and tatting, and basketweaving.
If you have enjoyed this series, you may want to check out my two other series to date – my four-part series on hexagon crafts and my six-part series on water-themed crafts!
Thanks, and happy crafting!