This French liquor license cross stitch pattern is now available in my Etsy shop!
This fun pattern is based on an enameled metal sign I saw outside the Hotel Le Tropicana in Douville, France. I thought it was a really charming sign and I immediately knew that I would stitch one for myself someday.
The number IV (4) indicates that the establishment can sell all types of beers, wines, and spirits. License types I, II, and III exist as well.
We stayed at this hotel as the 2014 Tour de France individual time trial (ITT) stage passed very close by. In a previous blog post, I shared a little about why the ITT is our favorite stage to watch and some highlights and videos of the Tour.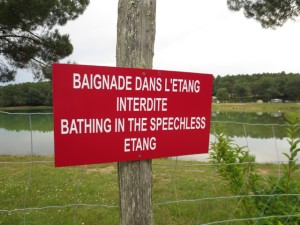 I'm going to repeat myself a bit from that same previous post: "One of my favorite finds of the summer was very near our hotel. There is a nice little campground with a lake, [and] this is one of the signs around the lake:
The English part of the sign really means to say 'Swimming in the lake is prohibited,' so one can only assume this is just a spectacular web-based translation fail." Although this sign is a cute favorite, I don't plan on creating a cross stitch pattern based on it.
I've always been curious about the date on the plaque – 24 September 1941. This was after France fell to the Germans in World War II. There are few other images of this plaque on the web, but the ones I have seen have the same date. So was this liquor license law something that was in legislative process before the German invasion, or was this law something that the Germans insisted upon during their occupation? I'd enjoy to hear any insights into the matter.
This French liquor license cross stitch pattern is a perfect project for your favorite Francophiles (fans of French culture), oenophiles (fans of wine), and beer connoisseurs. It would look great in a kitchen, dining room, home bar, media room – wherever good libations are enjoyed!