Welcome to today's ACrafty Interview with Nancy Germond, potter for Germond Designs.
When did you start crafting? NG: I started crafting when I was really little – my favorite baby sitter used to spend hours drawing with me and my mom taught me to sew back in elementary school. I've been crafting since I've been walking!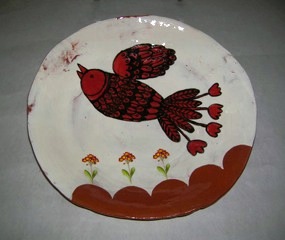 What crafts have you tried and what is your current favorite? NG: I have tried everything from painting to macrame to knitting to decoupage to metal stamping. Clay is my current favorite medium because it is SO versatile and it has allowed me to incorporate many different crafts such as silk screening and painting.
What is the silliest question you've ever received about your craft? NG: I once completed a tile backsplash for a client and she asked if the design would wipe off if she used water… practical question from her perspective but what kind of backsplash would that have been?!
What craft project are you most proud of? NG: I am super proud of my most recent sculpture – the inspiration was a 7000 mile road trip towing a 1975 trailer. The sculpture is a self portrait of me, with the wind in my hair, popping out of the top of the trailer's ceiling (see picture). It's titled "Nancy Jean and Lima Bean."
What is your most popular (or bestselling) project? NG: My doodle bowls are very popular and I have many customers who keep growing their collection. Each bowl has a unique design and the size is perfect.

Has a craft or craft project ever challenged you in an unexpected way? NG: Getting organized enough to travel with my art booth was quite challenging – thank goodness I have the Lima Bean! On my first out of state show, my car was packed with my pottery and my tent and shelves were packed into the camper. After my 12 hour first leg of the journey, I pulled into a KOA campground, crawled over the supplies and slept on my little twin bed. The golden rule is NO pottery packed into the trailer – it would end up in many, many pieces after the first bump in the road.
How has crafting affected your character? NG: Devoting 100% of my time to making art was a huge leap of faith but one I had to take! It can be challenging to make art that you hope someone will like enough to purchase but I've learned to trust myself and 'go' with it. I constantly quell the thoughts of self doubt and replace them with gratitude, thankfulness and joy at being able to do art full-time. I never have to 'make' myself do art – it's something I always enjoy and 'must do' to be happy – like breathing and exercise. This summer, I made the decision to apply to art shows in Colorado so I could escape the crazy Texas heat – I call that 'creating my own universe' as well as creating my own art!
Can you share a story about how your crafting has affected others? NG: After an art show at my house, a good friend of mine decided she could also follow her passion – baking. It's a great story – Amanda and her mom, Kit started the venture called Tiny Pies. Since starting the company in 2010, they have been written up in Oprah Magazine and recently appeared with Katie Couric. While their success is due to a fantastic product and lots of hard work, I like to think that my decision to follow my passion inspired them.
What is the one question you've never been asked about your craft that you've always wanted to answer? NG: Hmmm – that would have to be "Would you be interested in having your product for sale in Anthropologie?!" followed by "Sorry, we won't be able to pay you in dollars – would you accept bartering your pottery for our fabulous clothes?"
What crafty goodness do you have coming up in the future? Why is it appealing to you? NG: [Some new pieces made their premier at a show in Salida, Colorado on August 10-11.] I love the interaction with people at art shows – it's always interesting to see which pieces sell and to whom. I was super excited to sell a grasshopper butter dish to a woman whose husband worked for Grasshopper Mower- how perfect is that?! I am a total extrovert so while I love creating my pottery in my studio, I live for customer interactions at art shows! I am also excited to be back in the studio later in the month; I want to make some little wall plaques to sell at my next show in Durango late September.
Thanks so much to Nancy for participating in this ACrafty interview series! I saw her lovely booth at an art show a few weeks ago and was drawn in immediately. Nancy really struck me with her open and positive attitude and I hope you will be able to meet her and see her lovely works in person!
You can follow Nancy's adventures on her website, Facebook, and she's aiming to really fire up her Etsy shop in September.
Would you like to be a part of the ACrafty interview series? Just contact me! You might also be interested in reading some more ACrafty Interviews with multi-crafter Diane from CraftyPod, embroiderer Sasha of What. No Mints?, embroiderer Ellen of Schindermania!, the multi-talented David Tedin, needlepointer Haruhi Okubo of Cresus-Parpi, and tatter and chainmailler Jeff Hamilton.