This Men in Blazers cross stitch pattern is now available in my Etsy shop!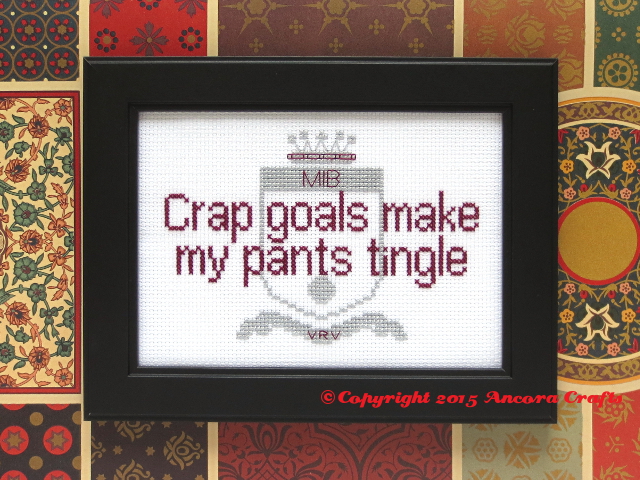 If you follow English football and have a sense of humor, make sure you catch the Men in Blazers. On a tight budget and a miniscule staff, Michael Davies and Roger Bennett create very funny podcasts, TV shows, Twitter and Instagram feeds, and they are even hosting their first "BlazerCon" in October 2015.
I have to credit my Dad with discovering the TV show that airs Monday nights on NBC Sports Network. I'm not sure how he found it, but as my husband closely follows British football, we are SO glad he did. Rog and Davo are smart, funny, and quick. The show is full of bizarre metaphors and obscure references – I'd say it's like an English Premier League version of Mystery Science Theater 3000.
There's a lot of "crap" in the Men in Blazers – as in "crap goals," and their studio is in the "crap part of Soho." There's also a lot of "tingling," usually in Rog's pants or pectoral areas. Frequent references to Arsenal player Olivier Giroud's "meaty french forehead," Man City's goalkeeper Joe Hart's appearance (especially when he had the moustache), whatever nuttiness Louis van Gaal was up to in the last week, and keeping an eye on the crazy fans in the stands are some of their features.
The Men in Blazers have also tackled American football – this video is some of their highlights:

I actually had a tough time deciding what saying to use for this project as there are so many possibilities! I originally thought of a couple of their sartorial hashtags: #MovetoTweed and #LeantoLinen. Next I considered the name of their loyal followers: GFOP's aka Great Friends of the Podcast. But then I decided some crap and some tingling needed to get involved and so I created this Men in Blazers cross stitch pattern, perfect for your favorite GFOP's!