This Monty Python Spanish Inquisition cross stitch pattern is now available in my Etsy shop!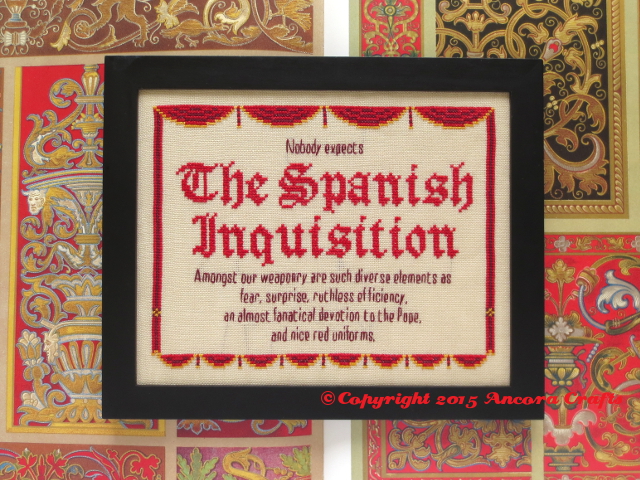 The quote for this project comes from their classic sketch from the second show of their second season. Michael Palin's Cardinal Ximénez is flanked by Cardinal Biggles (Terry Jones with the aviator goggles) and Cardinal Fang (Terry Gilliam) as they stumble through their badly rehearsed ferocity and terror. It's one of their most popular and oft-quoted sketches. You can see part of the episode here:
Monty Python's Flying Circus ran from 1969 to 1974, creating a body of very silly and subversive comedy sketches that are still as bizarre today as they were then. If you're unfamiliar with them, I recommend you start with either the BBC TV show, or the movie "And Now for Something Completely Different," which is some of their best sketches from their first two seasons recreated with a higher production budget.
After their TV show, the popularity of Monty Python only kept growing. The troupe went on to create Monty Python and the Holy Grail, Life of Brian (my personal favorite), and the Meaning of Life, stirring up controversy at nearly every turn and even serious academic analysis along the way.
I have two other Monty Python cross stitch patterns available in my shop – the first based on the very silly opening credits of their movie Monty Python and the Holy Grail,
and the second based on their sketch about self defense against homicidal maniacs armed with fresh fruit.
Now go check out this Monty Python Spanish Inquisition cross stitch project before I have to… "fetch the soft cushions!"