I'd like to share the followup of my interview with Betty Busby…
Recently, I had the pleasure of meeting Betty Busby in person at her home and studio in Albuquerque, New Mexico. Betty was featured in my fifth ACrafty Interview in June 2013. As you can read in the interview, I am a fervent admirer of her work. Her use of color and the detail involved simply amaze me. 
I won't give away too much of what I've learned about her process, but she uses various combinations of Photoshop, digital printing, hand-painting, drawing, hand beadwork, and a hand made longarm quilting machine to achieve some of her effects. And those effects are stunning!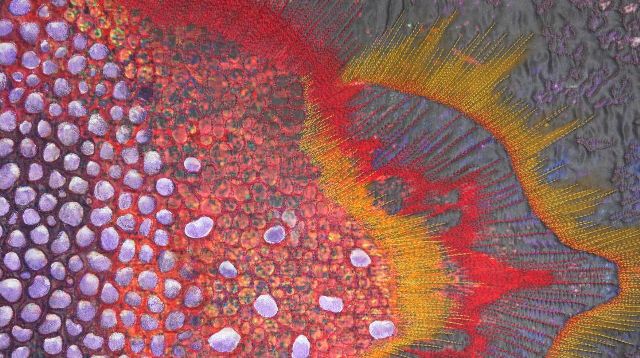 She also has a fabric stash that would make any quilter green with envy. I didn't want to take a photo as Betty was a bit shy about her studio space – but I will say that my jaw dropped when I saw it.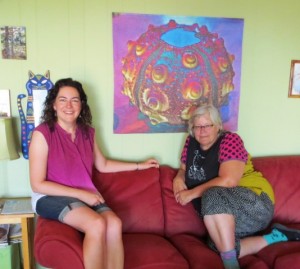 Betty is a true artist, and it was a great pleasure to meet her. Her quilts are in exhibits around the country and she does teach classes a few times a year. If you enjoy her pieces, I highly encourage you to follow her adventures and hopefully cross paths with her someday!
[Photo: I'm on the left, and Betty in front of her piece Disco Urchin]
You can follow Betty through her Etsy shop, her Flickr photostream, her website, her blog (which contains info on some of her techniques), and she JUST started selling fabric patterns through Spoonflower!