Gypsy Ways Update 5 starts with us near the Cinque Terre (Five Lands), and has us moving on to Tuscany!

[Terre Toscane by Filippo Marchi via Flickr]
The Tuscan landscape is beautiful. We stayed in an agriturismo about a half hour drive East from Siena. It's a perfect location, off the beaten path, but central enough to make easy day trips to a number of historic and scenic locations.
Close by, there are popular places like Montepulciano, Pienza, Montalcino, San Giminano, and Monteriggioni. Monteriggioni is one of my favorites. It's a medieval village and it's towers and walls remain intact.

[Flying over Monteriggioni by Angela Massagni via Flickr]
As you can see in the photo, the town hasn't grown past it's walls and it retains the charm of a small, unspoiled, hilltop village.
Pienza is also a favorite of mine as it's small and not too heavily touristy. The view of Pienza as you drive to it from the West is stunning.

[Pienza, Tuscany by Steve via Flickr]
A little further away are the beautiful and historic towns of Volterra and Assisi. As for bigger cities, there are always Florence and Pisa, but Siena is definitely my favorite. Siena has the enormous and beautiful Piazza del Campo, unique with it's shell shape and home to the Palio horse race.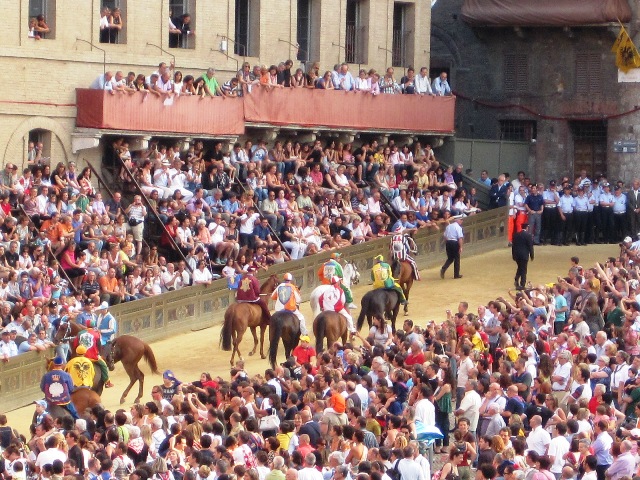 Siena also has it's Duomo, which is one of the most beautiful cathedrals in the world. You can look at the photos of it's facade, the ornate floors, the alternating black and white marble columns… but photos can only capture some of it's beauty.
One highlight is the amazing Piccolimini library which holds precious illuminated musical manuscripts in a richly decorated room. 
[Libreria Piccolomini by Steffen Ramsaier via Flickr]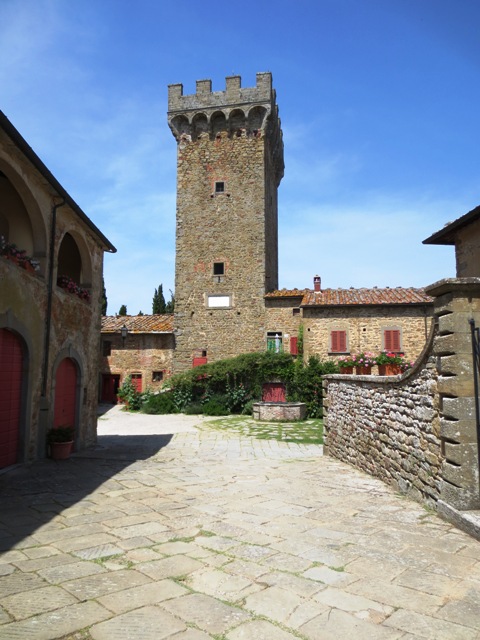 There are also some lesser-known spots that are just lovely and not very touristy. Places like Gorganza – an entire hilltop village that is now a quiet self-catering hotel. It has a great restaurant, perfect for lunch after exploring the town.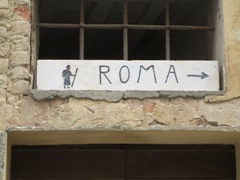 Buonconvento is another virtually unspoiled town on the road to Rome.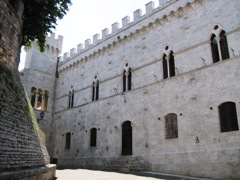 Serre di Rapolano is near travertine marble quarries (thus the gleaming town hall you see here) and the natural hot springs at Rapolano Terme.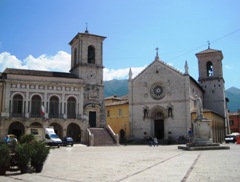 Lucignano is also worth a look around, and if you go south out of Tuscany and into Umbria, the towns of Norcia and Amelia are well worth the visit. Norcia (pronounced nor-cha) is famous for its meats and sausages and for pasta with truffles – yum!
In the next update, we'll go into France and Spain. Stay tuned!
(Here's a link to the previous Update 4 and the next Update 6.)