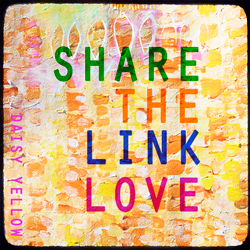 Following Diane and Tammy's Link Love mission, today I'm sharing five tutorials I would like to try!
#1 Jody McKinley's Chevron Scarf pattern on her JavaJem blog. I also featured this project in my recent post on variegated yarn projects. I just love how the six different colorways of Koigu combine so cheerfully. My biggest hesitation on this one is that I have never knit a single stitch. I'm thinking I'd have to tackle some much simpler scarves before attempting this beauty.
#2 This DIY Chevron Wall Art project by Emma of MyBojuLife. There's lots of paint chip art out there, but this one grabbed my particular attention. I have a lot of leftover paint chips from when we remodeled one of our bathrooms, and this looks to be a quick and fun project.
#3 Rachel at LinesAcross has this tutorial on how to make beads from scraps of paper and leftover embroidery floss. This tutorial I also featured in a previous post on using flosses in jewelry. It's a brilliant way to be creative and thrifty at the same time, and I think I have an idea of how to use these beads in projects other than jewelry…
#4 I love the concept behind this baby mobile by Alisa Burke guest posting at SewMamaSew. Once again, I featured this project in a fun previous post about water-themed crafts. With a minimum of planning and expense, she created this striking project. I don't know any babies who are currently in need of a mobile, but I know some little boys who might like to help me make them a cool door curtain…
#5 Last of the five tutorials I would like to try is some variation of this Rain Gutter Garden Planter tutorial on Instructables. Our house is on an incredibly tiny lot, and planters are our only option. Using rain gutters is an economical way to go vertical without creating too much weight. We're thinking that some (shallow-rooted) herbs and lettuces might be a nice place to start!
My previous posts in the Link Love Mission include "Five Books I Made Something From," "Five Posts I'm Proud of Creating" (note: from early in the history of this blog), "Five Favorite Projects for DIY Crafty Goodness," and my favorite and most important: "Five Blogs that Make Me Laugh."