This new and fun Blazing Saddles cross stitch Read it… cross stitch pattern is now available in my Etsy shop!
The quote for this pattern comes from the "Harumph" scene. When his secretary has an urgent telegram from Rock Ridge, the Governor replies: "Read it, read it… you wild bitch."
I have always thought that this quote would be a great present to a friend who is a voracious reader with a good sense of humor. I can also see this going to women who appreciate writers such as Dorothy Parker, Anais Nin, Alice Munro… there's just too many excellent woman writers to list here.
Here's a clip of the scene. The "Read it…" quote comes at about 1:35 into this video:
I think it's funny that while this quote is directed to a bubble-headed scantily-clad secretary, I have always thought of this project as for intelligent, independent-thinking literary women.
If you're a new visitor to my blog and a Blazing Saddles fan, you might also want to see two of my previous projects (below). The first is a cross stitch of the list that Harvey Korman dictates; a list of the worst scum and scoundrels he wants Slim Pickens to round up to attack the town of Rock Ridge.
The second project comes from Lili Von Shtupp as played by Madeline Kahn. When someone knocks on her "dwessing woom" door, she replies "Willkommen, bienvenue, welcome, c'mon in!"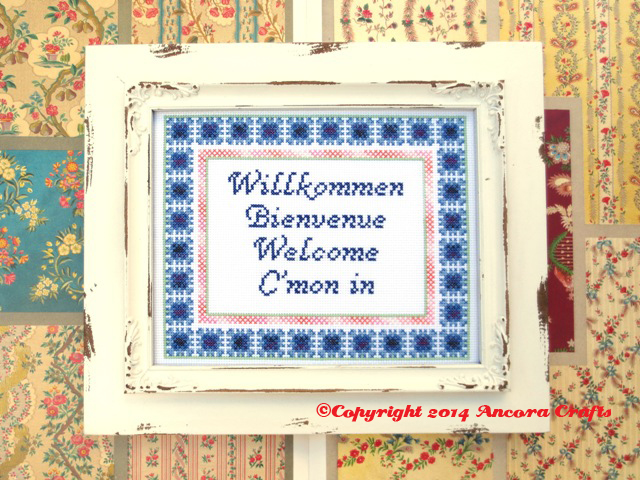 I'm especially fond of the border of books on this project. I used two variegated flosses, DMC 4135 and DMC 4030 (both available in my Etsy shop), for the books in the border.
This Blazing Saddles cross stitch Read it… project stitches up quickly and is suitable for cross stitch beginners and experts alike. It was fun to put together!