This Monty Python cross stitch pattern is now available in my Etsy shop!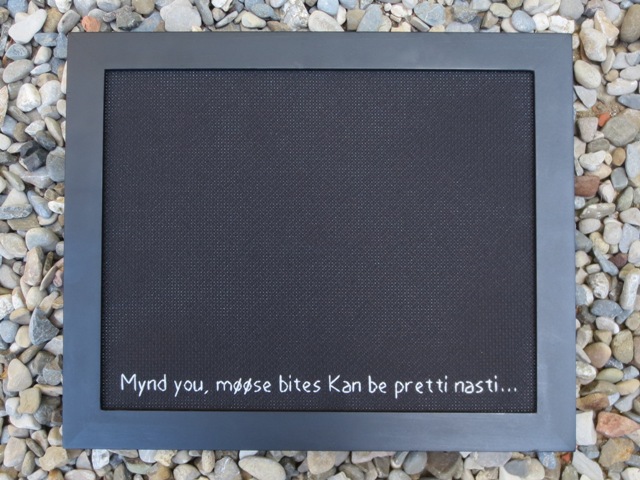 The quote for this pattern comes from the opening credits of their 1975 movie, Monty Python and the Holy Grail. 

This is one of the silliest movies in history, starting from the very first moments of the opening credits. Lots of people involved in the credit sequence were "sacked" for, among a great laundry list of funny things, putting these fake Swedish subtitles on screen. "Mynd you, møøse bites Kan be pretti nasti…" is one of my favorites, and that's only 2:00 minutes into the opening…

I must admit, as much as I like Monty Python and the Holy Grail, it's not my favorite Python movie. That honor would go to their 1979 effort, Life of Brian. However, Holy Grail has some classic moments that always make me laugh. Even if you haven't seen the movie yet, upon your first viewing you would recognize some of the references. Many quotes from the movie are thoroughly incorporated into the lexicons on both sides of the Atlantic.
The continuing popularity of the film also inspired the musical stage production Spamalot, which opened on Broadway in 2005, a full 30 years after the movie debut.
I stitched this project on black 14 count aida cloth with DMC's glow in the dark floss (DMC E940) which makes it fun to see at night. However, it would look equally as good in DMC's white, B5200 (bright white), or even one of their fluorescent flosses.
This cross stitch pattern is quick to stitch, and is perfect for any Monty Python fan. Especially the ones who are being repressed or need to go and face the peril!
[Update: I now carry DMC's glow in the dark floss in my Etsy shop!]
[Update to the update: I have a second Monty Python themed project available now – remember how to defend yourself against a piece of fresh fruit?]