Welcome to today's ACrafty Interview with Jerry Locke, stone artist of Walls that Rock.
When did you start crafting? JL: I have and odd theory about that. I believe that crafters, artists, entertainers, lead guitarists, stand up comedians, etc. are all usually first borns, and though many of us don't want to admit it, we have a need for applause and acceptance that comes from competing for parental attention. For example "Mama has that baby in her arms all the time! I'm gonna have to do something really cool just to get a smile."

What crafts have you tried and what is your current favorite? JL: Wow, that's a long list. Let's just say that I've worked in every medium most people can think of, including glass, fabric, and photography. I am a life long musician with a degree in poetry writing and I currently make a living with stone. I'm that weird guy. My current favorite is always the one I'm working on now.
Do you currently do other crafts outside of your commercial pieces? JL: Not frequently, but sometimes. What I do with my hands has to pay my bills. Time for other fun stuff is hard to come by.
What is the largest project or piece you have created? JL: Physically, the largest piece I have done is a 14 ft wall hanging mountainscape for a client/friend.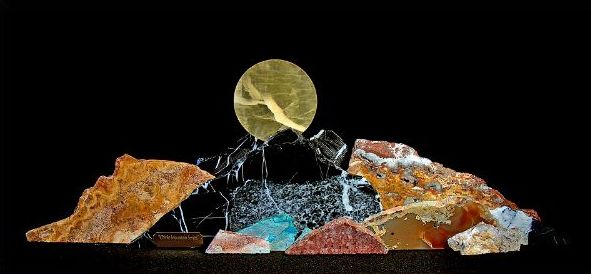 From your question let's replace "largest" with "most challenging". The most challenging pieces I do are always commissions. With commissions I am always trying to meet the expectations of an individual or small group. I would much rather be selfish and just do what I want to do.
Is the stone you use from local sources or from a variety of locations? JL: The stone I use comes from all over the world. I can get most of it nearby because I live in Tucson. Tucson has the largest gem and mineral show in the world.
I buy stone much like a quilter would buy fabric. Although some of the history of some of the stone would be fascinating, there would also be sad stories of cruelty and poverty and I don't want my worked to get bogged down by that. I try to keep a clear head surrounded by an incredible geology and human history that surrounds me.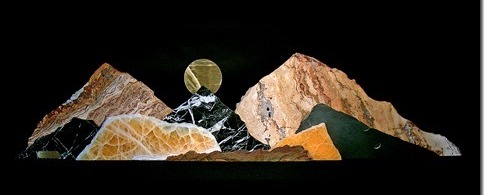 Are you ever surprised by what you find inside a stone once you cut or polish it? JL: Of course. My work is a collaboration with nature and she does not let me forget that she is the master and I am the apprentice.
How has crafting affected your character? JL: Well I think first off it's made me less patient with difficult questions (kidding). But Catherine, THAT'S A HUGE QUESTION.
I think this goes back to your first question and basically to do what I do and make a living at it, I have to be a tireless self-motivated, self-starter with an insane need for smiles and the good sense to know that other people have to live with me and I have to live with myself.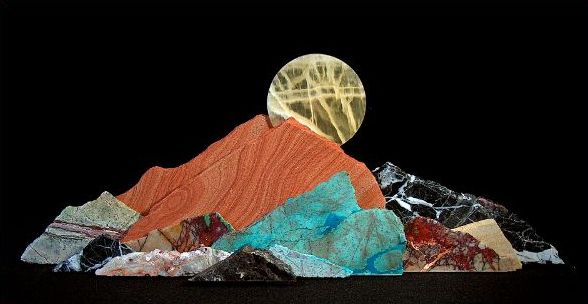 Can you share a story about how your crafting has affected others? JL: I don't know that it has, and I'm really not out to change anyone's life. I just hope that when people look at my work that it makes them feel good and perhaps takes them out of their life just a little bit. I'm happy with that.
What projects do you have coming up in the future?  Why are they appealing to you? JL: I don't really have any big projects in my sights. I have a Fall tour, and a Spring tour, etc. I would really just like to get normal for a change.
Many thanks to Jerry for taking the time for this interview. He spends a lot of time on the road traveling to various craft shows, and this can make communication challenging sometimes. I hope you get the opportunity to see his unique and beautiful works in person!
You can follow Jerry's adventures on his website and Facebook.
Would you like to be a part of the ACrafty interview series? Just contact me! You might also be interested in reading some more ACrafty Interviews with multi-crafter Diane from CraftyPod, embroiderer Sasha of What. No Mints?, the multi-talented David Tedin, needlepointer Haruhi Okubo of Cresus-Parpi, tatter and chainmailler Jeff Hamilton, and painter and embroiderer Karen of Mimilove.