This MST3K cross stitch pattern is now available in my Etsy shop!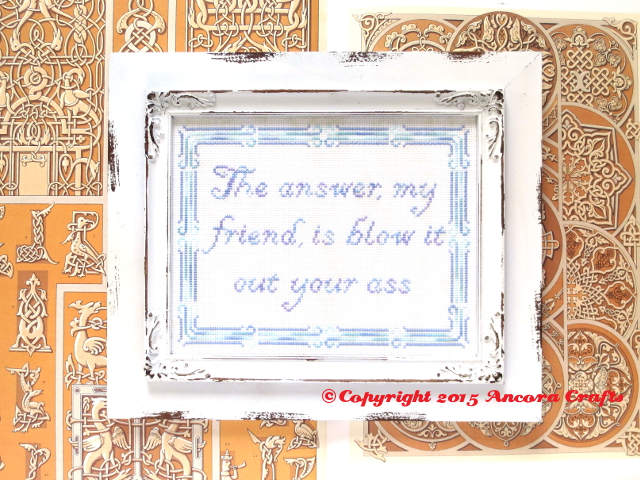 The project is a funny quote from Mystery Science Theater 3000 Episode 614 – San Francisco International. It's a terrible movie, cleverly skewered by Mike and the 'bots. It was written as the pilot episode of a series that lasted six episodes. The TV movie appeared in 1970 and featured Clu Gallagher, Tab Hunter, Van Johnson, and David Hartman. When it went to series, Lloyd Bridges played the airport security chief, a role he spoofed later in the movie Airplane!
Most of the plot revolves around an elaborate attempt to steal a large shipment of currency that looks surprisingly similar to boxes of Rush albums. One subplot involves a young boy, Davey, who manages to steal a small airplane and get airborne with no flying experience whatsoever. "You know, people are gonna hate you for quite a while after this, Davey."
While the Urkel-themed host segments haven't aged well (in fact, you will probably want to skip them altogether), the quote "The answer, my friend, is blow it out your ass" is a classic riff! You can see the entire episode on YouTube…

I used two DMC Variegated Flosses in this project: 4220 Lavender Fields in the lettering, and 4020 Tropical Waters as part of the border. I generally use brighter colors in my projects, but I wanted to make this look a little softer, a little breezy, a little like the Joan Baez version of "Blowing in the Wind."
This MST3K cross stitch pattern is perfect for all MSTies (fans of Mystery Science Theater 3000) and for everyone who appreciates a funny and rude cross stitch project.
For those of you who have read this far and don't have a clue as to what MST3K is, read this Wikipedia article. A MST3K revival just became the biggest Film and Video category Kickstarter project of all time, raising $6.3 Million for 14 new episodes in 2016. Can't wait…
Keep circulating the tapes!