This Persian needlepoint kit is now available in my Etsy shop!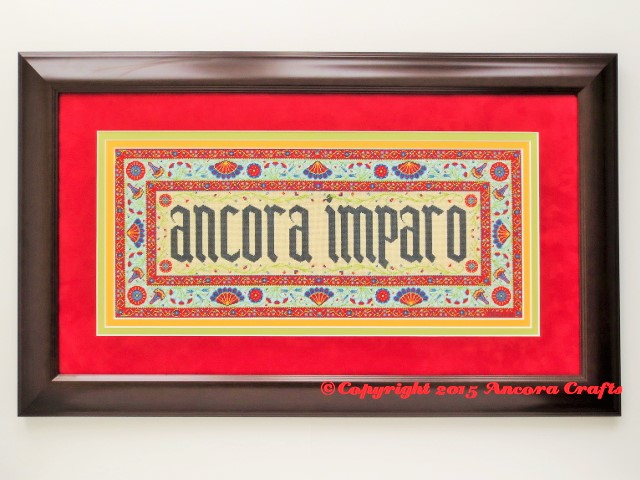 "Ancora Imparo" is a quote attributed to Michelangelo, the Italian architect, painter, poet, and sculptor while he was in his 80's. Roughly translated, it means "I am still learning," which, in my opinion, is a darn good philosophy, especially from someone as brilliant as Michelangelo.
I started sketching my first ideas for this pattern back in 2008. I started with the alphabet pattern which is based on the letters in a William Morris tapestry. I really dove into the detailed design of all the other elements in the summer of 2010, and I finally started stitching in August of 2012 [photo to the right is of my first tiny stitch].
I had to take several breaks from Ancora Imparo to work on some other, smaller and simpler projects, but finished the stitching on a very happy day in December 2013.
Her details are gorgeous – from tiny three stitch flowers up to the big floral elements. Then the green backstitch pulls all the pieces together. I'm just thrilled with how she turned out.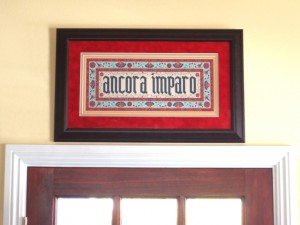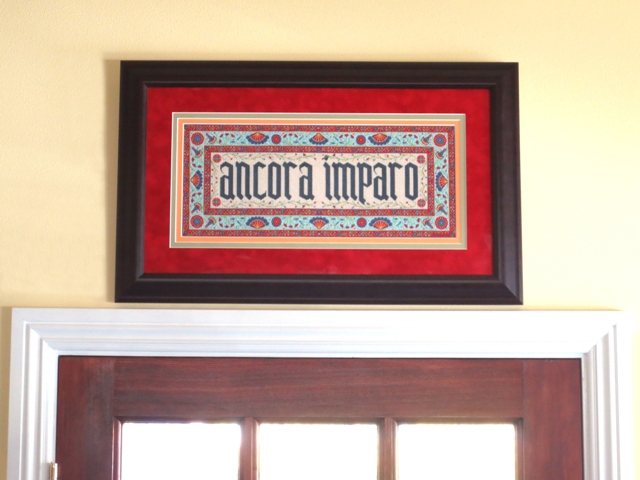 She hangs gracefully over our front door as a reminder to keep learning.
For those who like the Persian needlepoint design but may not be so keen on the quote, it is also available as a rug design that features a diamond grid in the center with a few floral elements. Both the "Ancora Imparo" design and the rug design are available as patterns only. 
To anyone interested in this project, I will say that it is challenging and probably better suited to more experienced needlepointers and cross stitchers. In my previous posts on this project (first update, second update, third update, fourth update) you can see more information on how I tackled my "lovely monster at 22-to-the-inch." She required a lot of persistence, especially with filling in the backgrounds. However, all that persistence paid off, and she's just amazing.
Now I look forward to seeing who else appreciates a good challenge like this!