This Airplane (the movie) cross stitch pattern is now available in my Etsy shop!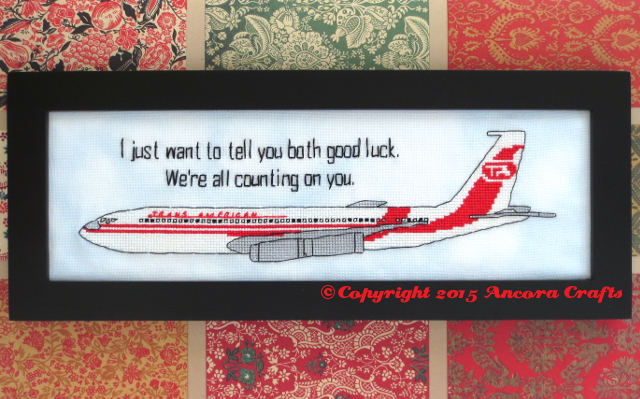 The quote is from Leslie Nielsen's character, Dr. Rumack. He repeats the phrase "I just want to tell you both good luck. We're all counting on you" before, during and after the plane lands. You can see them in the video below:

I tried my hardest to make faithful recreation of the TransAmerican airplane (at a reasonable size) and I have to say I'm pleased with the result! If you count carefully, there are a few more windows than the original, but the pattern of dark vs. light windows is pretty accurate. I was happy that I was able to recreate the "TA" logo on the tail fairly well.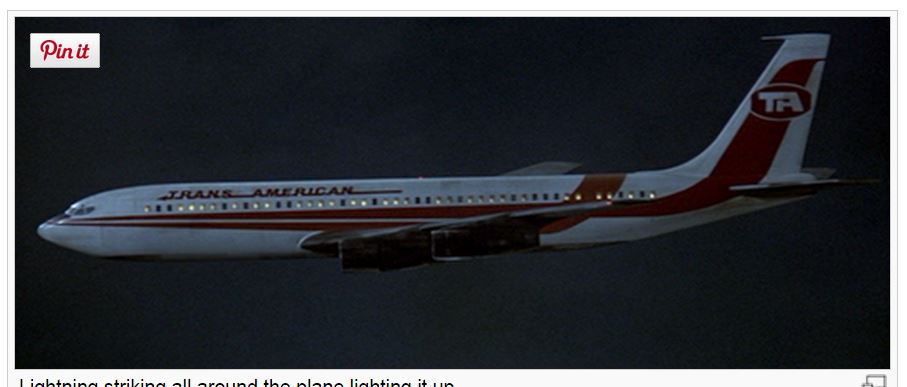 The pattern can be modified for any of your favorite funny lines from Airplane! Other quotes I considered include "I am serious… and don't call me Shirley," "It's a big building with patients, but that's not important right now," "Why, I could make a hat or a brooch or a Pterodactyl," and "You ever seen a grown man naked?" There are so many possibilities that would work well!
Airplane! is one of the funniest movies of all time. It's so crammed full of gags that nearly every time you see it, you'll discover something new to make you giggle. One great example is that it took me at least a decade to realize that during the exterior shots of the plane, instead of jet engine sounds, you hear propeller sounds. The A.V. Club posted a brilliant article – an oral history of Airplane! – on it's 35th anniversary in 2015 that includes great information about the movie. For example, did you know that Barry Manilow and David Letterman were considered for the role of Ted Striker?
According to Wikipedia "In the years since its release, Airplane!'s reputation has grown substantially. The film was ranked sixth on Bravo's 100 Funniest Movies. In a 2007 survey by Channel 4 in the United Kingdom, it was judged the second greatest comedy film of all time, after Monty Python's Life of Brian" and "In 2010 it was selected for preservation in the National Film Registry by the Library of Congress."
This Airplane movie cross stitch pattern would perfect for all fans of the film, so go check it out… and stop calling me Shirley.