This California Highway sign cross stitch pattern and kit have just been added to my Etsy shop!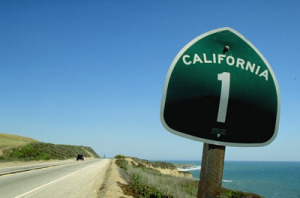 The stitched example, State Route 1, is a roughly 650 mile stretch running most of the length of the state. Among other beautiful sights, it includes the National Scenic Byway through Big Sur, the Golden Gate Bridge, and the Pacific Coast Highway through the Southern California coastline.
I can customize this pattern for any of your favorite California Highways, and there are a bunch of beautiful drives in the state.
 [Big Sur by Sean Duan via Flickr]
Other beautiful drives include State Route 120 through Yosemite National Park, Route 198 through Sequoia National Park, Route 116 through Sonoma County, and Route 4 through the Stanislaus, El Dorado, and Toiyabe National Forests. California is so large and the terrain so varied that it would be nearly impossible to list all the scenic routes.
Show some California pride and create a reminder of a favorite drive in the Golden State with this California cross stitch pattern and kit!
What are some of your favorite California Highways?