This Gluten in Your Muffin cross stitch pattern is now available in my Etsy shop!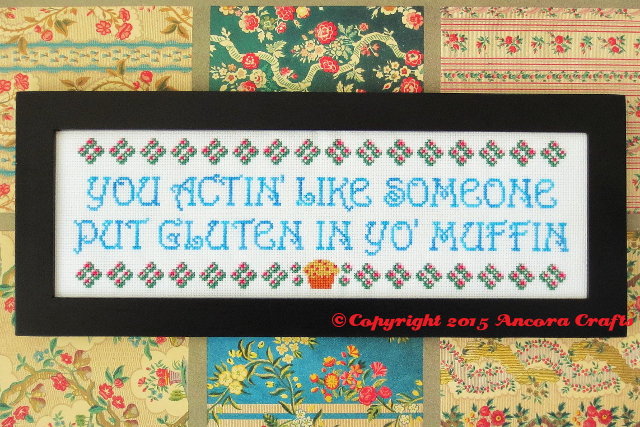 The quote for this project is from a 2015 episode of Saturday Night Live with Kevin Hart as the host. The line comes from a very funny sketch about gentrification in Bushwick, Brooklyn.

Kenan Thompson uttering "You actin' like someone put gluten in yo' muffin" just cracked me up – especially with all of the increased gluten awareness these days.
I also love the idea of the "artisanal mayonnaise" shop, which as it turns out IS REAL. Entrepreneur has an article about how the Empire Mayonnaise company of Brooklyn embraced the SNL sketch and even released a flavor inspired by it. The Wall Street Journal has an article about Empire Mayonnaise's operation, about a year after it opened in 2012. Bacon flavored mayo sounds pretty good!
I used two DMC variegated flosses in this project – pink 4180 and blue 4022. The variegated pink was used for the flower petals around the dark pink center, and I really love how they turned out – each flower is just slightly different.

And I am so thrilled with the variegated blue in this whimsical font – it's just gorgeous, and looks even better in person (although as it appears in the photo at top isn't too shabby).

I carry both flosses in my shop, if you want to take a closer look – Rose Petals 4180 and Mediterranean Sea 4022.
Nearly everyone knows someone who is going gluten free either for medical reasons or for other general health issues. If they have a good sense of humor, you know they would just LOVE this little Gluten in Your Muffin project. It stitches up quickly, it's silly and cute, and it would make a great gift!